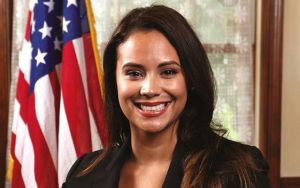 Assemblywoman Maria Rodriguez-Gregg called cops "f—ing a—holes" and reminded them she was a state lawmaker as she was arrested in April on DWI charges, a newly released video shows.
The Trentonian got a copy of police bodycam footage of the incident, and it shows an irate Rodriguez-Gregg (R-Burlington) cursing out police who search her car for marijuana. She had been rear-ended by another driver and police didn't find any pot. She was charged with DWI, obstruction and reckless driving. After refusing to take a field sobriety test, a blood test showed she had alcohol in her system, according to the report.
Rodriguez-Gregg, the first Hispanic Republican woman elected to the state Legislature, dropped out of the race for her re-election in August. She didn't mention the arrest when making the announcement. But one can imagine the attack ads Democrats could have made from this tape:
[youtube https://www.youtube.com/watch?v=-WZ23N155KM?rel=0&w=560&h=315]
Polls show Phil Murphy running away with the New Jersey governor's race, but Murphy and other speakers warned Democrats on Friday to not get cocky about the massive lead during their annual state committee conference in Atlantic City. Kim Guadagno, meanwhile, launched two TV campaign ads that attack Murphy and repeat her pledge to cut property taxes.
Quote of the Day: "You're dealing with a sitting assemblywoman. Everyone's going to hear about this sh–." — Assemlywoman Maria Rodriguez-Gregg to police who arrested her.
Wedding Announcements: Two New Jersey political weddings got write-ups in the Sunday edition of The New York Times. Assemblyman Raj Mukherji got married over the weekend, as did Marshall Spevak — chief of staff to Assemblyman Vince Mazzeo — who tied the knot with Andrea Katz, associate general counsel for Assembly Democrats.
Coughlin to Raise Funds for Democrats in Battleground Districts
Assemblyman Craig Coughlin, the front-runner in the race to be the next Assembly speaker, is holding a fundraiser on Monday expected to raise $250,000 for Democratic candidates in battleground legislative districts.
Christian Hetrick, Observer Read more
O'Malley Raising Money for Atlantic County Democrats
Former Maryland governor and presidential candidate Martin O'Malley is raising money for Atlantic County Democrats, who are planning to spend big in one of the key battleground districts in New Jersey.
Christian Hetrick, Observer Read more
Murphy Warns Democrats: Don't Get Complacent
Riding high on polls that show him running away with the New Jersey governor's race, Phil Murphy warned Democrats Friday morning to not get complacent with 53 days to go until Election Day.
Christian Hetrick, Observer Read more
Guadagno Hits the Airwaves With 2 New TV Ads
Lt. Gov. Kim Guadagno, the Republican nominee for New Jersey governor, will release two TV ads this weekend, one repeating a familiar campaign promise to slash property taxes for homeowners and another attacking Democratic nominee Phil Murphy for saying openly that he would raise taxes on the rich and large businesses.
Alyana Alfaro, Observer Read more
Stile: Guilt by association is strategy of choice in N.J. governor's race
From the moment Lt. Gov. Kim Guadagno won the Republican nomination for governor, the Democratic Party revved up its guilt-by-association attack narrative.
The Record Read more
Why Doesn't Guadagno's Message of Tax Relief Resonate with Voters?
Republican gubernatorial candidate Kim Guadagno was back on the campaign trail yesterday, standing alongside several GOP lawmakers and local elected officials in Bergen County as she forcefully delivered a message of tax relief that has become a hallmark of her campaign.
NJSpotlight Read more
Guadagno's 'failed leadership' under Christie? Well, this is awkward
Gov. Chris Christie tasked his second in command, Lt. Gov. Kim Guadagno, with a primary goal when he tapped her as his running mate in 2009. Business development. So what does a man who worked with Christie and who's been referred to as the state's "economic czar" think of her job performance?
NJ.com Read more
Christie to spend $200M on new substance abuse initiatives
New Jersey Gov. Chris Christie plans to spend $200 million on new initiatives that he hopes will significantly improve the way the state approaches substance abuse treatment and prevention.
Associated Press Read more
Gov. 'who ran into some traffic problems' — Who is Chris Christie, Alex?
Chris Christie made an early appearance on "Jeopardy!" Friday as the answer to a question about a governor who "ran into some traffic problems."
NJ.com Read more
Trump wants to sell gas stockpiled after Sandy. This N.J. lawmaker acts to block him.
More than a dozen House Democrats are seeking to block President Donald Trump's efforts to sell off 1 million barrels of fuel stockpiled in the event of another major northeastern storm.
NJ.com Read more
Trump's vow for a middle-class tax cut could actually slam the middle class in N.J.
President Donald Trump's "tax relief for middle-class workers and families" includes ending a deduction used by the middle class in New Jersey and other states.
NJ.com Read more
Democratic Senate Allies of Sweeney Fire off a Defiant Letter to NJEA Prez
Sixteen senators sent a letter to New Jersey Education Association (NJEA) President Marie Blistan urging her "to end [her] misguided assault against" Senate President Steve Sweeney (D-3). The NJEA continues to pour money into LD3 in support of Republican candidate Fran Grenier in defiance of Sweeney.
Insider NJ Read more
Christie touts gains in Camden schools, credits bipartisan effort
Camden schools are well along in their comeback after four years under state supervision, Gov. Christie said Friday in a sometimes emotional, hour-long speech to students, parents, and officials gathered at the city's newest Renaissance school.
Inquirer Read more
WATCH: Assemblywoman Rodriguez-Gregg calls cops 'f**king a**holes' during DWI arrest
Assemblywoman Maria Rodriguez-Gregg (R-Burlington) had some not-so-nice things to say about police during her DWI arrest earlier this year.
Trentonian Read more
Moran: Booker's bromance with Bernie Sanders. Let's hope it's just a fling
Uh-oh. Has Booker been infected by the Sanders virus?
NJ.com Read more
Editorial: The Garden State is becoming the Pipeline State
It is, perhaps, past time to push the pause button on all these pipeline projects and consider the very real hazards they represent.
The Record Read more