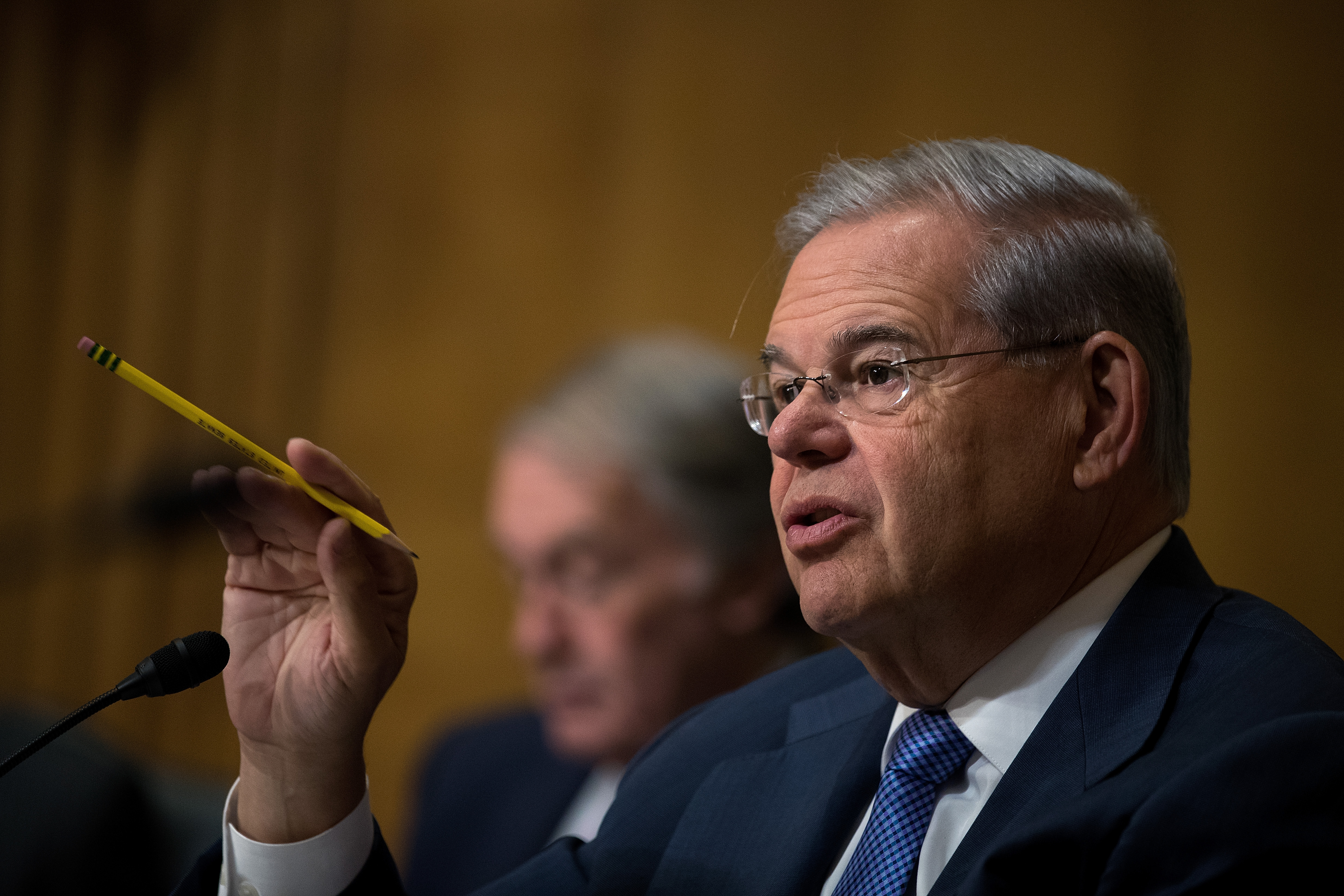 Just hours after the FBI raided Florida eye doctor Salomon Melgen's office in 2013, his son-in-law sought to block the public from tracking Melgen's jet, which Sen. Bob Menendez had used several times to travel to Florida and the Dominican Republic, according to reports.
Prosecutors in Menendez's corruption trial on Monday revealed that effort to hide data about Melgen's airplane, arguing it showed a "consciousness of guilt," according to The Record. The feds also delved into the details of the luxury resorts where the senator stayed thanks to Melgen, his top donor. It turns the Casa De Campo breeds the pheasants hunted by its guests.
On the campaign trial, Democrat Phil Murphy repeated his pledged to make community college tuition fee, but flubbed the details on what the proposal would actually cost. Republican Kim Guadagno, meanwhile, said she "cannot wait" to debate Murphy on taxes, though she's likely less excited to talk about her time as Gov. Chris Christie's lieutenant governor.
Quote of the Day: "I'm sick and tired of listening to this." — U.S. District Court Judge William H. Walls after hearing a lot of details about the Casa De Campo resort.
Fundraiser news: Assembly Speaker Vincent Prieto is raising money this week for the Democratic Assembly Campaign Committee, a top fundraising committee that Prieto took direct control over in May when the plan to oust him as speaker first emerged. He's hosting a fundraiser Wednesday at Nanina's in the Park in Belleville and is asking donors to give $10,000, $5,000, $2,500 or $1,000, according to an invitation obtained by Observer. Meanwhile, Prieto's rival for the speakership, Assemblyman Craig Coughlin, said his Monday fundraiser for Democrats running in battleground districts pulled in more than $350,000.
Christie: Pharma and Feds to Partner on Battling Opioid Addiction
Drug companies and the federal government will partner to develop new pain medications that are less addictive than the drugs that fueled the nation's opioid epidemic, Gov. Chris Christie said Monday.
Christian Hetrick Observer Read more
Murphy Offers Free Community College, But Cost Is Moving Target
The Phil Murphy campaign had a tough time Monday figuring out what one of his core campaign promises would actually cost.
Christian Hetrick, Observer Read more
Guadagno Itching to Talk Taxes With Murphy at Debates
Kim Guadagno "cannot wait" to ask Phil Murphy about taxes at their first debate in the governor's race, she said Monday, offering a glimpse into her strategy.
Alyana Alfaro, Observer Read more
After FBI raid, details about Menendez co-defendant's plane blocked
Mere hours after the FBI raided the Florida offices of U.S. Sen. Robert Menendez's friend and co-defendant Salomon Melgen, that man's son-in-law asked the Federal Aviation Administration to block the public from tracking Melgen's private jet.
The Record Read more
Menendez trial turns to stays at luxurious beachfront villas, golf, pheasant hunting
Tropical oceanfront hotel suites. Exclusive beaches. Spa treatments. Hunting pheasants bred on-site. Those were the trappings of luxury U.S. Sen. Robert Menendez had access to — but did not necessarily use — thanks in large part to Florida eye doctor Salomon Melgen's largesse, prosecutors said Monday during the federal corruption trial of Menendez and Melgen.
Politico Read more
Slow pace of Menendez trial gives Senate Democrats some breathing room
How long the trial lasts could have national implications. The longer it goes, the chances of Menendez being forced from office in time for Republican Gov. Chris Christie to appoint a replacement get that much slimmer.
Politico Read more
Gas tax will NOT go up October 1 in New Jersey
The gas tax will remain unchanged in October – not going up nor down, one year after a nearly 23-cent increase that allows annual adjustments.
NJ101.5 Read more
Chris Christie on Craig Carton: 'I don't want to believe that Craig's a criminal'
Gov. Chris Christie is sticking by Craig Carton. Christie commented on his friend's arrest on federal fraud and conspiracy charges for the first time in an exclusive interview with NJ Advance Media, saying he's "not the kind of guy that cuts and runs," and he intends to do anything he can to help the embattled former WFAN host who often had Christie as a fill-in co-host on his "Boomer and Carton Show."
NJ.com Read more
After Equifax breach, N.J. lawmaker wants to take this step to help consumers
Senate President Stephen Sweeney says he will introduce a bill barring credit-reporting agencies from charging consumers who want to lift the freezes they placed on their credit reports in the wake of the massive Equifax data breach.
NJ.com Read more
Federal Health Centers Face Fiscal Cliff
Nearly half a million New Jersey residents have sought care at one of the state's Federally Qualified Health Centers in recent years, community health clinics that provide a broad range of pediatric and adult care to patients regardless of income level or insurance status.
NJSpotlight Read more
Local Control of Camden Schools Not on Fast Track
Just days after the Christie administration moved to end state control of Newark public schools, the purpose — if not the mood — was altogether different in Camden on Friday.
NJSpotlight Read more