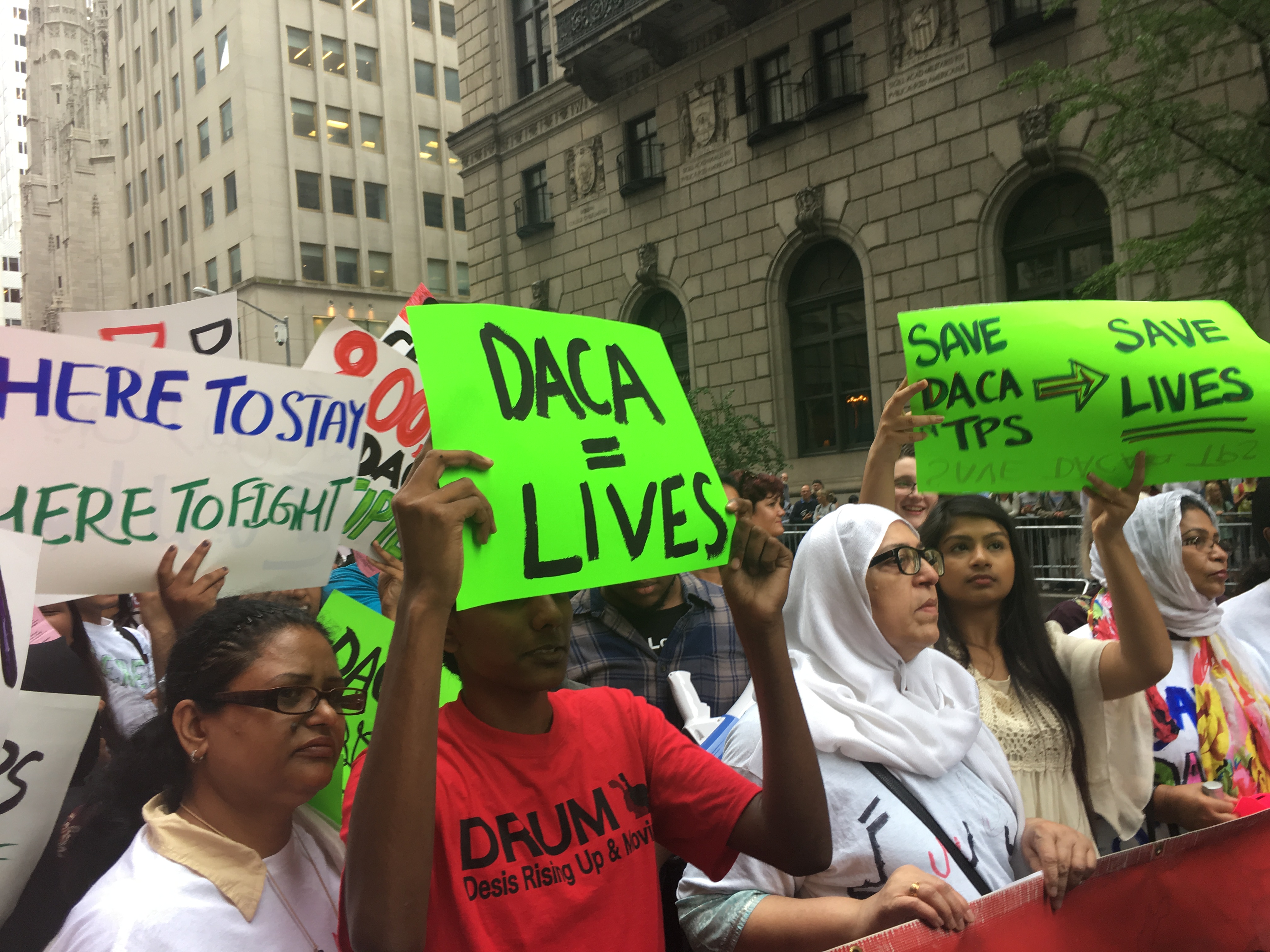 President Donald Trump on Tuesday ended the Deferred Action for Childhood Arrivals (DACA) program, a decision that means up to 800,000 undocumented immigrants who live in the U.S. could face deportation.
While Congress has six months to enact legislation protecting program participants known as Dreamers, the president's decision has been widely panned by critics claiming that the elimination of the program wrongly targets children who did not choose to enter the U.S. and have known no other country.
Here are some reactions to the elimination of DACA from around New Jersey:
REPUBLICAN GUBERNATORIAL CANDIDATE KIM GUADAGNO
Guadagno, Gov. Christie's lieutenant governor, called on Congress to act quickly on a DACA fix.
DEMOCRATIC GUBERNATORIAL CANDIDATE PHIL MURPHY
Murphy said that ending DACA is "nothing short of xenophobic bullying from the Oval Office."
If elected, Murphy promises to establish an office of immigrant protection.
US. SEN. BOB MENENDEZ (D)
While Menendez is scheduled to being his corruption trial in Newark on Wednesday, the senator has used his last days before the trial to continually advocate for DACA to remain in place. After Trump's announcement on Tuesday, Menendez called the passage of new protections a "national emergency" and called for swift passage of new legislation.
"President Trump promised to do right by our nation's DREAMers, but with this decision he has chosen once again to cloak his presidency with a white nationalist flag instead of the diverse fabric of our multicultural American society," Menendez said in a statement. "By ending DACA, the Trump Administration is making a mistake of historic proportions for which our nation will pay dearly both in economic and moral capital. DREAMers are the motherhood and apple pie of the immigrant community and they're a critical part of the solution to our many challenges as a country. Declaring open season on these model citizens – as General Kelly likes to call them – is cruel, inhumane and simply un-American."
U.S. SEN. CORY BOOKER (D)
Like Menendez, Booker called on Congress to pass legislation protecting Dreamers from deportation. On Twitter, Booker cited statistics that forcing Dreamers out of the U.S. "will reduce the US GDP by $460.3 billion over 10 years."
REP. DONALD NORCROSS (D-1)
According to Norcross, New Jersey stands to lose nearly $1.6 billion per year without DACA. He called for comprehensive immigration reform as a solution.
"DACA improves the lives of young people who know no other country than America and it helps grow the American economy," Norcross said in a statement. "The Administration's heartless decision could force hundreds of thousands of young people out of the workforce, upend the lives of families and create disruptions for businesses across the country. Any of these effects individually would make the decision ill-advised – together they are unconscionable."
REP. FRANK LOBIONDO (R-2)
Unlike some of his colleagues, LoBiondo claimed that the Obama-era DACA program "was a violation of executive authority." However, LoBiondo said that young immigrants should not be penalized for the actions of adults that brought them to the U.S.
"I will again support and vote for legislation that ensures a permanent solution for 'Dreamers' so they may continue to live and work in our great country that many of them have only known," LoBiondo wrote.
REP. TOM MACARTHUR (R-3)
MacArthur opposed the end of DACA.
"We need to fix our nation's immigration system but starting this process by hurting the most innocent and vulnerable population would br wrong and misguided," MacArthur said.
REP. JOSH GOTTHEIMER (D-5)
Gottheimer said he plans to co-sponsor an amendment to block the administration from rescinding DACA. He also said he plans to send a letter to the administration asking for reconsideration in light of possible legal challenges to DACA's end.
REP. FRANK PALLONE (D-6)
"I really makes me upset, terribly upset, to see that President Trump and his administration continue to use immigration or immigrants as scapegoats and this is what this is all about," Pallone said at an event at Rutgers University. "Most of the people who are Dreamers under DACA really have nowhere else to go."
Pallone said that sending young people who have never lived outside of the U.S. to countries of origin could lead to them being rendered stateless.
REP. LEONARD LANCE (R-7)
Lance is co-sponsoring a bill that would grant certain high school graduates conditional immigration status.
"Like many of my colleagues I agree that President Obama exceeded his Constitutional authority and disregarded existing law to implement his plan for undocumented immigrants," Lance said. "Today President Trump has called on Congress to act and rightfully so. To this end, I am cosponsoring legislation that would provide a workable, permanent legislative solution for those individuals who entered our country unlawfully as children with their undocumented parents."
REP. ALBIO SIRES (D-8)
"The President's cruel and reprehensible decision to end DACA with a six-month delay is inhumane and devastating for families and communities across the country," Sires said. "This decision is another manifestation of the President's anti-immigrant rhetoric that has emboldened hatred, racism, and bigotry."
Sires, a Cuban immigrant, also took issue with Trump's pardoning of Joe Arpaio.
REP. BILL PASCRELL (D-9)
Pascrell said that the end of DACA "lit a fuse under hard-working, taxpaying young Americans," and that Trump is "leaving it to Congress to put it out."
"As Congress works to achieve this goal, I will continue fighting any effort to use these dreamers as a bargaining chip to further the Republican Party's anti-immigration agenda," Pascrell said.
REP. DONALD PAYNE JR. (D-10)
REP. BONNIE WATSON COLEMAN (D-12)
"This is a betrayal of the men and women who make up the fabric of this nation – the over 800,000 young people who are doctors, teacher and public servants," Watson Coleman wrote in a statement. "People like Alonso Guillen who gave his life trying to rescue victims of damages caused by Hurricane Harvey in Houston. This Administration isn't interested in the invaluable contributions DREAMers make to our economy and communities, but instead, is focused on rallying the xenophobic base that fuels the flames of their discrimination."
ASSEMBLY SPEAKER VINCENT PRIETO (D-HUDSON)
"There are more than 20,000 DACA recipients in New Jersey," Prieto said. "The majority of these young people work and contribute millions in state and local taxes. How is stripping the protections that allow them to better themselves and contribute to society a good thing? How does inhibiting potential make America great again? How does inflicting fear and dread over an entire community move this country forward?"
RUTGERS UNIVERSITY PRESIDENT ROBERT BARCHI
Barchi said that the school has over 500 DACA students.
"To think that one wave of immigration is less valuable to the vitality of this economy than another to me seems to be a difficult step in logic," Barchi said.
JON WHITEN, PRESIDENT OF NEW JERSEY POLICY PERSPECTIVE
NJPP warns of potential economic fallout from ending DACA.
"With 22,000 DACA recipients, only eight states have a higher number than New Jersey," he said. "Of these young New Jerseyans, 87 percent are working. They contribute $66 million in state and local taxes each year, the seventh highest level of all states. Ending DACA would immediately cut those tax payments by 32 percent."