It's officially fall, the celebrated season of leafy decay and fake pumpkin flavoring. As the air grows colder and the nights longer, we find ourselves lured to the weird and the witchy, titillated by the vexing charm of the unknown and otherworldly. For Ryan Matthew Cohn, this is more than just a season, though—this is his livelihood.
The Brooklyn-based oddities collector has long been a dealer of the unexpected and fantastic, from archaic medical instruments to outdated globes, stuffed birds to shrunken heads. This weekend, he and his wife, Regina, will launch the second edition of their Oddities Flea Market at Brooklyn Bazaar in Greenpoint where they, along with over 40 other vendors, will sell their bizarre wares.
Cohn told Observer that they started the market in 2016 in response to the Morbid Anatomy Museum's abrupt closure last fall, the result of soaring rent prices and overhead costs. "We didn't know if it would become an annual thing, but a lot of the vendors asked us to plan another one," he said, noting that the former museum had served as an important marketplace for many in niche collector markets.
"New York is such a historic and creative place, but we're seeing that fade away as the people who maintain this history and creativity get priced out of the city," said Cohn. The Oddities Market was created not only as a revenue-generating platform for vendors whose market visibility shrunk in the absence of Morbid Anatomy, but also as an homage to former institutions and venues that supported the cultural work of curiosity keepers.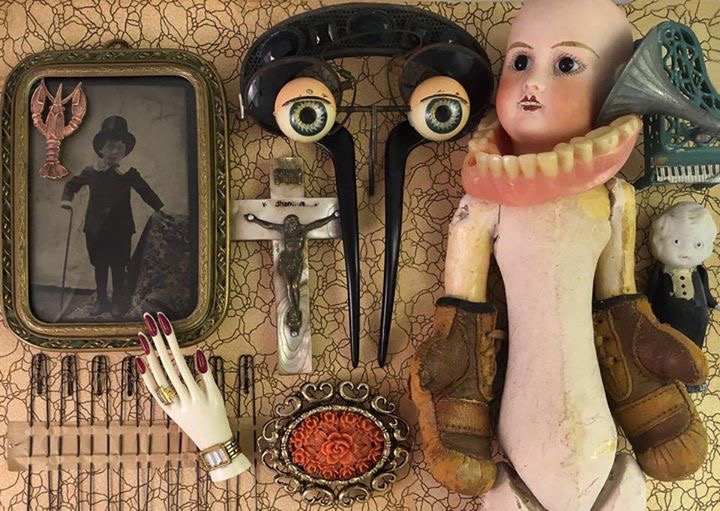 As one of those keepers, Cohn felt the loss of the museum—which he had sold through from the beginning—keenly. Growing up in Upstate New York, he was surrounded by nature, prompting an interest in natural history early on. His love of collecting developed at the tender age of eight. "I've always been a bit OCD and one day I just got obsessed with baseball cards," he said, which confused his parents since he didn't watch baseball; in fact he hated all sports. He sold the cards later on, and many of them turned quite a profit for the nascent dealer. "I think that's what really made this into a profession for me," he said. "So I started focusing on collecting things I thought were interesting."
Clearly that wasn't baseball. The Cohn's Greenpoint apartment is filled with skulls, mini mummies, drawers full of carefully aligned human teeth and a dessicated anus. These visceral objects sit alongside stately rare books and 18th century oil paintings sourced from European flea markets, all illuminated by dramatic antique chandeliers. Their couple's British Blue cat can be often be found using a hippo skull, on display in the living room, as a scratching post.
From 2010 to 2014, Cohn starred on the Discovery Channel's TV series Oddities, a reality show following the strange dealings of the East Village antiques store, Obscura. More recently, he curated House of Wax, the bar filled with heads inside downtown Brooklyn's Alamo Drafthouse. The dimly lit cocktail den is filled with a selection of waxwork sculptures featuring realistic displays of anatomy, pathology, anthropology and even death masks of 19th century celebrities, all from the Munich-based Castan Panopticon collection, which Cohn acquired part of when it went up for sale. "Basically it's a museum you can drink in," he said. "It's meant to feel like a cabinet of curiosities," with cocktails divvied up accordingly between "anatomicals," "pathologicals" and "geographicals." Both House of Wax and the travel publication that takes strange places around the world as its purview, Atlas Obscura, have provided support for this year's Oddities Market.
Cohn says that the demand for historical ephemera and unique paraphernalia is stronger than many realize, but that many people just don't know where to look. "With the Oddities Market, we want to create a one-stop shop for people that are interested in unusual stuff," he explained. Indeed, the market provides plenty to see and buy for the curious shopper. This year's edition features the return of many of last year's vendors from across the U.S., as well as well as a dozen additions, prompting the fair to expand by three rooms. Sellers include artists like photographer Karen Jerzyk, jewelry designers Blood Milk and Goldengrove, rare book and antiquities dealers, taxidermists, and osteologists.
The shoppers are as multifarious as the fair's offerings as well. "We get a lot of tattoo artists that come through, along with serious collectors, doctors interested in strange specimens, and people who are just shopping for some cool decor," Cohn said. "But we also have your run-of-the-mill Goths who need to get their skull fix."
Margaret Carrigan is a freelance writer and editor. She planned to go to law school but she did terribly on the LSAT, so she got a master's in art history instead. She lives in Brooklyn with her cat, who is named after Alyssa Milano's character from the early aughts CW smash hit series Charmed.