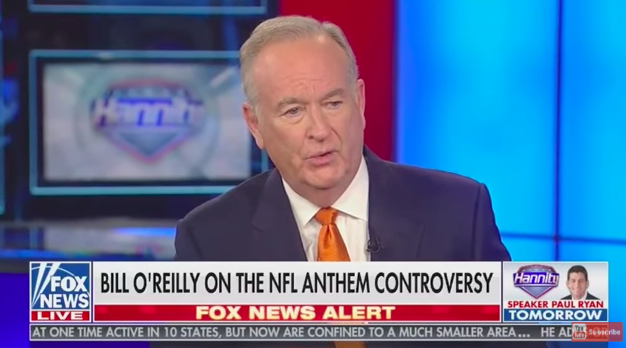 In more than half an hour on Hannity Tuesday night on Fox News Channel, disgraced Fox exile Bill O'Reilly made a loud return to discuss with host Sean Hannity many things, including the verbal spat between top American athletes and amateur President Donald Trump.
Neither man mentioned that football players are resting on one knee during the national anthem to protest police shootings of unarmed black men. Nor did they mention that these athletes were called sons of bitches last Friday by the large, 71-year-old, orange-faced, yellow-haired chief executive.
Instead, the two Long Island Bully Boys agreed that The Left and The Media are picking on broadcasters like Hannity and O'Reilly. In more than 20 years on Fox, O'Reilly whined, "I was attacked every single day of my life. Every day."
Hannity then agreed that he, too, was a real victim here.
"Bullseye!" Hannity chirped. "The two Irish guys."
Since O'Reilly was forced to leave Fox earlier this year in a sexual harassment scandal, Fox's ratings have suffered. In a realignment to combat that, Hannity's stale and predictable show moved this week from 10 p.m. to 9 p.m. For the moment, it's shown live, instead pre-recorded, as has been the case recently.
Because Hannity's ratings beat MSNBC's The Rachel Maddow Show Monday night, O'Reilly crowed about it.
"Last night, Hannity kicked MSNBC's butt," O'Reilly said.
Without mentioning Maddow by name, O'Reilly said Hannity "didn't beat (pause) that woman. Didn't eke by. Slaughtered her."
Of course, actual facts contradicted what was said on Fox, as is often the case. Nielsen ratings showed Hannity with an audience of 3.27 million, compared with 2.66 million for Maddow. In the advertiser-prized demographic of ages 25 to 54, Hannity's margin was 666,000 to 591,000. He hardly "slaughtered her," as O'Reilly so tastefully put it.
Soon they returned to the main theme: Defense of the white race. Like Trump, Hannity and O'Reilly agreed that failure to stand for the anthem is an insult to the flag, the song and American armed forces. And any complaint about racism is phony because O'Reilly and Hannity said so.
"This isn't a white supremacist nation," O'Reilly said. "This is the biggest bunch of bull I've ever heard… Don't be telling me that cops in America go out every day thinking to hunt down black people. That's a lie. They don't."
SCARBOROUGH FRETS OVER OSHKOSH
On Morning Joe on MSNBC Tuesday, co-host Joe Scarborough erupted several times, at length. One blast got lit by a story on the Washington Post website headlined "Russian operatives used Facebook ads to exploit America's racial and religious divisions."
He wanted to know how Russians were able to discover precise internet data to help micro-target voters last November in states around the Great Lakes where a curious string of upsets in those states helped Trump defeat Hillary Clinton.
The Post reported that the Russians bought "some ads promoting African American rights groups, including Black Lives Matter, and others suggesting that these same groups pose a rising political threat."
Did the Russians have American help? Was that help tied to the Trump campaign?
"You go to Vladivostok to find out how to micro-target in Oshkosh, Wisconsin," Scarborough said. "The Russians showed this advanced ability to engage in micro-targeting in the upper Midwest. I find that fascinating that the Russians would have access to this information that your local congressman in Wisconsin does not have."
His voice increasingly dripped with sarcasm, scorn and innuendo.
"Who gave the Russians the information that allowed them to micro-target in rural Wisconsin, rural Michigan, rural Pennsylvania, rural Ohio?" Scarborough asked. "Because they don't know in Vladivostok how to micro-target Oshkosh."
He asked panelist Mark Halperin how this could possibly be.
"We don't know," Halperin said. "But there are a bunch of people with subpoena power who are trying to figure it out."
So Scarborough came to a faux ignorant conclusion.
"Now, I'm just a dumb country lawyer," he said. "This is all very confusing to me. And most other people."
MEGYN KELLY NOW AND THEN
Now that she hosts Megyn Kelly Today on NBC on weekday mornings at 9 a.m., Megyn Kelly's producers are trying to repackage her as a soft and fuzzy hugger who loves oh, so many people and hopes to bring "joy" to everyone who watches her new show and, golly-gosh, to everybody else in the whole wide world.
Forget about that hard-edged right-winger with the short skirt behind the glass desk who used to race-bait with scary stories and push divisive wedge issues on weekday evenings for Fox News Channel. Kelly wants to get away from politics now, she said. She's into family first.
"I love my children," Kelly revealed Tuesday.
The show takes place before a studio audience pumped up to a frenzy that belies the slow pace of the hour. The first two days have included plenty of scenes, live and on tape, about Kelly's mother, her husband, her kids and her siblings.
"Megyn Kelly is a terrible cook," one of them said Tuesday.
The show's worst moments are treacly like that. The best moments include a feature on Tuesday about four female African-American police chiefs in North Carolina.
But, just in case viewers don't remember the old Megyn Kelly from as recently as earlier this year, John Oliver on Last Week Tonight on HBO provided perspective. First, he showed an NBC promo in which Kelly is shown writing notes while her voice speaks over the visual.
"My hope," she says, "is that this show can be a unifying force."
Then Oliver switched to collection of Kelly's greatest hits from when she was a news actress on Fox. As serious and patriotic music played in the background, an overly formal announcer intoned, "And now look at the unifying force that is Megyn Kelly."
"Gay rights are more and more protected and recognized in this country… Christian beliefs and Christian rights, not so much… This is about the attempted war on the religious right, not the war on women… By the way, for all you kids watching at home, Santa just is white. Jesus was a white man, too… The decision to drop the now infamous voter intimidation case against members of the New Black Panther Party… New Black Panther Party… the New Black Panther case… New Black Panther Party… The New Black Panther Party is out there saying 'We've got to go kill some cracker babies'… 'Kill some cracker babies'…. Do you hate white people?… Is President Obama playing the race card?… Now, people have made this into a race thing… Do black lives matter or do all lives matter? Want to take a shot at that?… Last night's Democratic debate found five presidential contenders suggesting black lives may have more value than all lives… Aren't these just thugs?… I'm thinking 'thugs' is not far off the mark… Thug behavior… Thug mentality. And that's a controversial term, but, you know, that it's cool to sort of hate the cops and hang out and, you know, be somebody who doesn't necessarily pride being there for your family… Illegals… Late-term abortions… Voter fraud!… The left-wing press… Death panels!… War on Christmas… Benghazi!… Look at that moron… What an idiot… Cupcake nation alert!… A culture of victimization in this country… If you watch those VMAs, I mean you really have to wonder if, in 25 years, the new standard is they're just going to be openly having sexual intercourse on stage… Why can't there be a day when we take a moment and we stop and we acknowledge the role that God has played in the formation of this country?."
Finally, there was this, from a confrontation with Al Sharpton of MSNBC.
"You're an opinion guy," Kelly told Sharpton. "I'm a journalist."
Joe Lapointe spent 20 years as a sports reporter for The New York Times and worked as a segment producer for Countdown With Keith Olbermann. Recently, he has taught journalism at New York University, Rutgers and Long Island University-Brooklyn. follow him on twitter: @joelapointe