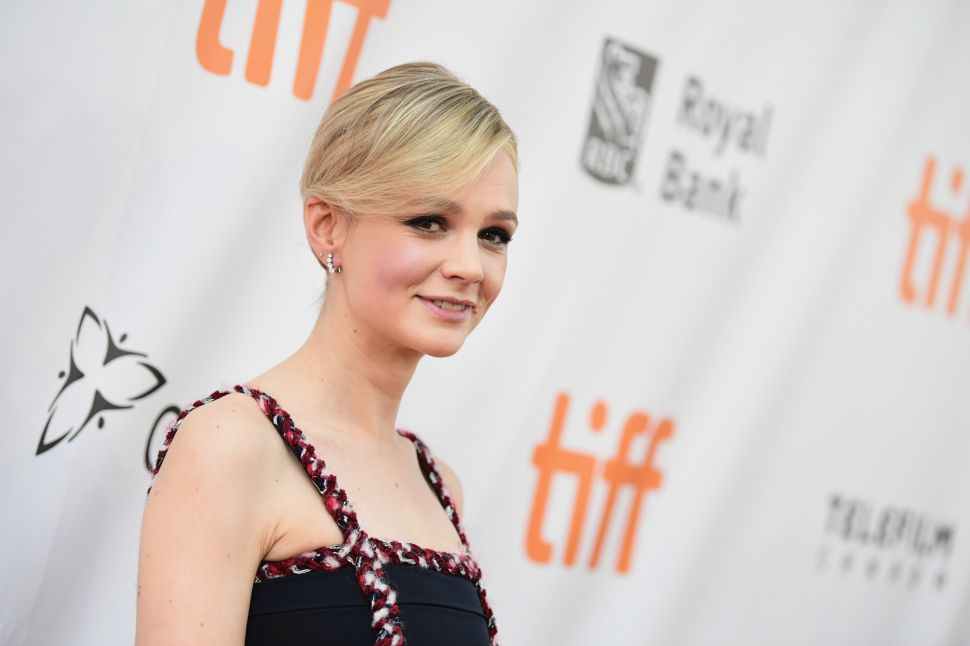 This is what I know about the race toward the 90th Academy Awards, after the Toronto International Film Festival has wrapped up but before the selections for the New York Film Festival have debuted:
1. Winner: Mudbound, Dee Reese's Mississippi-set period piece about two families, one black, one white, both strained by WWII and racism, isn't another movie out of Sundance that won't go the distance. Expect it to earn an Oscar nomination for Best Picture, and its female director may make it into a crowded field destined to be dominated by overdue Christopher Nolan (Dunkirk) and ever-nominated Steven Spielberg (The Post). In an awards season thirsty for women directors and people of color, it will definitely be a contender for Best Adapted Screenplay, and will push Mary K. Blige and possibly Carrey Mulligan into the supporting actress category as the two parallel matriarchs. It couldn't be timelier: human kindness battles the KKK for the hearts and souls of Americans.
2. Loser: Sorry, George Clooney, you'll have to be satisfied with Amal and the twins and your tequila windfall. Suburbicon, his highly anticipated dark comedy starring Matt Damon, Julianne Moore and Oscar Isaac, and penned by the Coen Brothers, pulled up lame.
3. Winner: Gary Oldman (nominated for Tinker Tailor Soldier Spy in 2011) leads the early pack for Best Actor as Winston Churchill in Joe Wright's biopic Darkest Hour. Wright (Atonement) could also be staring down a Best Director nom.
4. Winner: Fierce and infused by faith, Melissa Leo rocks the wimple as an embattled Mother Superior in the debut drama from Maggie Betts, The Novitiate. Leo will be a major contender in Best Supporting Actress—if Academy Members pop this screener in their VCRs.
5. Loser: Love or hate Yorgos Lanthimos's The Lobster, the director's highly anticipated next film, The Killing of a Sacred Deer, isn't garnering quite the same hubbub. The intensely awkward film is killing Nicole Kidman's Best Supporting Actress dreams for 2018. And Best Picture? Forget about it.
6. Winner: Guillermo Del Toro is back with a vengeance with The Shape of Water, a sci-fi fantasy love letter to filmmaking that is bound to make the Best Picture shortlist while pushing the deserving Sally Hawkins to the top of the Best Actress heap (with a boost from her earlier heartbreaking performance in Maudie).
7. Winner: Oh, Lady Bird, what a bright and shining debut for Sacramento's own Greta Gerwig. While it may be difficult to crack the Best Director field – and all those crotchety DGA Members—Gerwig's coming-of-age in California mother-daughter comedy looks like a contender for Best Original Screenplay, with a leg up for the indefatigable Saoirse Ronan in the title role and the always terrific Laurie Metcalfe as her beleaguered mother.
8. Loser: I may be out on a limb here but I found Film Stars Don't Die in Liverpool over acted. Toronto audiences were split and Annette Bening's turn as screen siren Gloria Grahame in the waning days of her life and a May-December romance with a Liverpudlian played by Jamie Bell seemed like a slam-dunk. But, no, that kittenish "I love you Mr. President" voice, the sultry looks of quiet desperation: just too much.
9. Winner: Can Steve Buscemi be recognized for his life-of-the-Communist-Party Nikita Khrushchev in Armando Iannucci's The Death of Stalin? In a crazy-ass comedy from the creator of Veep, he commands the audience's attention.
10. Winner: Even after the deluge of festival premieres, Dunkirk and its director Christopher Nolan remain strong for a Best Picture—Best Director tag team.
11. Loser: Emma Stone won Best Actress last year but she won't be nominated this year for her portrayal of tennis great Billie Jean King opposite Steve Carell's Bobby Fisher in the underwhelming Battle of the Sexes.
12. Winner: With Three Billboards out of Ebbing, Missouri, Martin McDonagh's dark comedy about murder, mayhem and the extremes of maternal love in a small town, Frances McDormand courts the Best Actress Oscar alongside standout support from Sam Rockwell.
13. Winner: The gay summer-of-first-love story Call Me by Your Name pairing Armie Hammer and rising star Timothee Chalomet (Lady Bird) shot out of Cannes with enormous buzz—and now garners attention as a potential Best Picture nominee.
Whatever we know now, as Sherlock Holmes once said, "The game is afoot." We may have only just recovered from that epic La La Land fail at last year's Oscars but we're back in the awards season trenches as the prestige movies begin to roll out in theaters this month with Battle of the Sexes on September 22nd.