Have you been missing the early aughts now, more than ever before? Luckily, Paris Hilton invaded New York Fashion Week to save you a nostalgic trip down a Smirnoff-soaked memory lane. Galore and Juicy Couture hosted a throwback party at PUBLIC, with appearances from the yoga DJ and the Stars Are Blind songstress and Lady Marmalade guest star, Lil' Kim (unfortunately, she wasn't wearing her purple pasties).
As NYFW came to a close, revelers gathered outside the PUBLIC to bid adieu to a busy week. Many wore brand new Juicy sweatsuits, no doubt influenced by Tinashe and purchased at Kohl's. Others wore their fashion week finery, and it was all on display outside of the hotel, as no one was let inside the venue. This wasn't the only hot mess post-show party of the week—the Nylon and Alexander Wang after-parties also left those on the list stranded outside.
At around 11:45 p.m., tired of waiting aimlessly for almost an hour without entrance, a fight broke out and the police were called. Even Rachel Lindsay of The Bachelorette fame and her chiropractor beau Bryan Abasolo (not Peter) weren't allowed entry and they left to find a cab with their handler. We assume they went home to assess their life choices and contemplate Fit Tea sponsorships.
The Fat Jewish also lingered outside in a sports bra, snapping photos with other NYFW rejects. Instagram star and Snap Pack member Ezra William, who's close enough with the Hilton sisters to have photos of them on his mantelpiece, did not gain entry, and stood outside in a fur situation that looked worthy of a CW teen king.
Even the influencers promoting the event seemed to have issues, lurking near the enormous line that formed. It turned out that a Kenzo party, also hosted at the hotel, accounted for quite a bit of the crowding, in addition to the fact that the "non-transferable invitation made its way into various social media networks…The unexpected numbers exceeded our control and shortly after opening doors we were informed by the police, the fire marshal, and hotel management that the party had to be shut down," according to an email from the PR firm behind the party.
While there were no sad bologna sandwiches and there wasn't a tent city, there was enough angst to form a Fyre Fest-like revival. Maybe Billy McFarland has gone into party planning.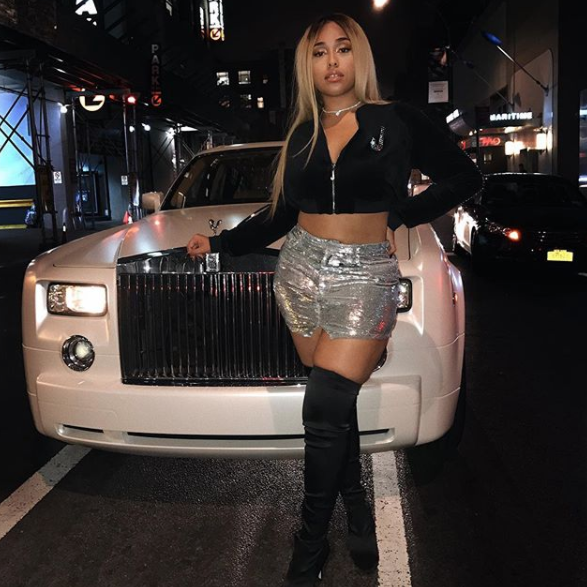 As the crowd grew angry and anxious (perhaps because their velour sweatsuits were cutting off their circulation?) the bouncers outside told everyone the party was cancelled, just like Juicy Couture was when the founders announced, "It's been painful to watch the brand fall."
Still, revelers were not dissuaded, and continued to loiter in hot pink for the chance to see Kanye muse Teyana Taylor's bonkers body in person. Some ventured to The Box, in another show of early-aughts celebration.
Almost everyone who had been invited and did not receive entry took off by 1 a.m., though it seems the party did happen at some point, at least according to Instagram. Kylie Jenner's best friend Jordyn Woods and a barely recognizable Lil' Kim were spotted inside the venue—by Galore's Instagram account. It's possible those onstage were the only people who actually attended the party…
Next time you consider donning your Juicy terrycloth sweats for something other than a bodega run on a cold winter night, consider the alternative—you could be waiting outside in the heat for a party that was only really cool in 2003.