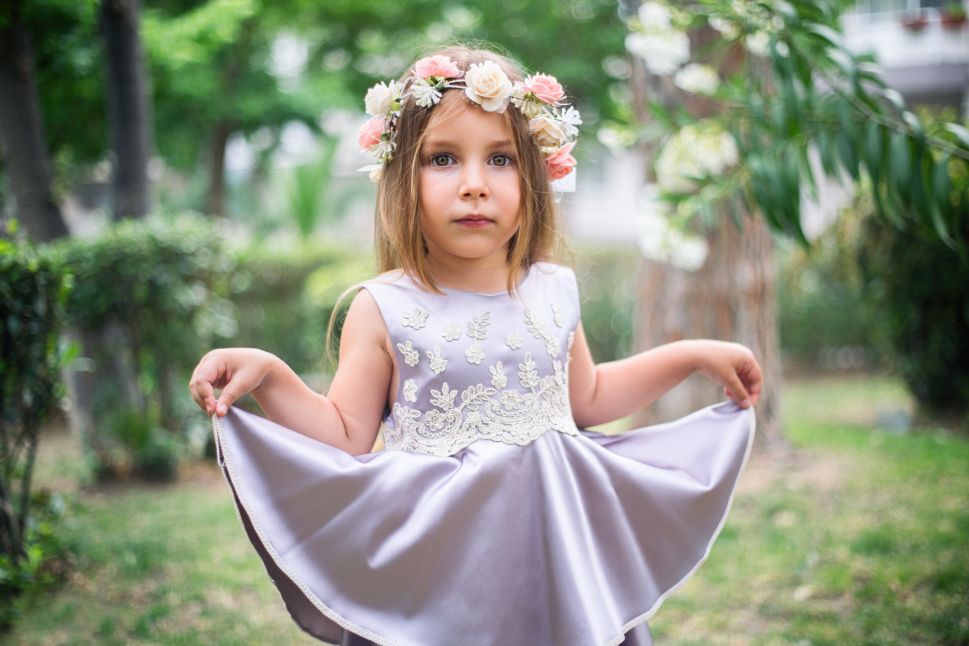 If you're on Facebook or Instagram and you have friends with kids, your social feeds have been full of first day of school photos recently. Thanks to social media, going back to school now means holding a Pinterest-worthy sign and saying "Cheese!" for the internet.  
It's normal to be proud of your kids. It's normal to want to document the milestones in their lives. But the evolution of back-to-school time from a childhood progression into a personal media event has had a decidedly abnormal effect on many young girls.
There's been an obvious increase in the amount of adult-style grooming that children are subjected to for these pictures. It's not unusual to see third-graders in cocktail dresses, wearing full makeup and kid-sized high heels. Some mothers are sheepishly (yet laughingly) admitting their kids' hair and makeup routines made them late for the first day of school. The accompanying photos show wide-eyed, pre-pubescent girls wearing heavy eye makeup, lip gloss, and pageant-style hair. 
When it comes to more drastic changes in kids' appearances, the stats are grim. According to RealSelf, a consumer review site for cosmetic procedures, consultations for non-surgical treatments like lip fillers and Botox among teens and young adults have skyrocketed. Their data shows that interest in these types of medical interventions are up 11 percent from last year among the baby-faced cohort.  
Dr. David Shafer, a cosmetic surgeon in New York who contributes to RealSelf by answering questions from the community, told Observer he's seen "an upswing in exaggerated lips, butts and breasts." But he leaves a lot of money on the table by turning away girls seeking Kylie Jenner's pillow-like pout and other alterations. "I don't do cosmetic procedures on minors," Dr. Shafer says. "There are cases where the procedure is reconstructive in nature, such as pinning back prominent ears which I will do. But that's a reasonable request." 
Less reasonable are the moms bringing their daughters in for labiaplasty and other genital reconstruction surgeries. Both Dr. Shafer and fellow RealSelf contributor Dr. Lara Devgan report an increase in young women pursuing such extreme operations on their reproductive zones. Dr. Devgan says this has become a back-to-school option because, for both students and teachers, "it makes sense to heal during summer vacation." 
"It's been an incredibly busy summer, starting in June," she told Observer. "I typically book surgeries several months in advance, but there are always people who call in mid-August and want to recover by Labor Day. I do everything I can to accommodate them."
Unlike Dr. Shafer, Dr. Devgan does operate on minors. "There are young patients for whom the right answer will be not to have surgery, but there are also those who would be excellent candidates."
Dr. Anthony Youn disgrees. "I don't condone cosmetic surgery on minors, so it's a no-go there," says the doctor, also a RealSelf contributor. While he does operate on young adults, Dr. Youn doesn't think it's always a good idea. "I discourage many people under the age of 23 from getting work done unless absolutely desired and even needed, since the face and body can continue to change, even in the late teens and early twenties."
In addition to celebrity examples, much of the inspiration for these procedures originates on kids' phones. Increasingly powerful high-definition cell phone photography has made kids hyper-aware of their perceived flaws. "Patients have hundreds of pictures of themselves and can zoom in to the finest details on their skin," says Dr. Shafer. "This makes them more aware but also self-conscious of their appearance." 
It's a tired trope to blame everything on social media, selfies, and phones. But it's undeniable that the content young people see on digital platforms is influential. "We are really seeing people learning about plastic surgery on social media," says Dr. Youn. "The engagement on Facebook and Instagram is increasing exponentially. After seeing me perform procedures on these social media channels, they've become intrigued and interested in getting something done themselves."
So while the inappropriately grown-up clothes and makeup we see little girls wearing for school are jarring, that's nothing compared to what the same children are likely to want by the time they're teenagers. Some parents will be wise enough to block this linear progression from appearance-fixated child to procedure-eager tween. Because it's not just the concept of cosmetic surgery that's become normalized for kids, but also the gory details.
"People want to see needles going into faces and scalpels in surgery," says Dr. Youn. "The new plastic surgery TV show is not on cable TV, it's on Instagram."
Jackie Danicki is a marketing and partnerships consultant and a regular contributor to the Observer. Follow her on Instagram at @burnedoutbeauty.