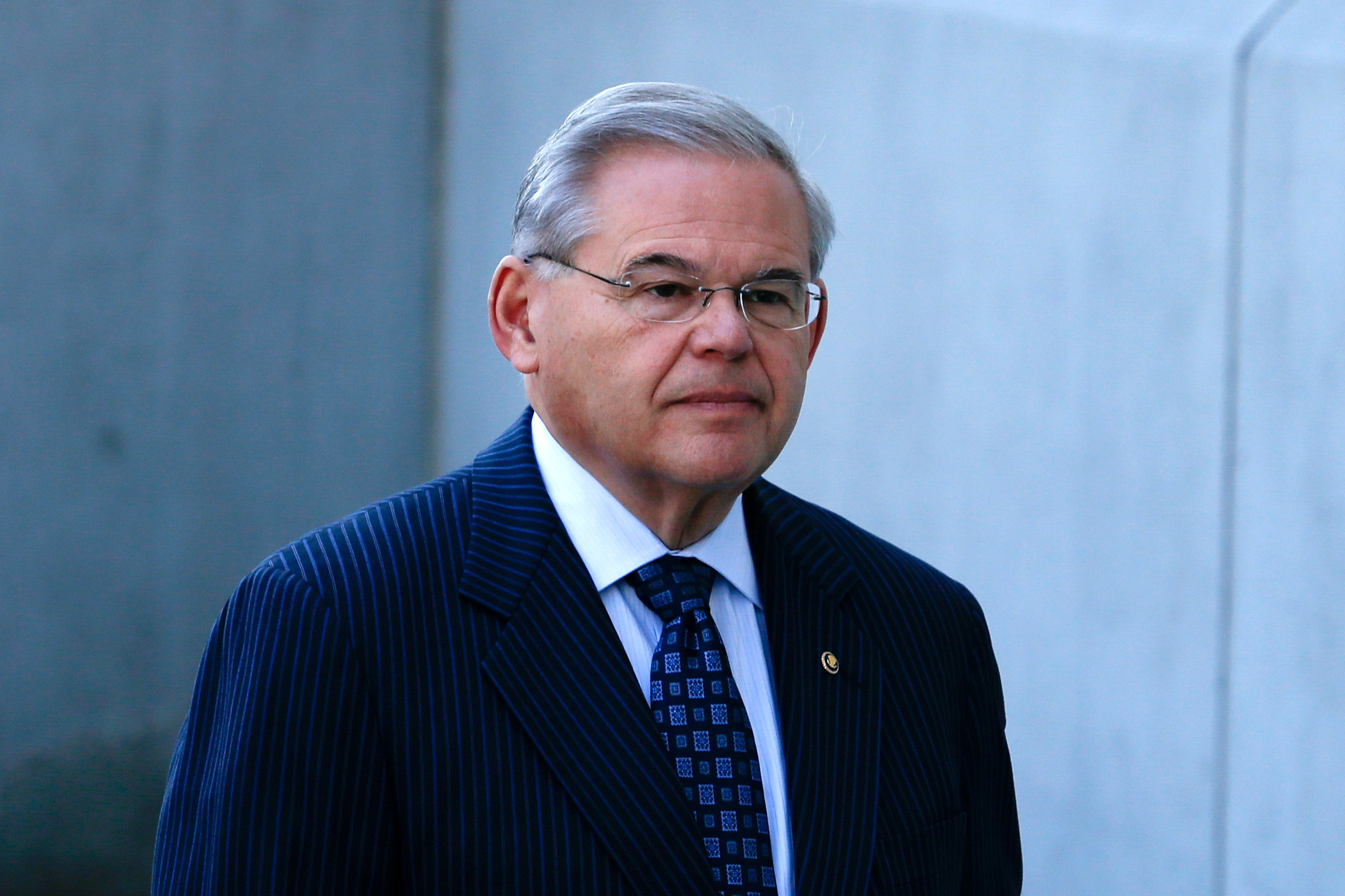 Half of New Jersey voters say U.S. Sen. Bob Menendez does not deserve re-election in 2018, according to a new poll that shows declining public support for the embattled Democrat standing trial on bribery charges.
A Quinnipiac University poll released on Thursday found that 50 percent of voters said Menendez should go, while 30 percent were undecided and 20 percent favored his re-election.
"Perhaps poisoning the landscape," said Maurice Carroll, the poll's assistant director, Quinnipiac surveyed 1,121 New Jersey voters from Sept. 7 to Sept. 12, "as federal prosecutors opened their case."
It's not the first time voters weigh in on the senator's prospects. Quinnipiac in a June survey found that voters did not support Menendez's re-election next year by a 44 percent to 31 percent margin.
Menendez, who had maintained net-positive job approval ratings for most of the year, went underwater in the new poll: 31 percent of voters currently approve while 49 percent disapprove, his lowest rating in this poll since 2008. In previous Quinnipiac surveys this year, Menendez was at 41 percent to 41 percent in May and rose to 44 percent to 35 percent in June.
"If Sen. Menendez is convicted, he obviously won't be in the running next year," Carroll said. "If he is acquitted, who knows."
Menendez's trial began on Sept. 6 and could stretch through Thanksgiving, according to a trial schedule approved by U.S. District Judge William H. Walls this week. The trial initially was poised to run six to eight weeks but the schedule now includes a number of adjournments for federal holidays including Columbus Day on Oct. 9 and a few 1 p.m. dismissal days.
The schedule means that Menendez's fate likely will be decided after the Nov. 7 election, in which New Jersey voters will elect a new governor. The trial has been increasingly a factor in the governor's race, with Republican nominee Kim Guadagno claiming that Menendez should step down if convicted. Democratic nominee Phil Murphy told reporters he hadn't thought about the issue.
If Menendez is convicted, one option commonly discussed in Democratic circles is that he would hold off on resigning until after a new governor takes office. That would deprive Gov. Chris Christie of the chance to appoint a Republican replacement in the Senate, at a time when the GOP holds a slim, 52-seat majority and has been unable to pass some major bills. Murphy, meanwhile, is the odds-on favorite to win the governorship and would keep the seat in Democratic hands.
The poll found that 68 percent of voters said Christie should let the next governor fill Menendez's seat if he leaves, and 24 percent said Christie should fill it with someone else. A group smaller than the poll's margin of error — 3 percent — said Christie should appoint himself to the Senate. The poll's margin of error was plus or minus 4 percentage points.
Despite taking a hit in the polls, Menendez remains a cut above in the eyes of New Jersey voters when compared with Christie and President Trump. Menendez had a net positive approval rating among two demographics: Democrats and voters from 18- to 34-year-olds.
Christie had a 16 percent approval rating in the new Quinnipiac poll, with 79 percent of voters disapproving. New Jersey voters disapproved of Trump by a 61 percent to 32 percent margin, although the president's numbers improved compared with a June survey.
The court's approval of the trial schedule was not related to a pre-trial motion filed by Menendez's attorneys to pause the trial for "critical" votes in the U.S. Senate.
Prosecutors are alleging that Menendez used his influence as a U.S. senator to advocate for several personal and business interests held by his co-defendant Salomon Melgen, a wealthy donor from Florida. In exchange, they say, Menendez accepted expensive gifts, free flights on Melgen's private jet and hundreds of thousands of dollars in campaign donations. Menendez and his attorneys say that the two men were close friends and that their personal relationship is being misrepresented by prosecutors.
A number of witnesses have testified including former Melgen girlfriends for whom Menendez helped to secure visas. A former private pilot for Melgen also testified, noting that he flew Menendez on 16 different occasions on Melgen's jet. Other witnesses have so far included an American Express executive who explained the company's points program (used by Melgen in 2010 to book a hotel room in Paris for Menendez), several FBI agents who have testified regarding the nature of the investigation and a those with knowledge of flights Melgen bought for Menendez, including an $8,000 charter of Melgen's private jet to pick up Menendez in New Jersey.
Menendez has maintained his innocence and has said he believes he will be "vindicated."