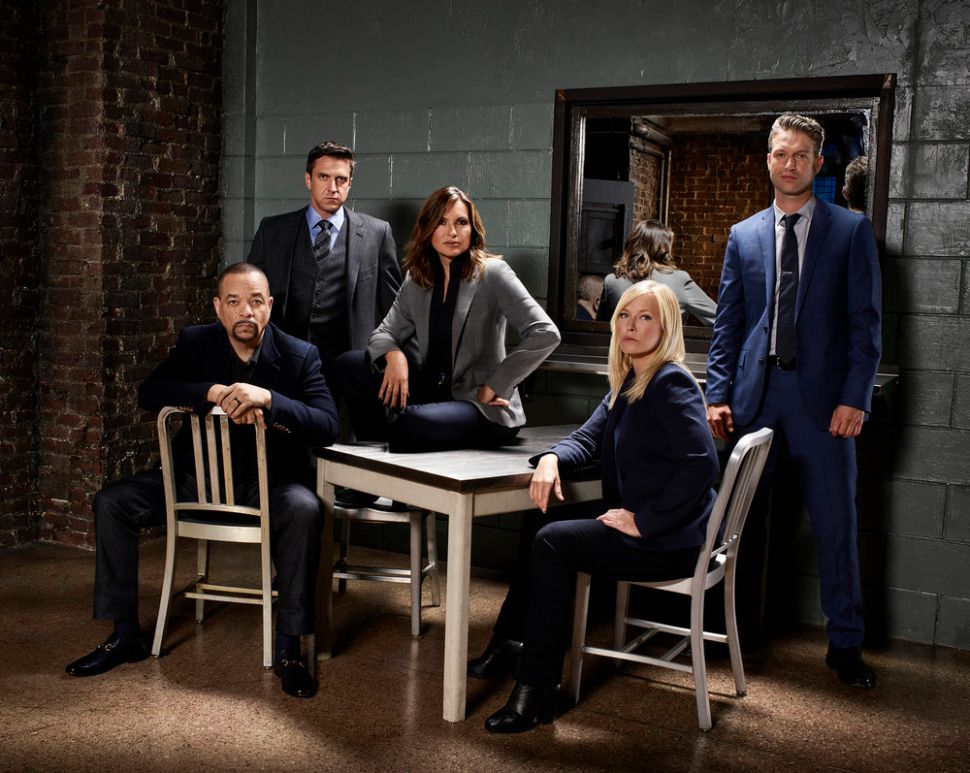 Law & Order SVU has continually put its lead character Sergeant Olivia Benson (Mariska Hargitay) through the wringer, and that's not about to change in the series' 19th season.
"We really wanted to shake up Benson, not that she hasn't gone through enough, but there's always something else," said the show's executive producer Julie Martin at a recent press event.
Giving more details, but nothing too concrete, Martin added, "She's a mom but she's also going full throttle at her job as a commanding officer. We wanted to find a way to really put a wrench in her personal and professional life."
SVU's new showrunner, Michael Chernuchin, mused, "it's interesting because it all came out of Benson saving herself. All the bad things happened after she did the right thing."
Chernuchin joins the series after the departure of Rich Eid who helmed the drama for just one season. Prior to Eid, Warren Leight ran the production for the previous five years with Neal Baer in charge for the first 12 seasons of the drama.
Chernuchin comes in with an extensive knowledge of the Dick Wolf universe, having spent time as a writer and producer on the original Law & Order, Law & Order: Criminal Intent and last season's Chicago Justice.
"It's like using the same muscle but in a different way," said Chernuchin of moving from show to show, and now to SVU. "The underlying theme is the law, but here we're really focusing on how the system affects the victims and our detectives."
And, there's a lot going on with those detectives.
Last season, there was the hint of an outside-of-work relationship between Detectives Amanda Rollins (Kelli Giddish) and Carisi (Peter Scanavino).
"I don't know if we're going to go there but I think it's interesting where it is right now," said Giddish. "It's kind of exciting [for Rollins] to have someone to talk to and not have to play any games about whether it's a romance or not."
One relationship that will change dramatically this season is the one between Rollins and her commanding officer, Sergeant Benson.
"They're in a similar situation so they'll talk about what it's like to be working moms and the difficulties in that," explained Martin. "They've gone through a lot of trust issues and baggage, but the thread throughout their relationship is that they understand each other in a way that the guys on the squad might not."
Giddish is happy about the change in the dynamic. "I'm really excited to mine that friendship this year. Instead of it being contentious all the time with me going into her office because I'm in trouble for something," she said.
Hargitay agreed with Giddish sentiments, adding, "This is my favorite storyline this year. I said I wanted to delve into being a single parent and a boss. Being both is really unmanageable. There's traditionally been this friction between [Benson and Rollins] but that's changing. This is a completely new relationship budding with these two bad ass chicks."
Benson's second in command, Fin (Ice T), is in bit of a situation himself. "I passed the Sergeant's exam but I don't get the badge because if I get it, I have to leave this unit and I don't want to do that," said Ice T of his character's upcoming storyline. "So I'm cool, working at my desk chasing down bad people, but the way I do it does cause some problems." 
Constantly frustrated ADA Rafael Barba (Raul Esparza), will get no relief this season either. "There's gonna be some trouble. Things are going to blow up for Barba. I'm excited about it."
Ruminating about his character a bit more, Esparaza said, "My favorite quality about Barba is he's a bit of a son of a bitch. He's got a good heart but he's not a nice guy and that's O.K. because people seem to respond to it."
As is tradition with the Law & Order franchise, the series often rips from the headlines to tell fictional stories about current issues.
The cast and creators were caught a little off-guard last year when a Trump inspired episode was shot and ready to air, but then shelved. Remaking about this Martin said, "As of now, NBC's position is that it's not going to air. After working so hard on it, it was a little tough to accept that, but I think at this point we have to just let it go."
This season the drama will offer its take on the situation that occurred in Charlottesville and feature an episode about cyberbullying. "That one is our answer to [the Netflix series] 13 Reasons Why," says Chernuchin.
But, by far the biggest shake-up as SVU moves forward will come from a character being played by Brooke Shields.
While specifics about the motivations of Shields' character are being held for now, Hargitay did say, "These two women are going to really go toe to toe. There's a real emotional battle that goes on between them. They're both trying to do the right thing but are at odds about what that is."
As heavy as the storyline is, Chernuchin laughed as he said, "When we announced that Brooke was coming on the show people on the internet were guessing different things [about her role]. Nobody came close to guessing what she'll really be doing."
(More about Shields' role and her feelings about working with Hargitay coming soon.)
If it seems like there's a lot of drama in store for the SVU detectives this year, that's all by design. As Esparza explained, "The bread and butter in a series is making life as difficult as possible for the characters. If we're all well-behaved then nobody wants to watch."
Hargitay simply concluded with, "This year is really good. Really good. Watch it and you'll see."
Law & Order: Special Victims Unit airs Wednesdays at 9e/p on NBC.
Anne Easton is a West Coast based writer for Observer. She's an Emmy-award winning writer and producer who has worked in news, sports and children's television for FOX, ABC/Disney and the ReelzChannel. Follow her on Twitter at @anne_k_easton.
More from Anne Easton: 
Larry David Talks Trump, Turning 70 and Being a Quitter
Carlton Cuse Explains 'The Strain' Finale
Come for the Killer Obstacle Course, Stay for the Backstories on 'America Ninja Warrior'