Prince George was one of the last young royals to start school this fall. By the time Thursday rolled around, all of the other small princes and princesses had already been photographed by their parents (or by a professional) to celebrate their first day of school, in all their awkward glory. The Netherlands' own Princess Alexia was spotted biking down her driveway in Converse and the Belgian royal family struck a pose with stuffed backpacks on. So how did Prince George's first day of school uniform reveal stack up?
Prince George looked appalled at the very idea of starting school, approaching the Head of Lower School at Thomas's Battersea in London with fear in his eyes. Unlike the Danish Prince Vincent, PG was not spotted crying, although it looked like he definitely teared up at some portion of his drive to school. But who among us has not cried at the thought of doing homework nightly for the next decade?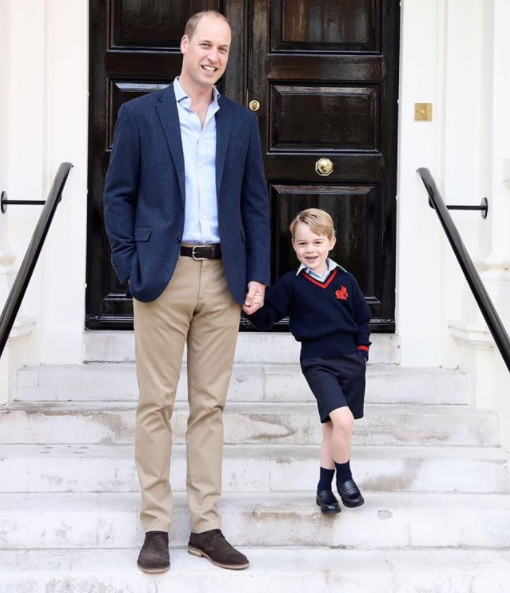 Like Prince George, Prince Vincent had a pretty rough time on his first day of school, tears and all. He perked up for a family photo, but otherwise looked entirely shellshocked. At least he was joining his siblings at school, while Prince George has to lead the way solo.
Luckily, Prince George's uniform doesn't look all that different from his usual ensembles, but that might be why he wasn't completely comfortable. While these socks don't quite hit the knee, they sure are up there.
Unfortunately, his doting mother couldn't attend drop-off because of her debilitating morning sickness, which might have been one reason for the long face. Or it could be because he knows there's another sibling arriving shortly to steal his thunder. Maybe it's because his school uniform isn't quite as snazzy as his father and uncle's epic ensembles—pageboy caps and blazers included. Hopefully by tomorrow he'll be smiling on his way to class, cap in hand.