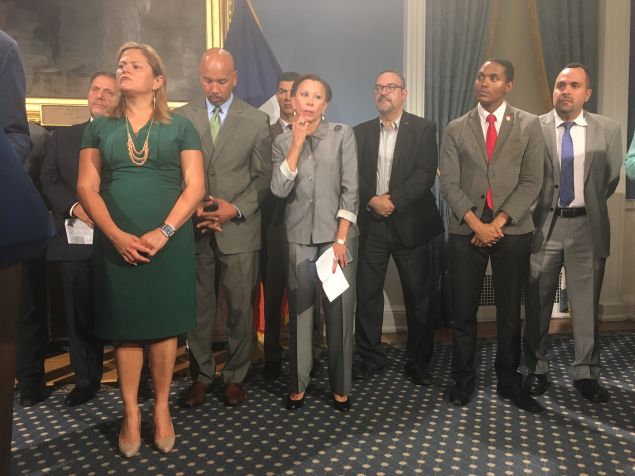 New York's congressional delegation is calling on the federal government to rescind a nearly 100-year-old bill that forces Puerto Ricans to buy goods from American ships and crews and increase funding for the Federal Emergency Management Agency to assist economically strained Puerto Rico in the wake of Hurricane Maria.
Extreme flooding was rampant throughout the island, tearing down roofs of buildings and homes that were inundated, especially in San Juan, the capital, according to NBC News. And a little after 12:30 am, the National Weather Service announced a flash flood warning for Puerto Rico, urging people to move to higher ground. And Gov. Ricardo Rosselló said that none of the power is currently functioning.
U.S. Rep. Nydia Velázquez — the first Puerto Rican woman elected to Congress — told reporters at an emergency press conference at City Hall on Thursday afternoon that she would like to see the federal government rescind and provide a waiver from Jones Act, also known as the Merchant Marine Act of 1920.
The legislation limits the carrying of goods and passengers between American ports to vessels constructed and by the United States and to have a crew that is mostly American.
"Puerto Rico is already facing not only the damages from Irma but also a financial crisis that was caused not only by the government itself but by the hedge funds, the vultures and the fact that Puerto Rico's not treated fairly and equitable when it comes to Medicaid funding. And we can address that issue before we come home in December," Velázquez said.
She said that the hurricane is an "unprecedented event" that requires a "monumental response."
"We have a strong presence of agencies in Puerto Rico but the most important part is the federal relief in terms of funding," she continued. "So what have we faced already [with] Irma is $1 billion in damages. I can tell you today that this is gonna take more than $10 billion, so the federal government has to revisit this."
U.S. Rep. Adriano Espaillat (D-Upper Manhattan), who is Dominican, also described the Jones Act as one of the long-term issues "that must be wrestled with," noting that it limits Puerto Rico's ability to use ports, and said that they have to go back to Washington and designate more funding to FEMA.
They designated some funding for Hurricanes Harvey and Irma but he said that he did not think it was sufficient funding, he said, noting that FEMA "has a limit on funding available to provide these kinds of first help services."
He also noted the island's debt, which has crippled the country for years. In May, Rossello said that the government would seek immunity from creditors after it found itself with a $70 billion debt.
"Another one is the debt, the fiscal obligation that they're saddled with," Espaillat said. "I think there should be a look at how Puerto Rico should have a moratorium on … that debt until they eventually recuperate and lift themselves up from the ground."
City Council Speaker Melissa Mark-Viverito, also a Puerto Rico native, who teared up as she expressed sorrow and anxiety over the situation on the island, said that she has been able to communicate with her mother as well as relatives and friends in various parts of the country and that they told her they are safe. She noted that communication has been "difficult" due to cell phone service being "spotty."
"There is legitimate concern, as the congresswoman said, for a lot of people, that the vulture funds — that's where I come from — that the vulture funds going to try to use this catastrophe as an opportunity to come in and try to make themselves whole, and they are the ones that helped contribute to this mess," Mark-Viverito said. "Those things are really important, the context and the complexity of this issue … that's a responsibility the government has and we can't allow this unequal treatment to continue."
She said that she plans to go to Puerto Rico "very soon" and that she is ready to assist in whatever way possible or necessary, also stressing that elected officials have to listen to what grassroots leadership on the island is saying and seeking.
The speaker said that the city has to support the congressional delegation in putting pressure on the federal government "to do right and what's right for the Puerto Rican people on the island, noting that the team "that is leading here" is a FEMA-trained team and that the city will be reimbursed.
At the press conference in the Blue Room of City Hall, Mark-Viverito, Mayor Bill de Blasio and Emergency Management Commissioner Joseph Esposito outlined the city's response to the hurricane.
De Blasio said that the city deployed 36 members of the Urban Search and Rescue New York Task Force 1 to Puerto Rico and that it is also deploying NYC Emergency Management employees with expertise in logistics, debris management, operations and recovery to San Juan to help in Puerto Rico's Emergency Operations Center.
He noted that the island's fiscal and humanitarian crises existed before the storms.
"There was already a healthcare crisis in Puerto Rico," de Blasio said. "Unfortunately, it was largely the product of mistaken federal policies and the federal government has to make up for that mistake. Puerto Rico's economy was fundamentally undermined by changes in federal policy over the last 20 years."
The mayor said that it has "left them very vulnerable" and that they cannot be asked to contribute to disaster relief "if they don't have any money to contribute with."
"Now it's time for our nation to step up for them," he said.
City employees will receive an email today informing them of the option to make a donation from their paychecks to relief efforts, at which point the funds — directed through the Mayor's Fund to Advance New York City — will be distributed to organizations supporting Puerto Ricans and other Caribbean residents affected by the storm. The city will also be identifying firehouses throughout the five boroughs where people can donate batteries, diapers, baby food, first aid supplies and feminine hygiene products.
The mayor said that he does not have plans to go to Puerto Rico at the moment but plans to help however he can. Velázquez reiterated that federal officials told elected officials not to go because they could interfere with the recovery process.