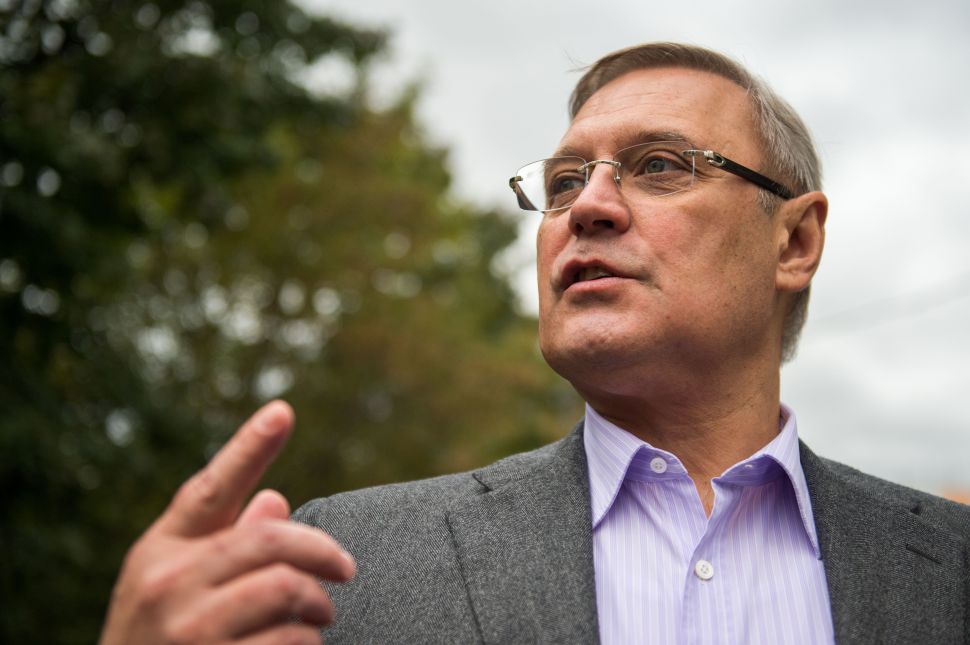 Opposition candidates won more than 270 seats in Moscow's municipal elections, which were held almost two weeks ago. Some in the western press reported this as evidence of the "start of the new political era."
Although he hasn't announced he is going to run again in the next election, which is in March 2018, make no mistake: Vladimir Putin is going to run, and he will win. According to a poll conducted in August by the respected Levada-Center, 60 percent of those Russians polled say they will vote for Putin.
More than two-thirds of those surveyed want to see Putin as their president after 2018. Five years ago, only 34 percent of Russians saw the president this way.
The Levada-Center then conducted an experiment: Surveyors asked participants if they were planning on voting for Andrei Semionov, a fictional character who they were told was endorsed by Putin. Eighteen percent of participants said yes.
Only 3 percent of participants said they were planning on voting for Gennady Zyuganov, the leader of Russia's Communist Party.
Vladimir Zhirinovsky, the leader of the Liberal Democratic Party of Russia, and Aleksey Navalny, the founder of the Fund Against Corruption and darling of Western-minded reformers, each received 2 percent support. (However, Navalny is barred from running in the election because he was sentenced to a five-year suspended prison term on embezzlement charges, a charge he says was politically motivated.)
Since the last election in 2012, anti-Putin opposition has fallen on hard times due to the loss of charismatic figures such as Boris Nemtsov, Valeriya Novodvorskaya and Anton Nosik. Unlike five years ago, the movement now exists mostly on Facebook and has been steadily losing its audience.
Putin loves his opposition, a noisy but harmless army mired in scandal and corruption that suffers from self-inflicted wounds. He does not consider it a threat to his regime.
Legendary heroes of the opposition are all but gone, and their names have been dragged through the mud with the help of Kremlin-controlled media.
The press depicts the opposition's biggest icon—the late Boris Nemtsov, who was assassinated in 2015 in Moscow—as a lascivious sex maniac. His private life has been discussed on TV in soap-opera fashion, and now all Russians know that at least four women claim he is father of their children. Nemtsov was corrupt, and now his greedy relatives refuse his out-of-wedlock children their rights to the late politician's estate. Nemtsov's official wife, Raisa, and his almost-official wife, Ekaterina, refused to provide the four mothers of Nemtsov's alleged children with samples of the slaughtered politician's DNA and blocked them from getting their fair share of the late politician's wealth.
Despite these actions, one of the women, Iftodi, was able to prove that Nemtsov was the father of her son. She obtained a sample of Nemtsov's DNA not from his relatives but from blood obtained at the crime scene by police, which she needed a court order to get. Now, she wants a share of Nemtsov's fortune for her son.
Zhanna Nemtsova, daughter of the late politician and Russian opposition icon in her own right, was named as one of the defendants in the suit filed by Iftodi against the Nemtsov family.
All the while, pro-Kremlin tabloids reported that Nemtsov's relatives were desperately trying to sell his posh real estate in advance of the all-too-expected results of the DNA test. Nemtsov's girlfriend, who was with him when he was assassinated, unexpectedly acquired four apartments in the center of Kiev, the Ukrainian capital.
The political future of yet anther former icon of the Russian opposition, former Prime Minister Mikhail Kasyanov, was all but destroyed by a video of him having sex with fellow oppositionist Natalia Pelevine—while he was married with children. His reputation, and his party's, never recovered.
Indeed, human decency and adherence to rule of law do not always define a Russian oppositionist.
Another critic of Putin, Sergei Aleksashenko, former first deputy minister for the economy and former deputy chairman of Russia's Central Bank, was recently detained by Russian border guards while leaving Moscow on his way to the U.S.
In his possession, border guards found seven undeclared high military medals from World War II that did not belong to his family members and are illegal to take out of the country. Aleksashenko was allowed to continue his voyage to Washington, D.C., but a criminal case against him was launched two weeks later. In his latest statement, Aleksashenko did not deny having them in his possession and said that he did not plan on returning to Russia any time soon.
This is not the first criminal case brought against prominent Russian oppositionists smuggling contraband. Former Vice Prime Minister of Russia Alfred Koch was arrested in absentia in Russia for smuggling a painting from Russia to Germany.
Last March, the Russian opposition had to bid farewell to yet another charismatic icon: blogger Anton Nosik. The controversial activist died after a week-long alcohol binge at his friend's dacha. He was celebrating his 51st birthday and release from prison.
The Russian court fined him $5,000 for giving an interview to opposition radio station Ekho Moskvy. In the interview, he was asked if he supports the killing of women, children and elderly people. He said, "Sure. They're Syrians." Nosik arrived at his court hearing with a bag of clothing prepared for a jail cell.
That he was dealt a lenient slap on the wrist surprised many, since the punishment for his crime was up to five years of imprisonment.
The Kremlin doesn't just tolerate the opposition—it finances them. The main opposition radio channel, Ekho Moskvy, belongs to the Kremlin-controlled Gazprom, a natural gas giant. Putin-haters are very well paid there.
Oppositionists work in theaters too, some of which are well financed by the Kremlin. "Government, I know that you are lying, self-serving, but by law you must help the theater, art, so go ahead and keep your obligation," Kirill Serebrennikov, Russian oppositionist and stage director, famously said. Putin recently said that about 1 billion rubles ($17.3 million) from the Russian budget were given to Serebrennikov's theater "during the last two or three years."
Last August, Serebrennikov was put under house arrest for allegedly stealing government funds given to his theater.
Although known for his minimalist taste, Serebrennikov stated that the money was spent on costumes and stage decorations. Serebrennikov has yet to explain his purchases of an apartment in Moscow (price undisclosed) and of an apartment in Berlin (300,000 Euros), both of which coincided with the distribution of funds from the Russian government. During that time, Serebrennikov also acquired a permanent residency in Latvia. He now faces a 10-year jail sentence.
So far, the oppositionists who were jailed for their involvement in anti-Putin street revolts during Russia's last presidential election in 2012, though now freed, have failed to unify the opposition.
One of them, Sergei Udaltsov, who served a four-and-a-half-year sentence, told BBC News that during his years behind bars he never received help from fellow oppositionists like Alexei Navalny. Further, he accused protest leaders Navalny and Ilya Ponomarev of secretly cooperating with Putin's police.
Ilya Ponomaryov, who is accused of stealing $750,000 from the Russian government, is now exiled in Ukraine. He believes that in Russia "change can be achieved only unconstitutionally, hopefully with not too much blood."
He's not the only oppositionist foreseeing violence.
Ildar Dadin, who was imprisoned for taking part in anti-Putin protests and who claims he was tortured while in jail, wrote on his Facebook page on August 25, "I cannot wait to see the NATO soldiers-liberators on Tverskaya street." (Tverskaya street is the Fifth Avenue of Moscow). He also reposted a post of fellow oppositionist Arkady Babchenko, a journalist currently in self-imposed exile in Ukraine. The post stated, "I will definitely return to Moscow…On the top of the first Abrams [tank], which will go along Tverskaya, in the hatch, under the flag of NATO. I will stick out. Grateful Russians, having forgotten about Crimea, will throw flowers to liberators and, lowering their eyes, will beg for humanitarian canned stew. And they will kick the monuments to Putin, saying that they did not know and in their hearts were always against [him]."
Russians do not like to hear that, and there is no monument to Putin in Russia.
Not all Russian oppositionists in exile are millionaires like Gary Kasparov, Alfred Koch, Maria Gaidar and Zhanna Nemtsova.
Some of the exiled oppositionists barely make ends meet. The "protest" performer Petr Pavlensky—whose world famous protest performances include sewing his lips, wrapping his naked body in barbed wire, chopping off part of his ear and even nailing his scrotum to the Red Square—fled Russia after he was accused of rape. Now Pavlensky and his wife live in France, where they do not work or pay rent because, as he said in a recent interview to Deutsche Welle's Zhanna Nemtsova, daughter of the late Boris Nemtsov, both of them "reject work." He explained, "We have assimilated and identify ourselves with the French, and this is why we live like French people. We do not work, and we do not pay." He said that he "captured" a vacant house in which he lives and "takes" food from stores. "The security there is not very diligent," he said.
Pavlensky is fairly well known. Even The New York Times writes about him.
But it's harder if you are Nikolai Liaskin, who is in charge of Alexei Navalny's Moscow headquarters, and the world knows nothing about you. On September 20, Moscow police reported that the detained suspect in an attack on Liaskin told police the attack was ordered and paid for by Liaskin himself. The suspect met Liaskin at Navalny's headquarters after coming to learn about volunteer work. Police explained, "The detainee also said he personally conversed for an hour with the victim. During this conversation, the detainee told the victim about his desire to earn money. Then the latter offered him a reward for staging an attack on two people, one of whom was the victim himself. For these actions, the victim offered the detainee 150,000 rubles [$2,500], and the offer interested the latter. As a deposit, the victim handed the detainee 10,000 rubles [$170]. The investigation of the criminal case continues."
Is it any wonder that 60 percent of those Russians polled are planning on voting for Putin in 2018 and only 2 percent are planning on voting for his nearest rival?
Mikhail Klikushin attended Novosibirsk State University and received a graduate degree in Russian history before emigrating to the United States.