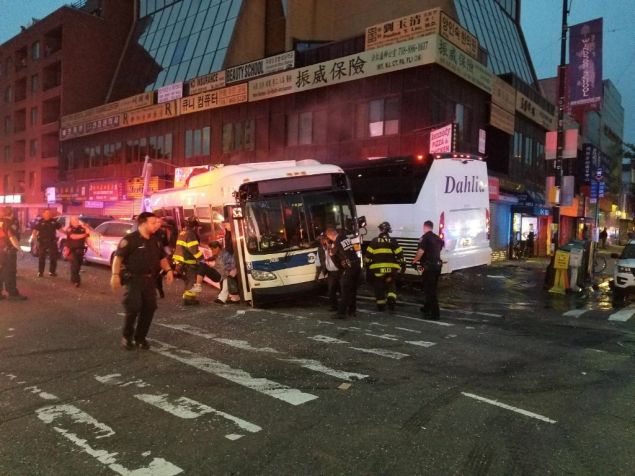 Mayor Bill de Blasio and Metropolitan Transportation Authority Chairman Joseph Lhota said they were investigating the circumstances around a deadly bus crash in the Flushing section of Queens on Monday morning that resulted in three fatalities and 16 injuries.
On Monday morning, a private tour bus was traveling east on Northern Boulevard, according to NYPD Assistant Chief Juanita Holmes. An MTA bus was traveling on Main Street and proceeded to make a right turn eastbound on Northern Boulevard when it was struck by the tour bus, Holmes said.
The private bus, which is operated by the Flushing-based Dahlia Travel and Tours, subsequently crashed into a Kennedy Pizza and Chicken, damaging and starting a small fire inside the building, according to the New York Post.
The tour bus driver and a passenger on the bus were pronounced dead at area hospitals, while a third individual died on the scene. All injured individuals — some of whom were in critical condition — were taken to area hospitals.
"We've had a really tragic morning here in Flushing, Queens — just shocking to see the scene over there, hard to compare to anything I've ever seen, the sheer destruction from the impact of this collision," de Blasio told reporters at the scene this morning, calling it "an absolutely very painful moment."
"We know that one of those who was lost was simply walking down the sidewalk on Monday morning on their way to work and out of nowhere this happens," he continued.
Lhota said that the MTA will go through the investigation and that they are looking into the speed, noting that the New York State Department of Transportation's Public Transportation Safety Board will be involved.
"As we're all concerned — we'll go through the investigation as well with the PTSB, the State authority that will look into this," he said. "Very concerned about the speed. But the most important thing is safety, and we want to make sure that we understand exactly what happened and we prevent this from ever happening again.
When a reporter noted that the corridor where the accident happened has been on the New York City Department of Transportation's list of the most dangerous corridors in the city for years, de Blasio said that as part of his Vision Zero initiative to eliminate traffic fatalities by 2024, the city has been "constantly changing intersections and improving them," giving Queens Boulevard as an example.
"We're certainly going to look at this intersection," he said. "The first things we need to understand is what happened here, because we do not know exactly what happened here, if anybody was specifically at fault or how it play out. But of course we'll look at the intersection itself to see if there's anything else that we have to do to improve the situation."
Lhota said that he will wait until the investigation happens "so we'll get a better idea of what actually caused this."
"Look I'm going to let the investigation go ongoing but as we've observed these buses spun around, that requires an enormous amount of speed," he said. "And I agree whole heartedly with the Mayor and his whole approach towards Vision Zero that we need to maintain a certain level of low speed in the City of New York."
In the mean time, the 109th Precinct in Flushing is urging people to avoid the area and warned of traffic delays.