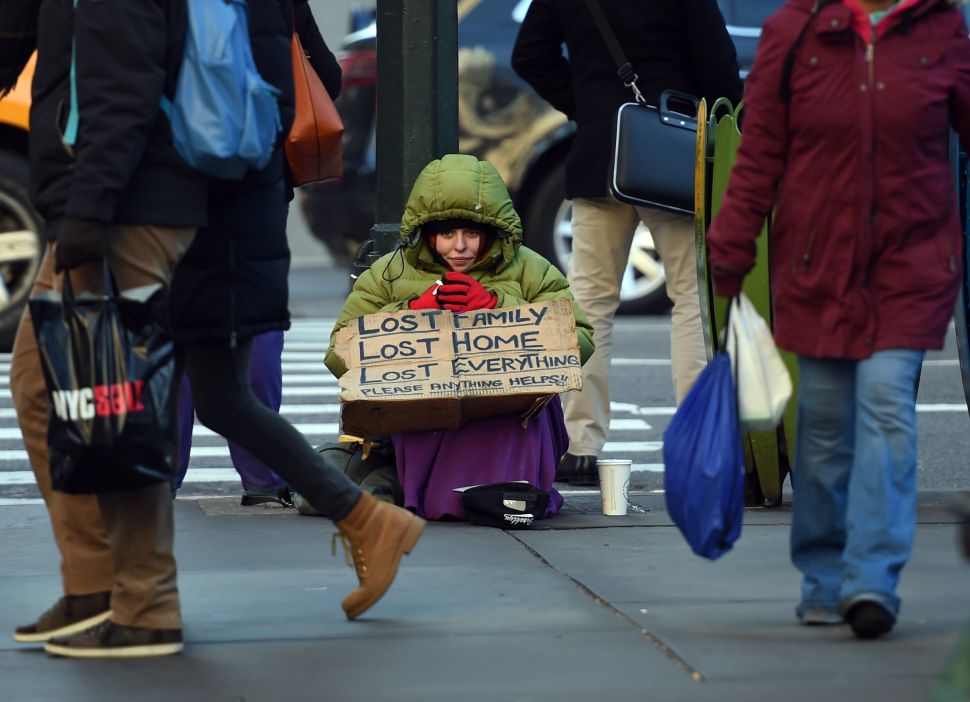 It's no secret that New York City is in the grips of a persistent, decades-long homelessness crisis. What is less known is that in New York City, over 70 percent of the homeless population consists of women and children. They are the forgotten face of homelessness. These families may not be what comes to mind when we think of homelessness in the city, which is a tabloid-driven, fear-inducing, polarizing image of single mentally ill men, who deserve deep public support but are only a portion of the population.
In fact, there are over 22,000 homeless kids in the city, many of whom are taken care of by working mothers. At Win—the largest provider of shelter and supportive housing for New York City's homeless families—over 40 percent of mothers work. They are struggling to climb out of poverty and secure independent housing for their children. Many live in homeless shelters due to the crisis of income inequality and affordability that is also gripping the city.
However, we are seeing the real estate industry step up and begin leading the way out of this crisis by presenting meaningful solutions that speak to industry know-how and the natural philanthropic generosity that's imbued in most New Yorkers.
It's especially true of women in the sector. Today, dozens of female executives who work in the real estate industry will volunteer at the annual Rebuilding Together NYC – She Builds event, helping to repair and renovate homeless shelters in Brooklyn, which provide shelter and support services such as housing, job counseling and after-school and weekend programs to women and their kids. The event is an important reminder of the willingness of women across the city to volunteer their time and energy to tackle homelessness head on.
However, it also shows us how much work remains.
Women in real estate occupy a special role in this battle. As developers and real estate professionals, they have the power to make a significant difference. As women, many are familiar with how difficult it is to balance a family and a job, even without having to worry about securing permanent, independent housing. Many of the volunteers at She Builds and similar efforts elsewhere are juggling these same challenges, so they can relate to the moms at Win. They are their peers.
Many women in real estate also know how to build and develop homes and properties, making them uniquely positioned to tackle homelessness at its root causes. Developers can advocate for the construction of complexes that include both standard- and low-income housing units, and they can invest in the creation of affordable housing.
The real estate community can also take part in the construction of new transitional housing facilities. Earlier this year, Mayor Bill de Blasio announced his plan to open 90 new shelters across the city—a process that should involve the input and expertise of real estate professionals in every borough. These efforts address the very core of homelessness: the scarcity of safe, affordable housing in the city.
As the professionals volunteering today understand, New York is strongest when it supports families in need. We all benefit when our city's most disadvantaged residents do better. When homelessness decreases, property values increase. When more kids succeed in school, they enter the workforce and become participants in their communities. And when women no longer have to worry about putting a roof over their heads or food on the table, they contribute to our city's growing and connected economy.
Christine C. Quinn is the President and CEO of Win.
Laura Jackson is the Managing Director of FTI Consulting's real estate practice and a member of Rebuilding Together NYC's Women in Real Estate Committee