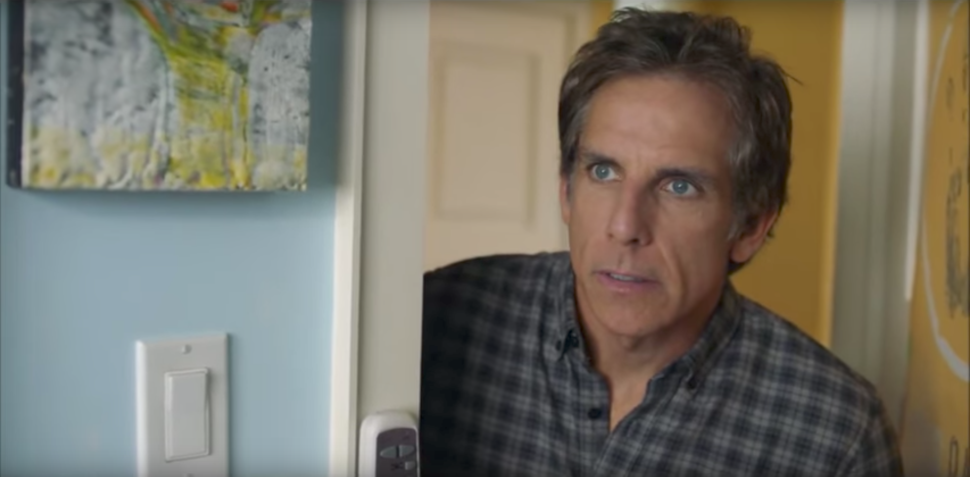 At the movies, the biggest and most gratifying surprises often come in small packages. This is a fact learned through years of experience, not an assumption based on the recent spate of bloated big-budget bummers that has made 2017 one of the worst in years. For unimpeachable proof, I can think of no better example of lasting value triumphing over wasted expense than a rare gem called Brad's Status. I don't know who to blame for that deadly title, but the movie is anything but dull. Nimbly written and directed by Mike White (Chuck and Buck), it's another freshly observed story about nice people going through a crisis called modern life. The crisis this time is the one few people over 50 ever manage to escape—the seesaw status that forces otherwise sane and mature adults to search their own souls, question their own existence, wonder where the time went before it's over, and ask what just happened?  The surprising results are unlike anything I've seen lately, and the best surprise of all is a funny, inspired and career-enhancing star performance by Ben Stiller that left me touched, applauding and laughing out loud.
He plays Brad Sloan, a Sacramento businessman who looks to the outside world like a man on close terms with success—a good wife, brilliant son, upscale house, modest non-profit business he built from scratch and turned into a pillar of help for the grateful underprivileged—and all the trimmings that makes for a happy life. But a trip back East with his musical-prodigy son Troy (Austin Abrams) to tour college campuses brings him into contact with his own college buddies he hasn't seen in decades—all of them sensationally solid and loaded. Architects, philanthropists, best-selling authors, political celebrities, they suddenly make him feel inferior. Quickly his life is mirrored through a different perspective, and Brad begins to see the roads he didn't take. Now he knows that he's got no more potential, no windfall, no second chance. His is not the life of luxury and fame he imagined as a student. Shuttling between Amherst, Williams College and his old alma mater at Tufts, Brad even begins to think he's not the role model his son thinks he is.
---

BRAD'S STATUS ★★★1/2
(3.5/4 stars)
Directed by: Mike White
Written by: Mike White
Starring: Ben Stiller, Austin Abrams, Jenna Fischer and Michael Sheen
Running time: 101 mins.

---
Missing the admissions interview at Harvard by one day, he reluctantly calls his old pal Craig Fisher (Michael Sheen), a former  White House press secretary who now writes books and  does guest lectures on the Harvard faculty. Craig calls the dean and gets Troy the kind of special attention that practically makes him a shoo-in. This makes Brad feel less significant than ever.  One by one, as his old gang re-enters his life, this man, who is cherished by the people who matter and admired by strangers begins to see himself in terms of how others define him (or fail to define him). His old friends are better off than he is—until they're not. Craig is unfulfilled, a ghost of the celebrity Brad suspects, and something of a pompous ass. Nick (Mike White), who he thinks is a big Hollywood icon, is just another flamboyant Hollywood phony submerged in a gay lifestyle of delusional publicity and decadent self-deception. Billy (Jermaine Clement), the glamorous retired bachelor who lives in Hawaii with two girlfriends, is really a drunk and a doper. Jason (Luke Wilson) has a dying child and is on his way to jail. At Tufts, Craig pays a visit to the college professor who helped him shape his future, hoping for some reassurance, only to discover his old mentor has died of a stroke. At the end of a long and frustrating weekend, the faith he lost in himself is revived by his own son. No longer riddled with self-doubt, Brad comes to terms with his true status in time to realize his life is not so bad after all—luckier, in fact, than that of the peer group he envies for all the wrong reasons. The movie arrives at Brad's new status without the cloying self-congratulation of a happy ending.
One of the film's chief strengths, in fact, is its refusal to embrace clichés, cataloguing Brad's insecurities from an interior point of view through carefully understated voice-overs. Ben Stiller does this kind of self-conscious neurotic to perfection, but this time he is subtler than ever, achieving a nuance that is something of a first. Always in search of an outside influence to add a second opinion to his own comic confirmation of failure, he is both tender and touching. This is the best and most analytical performance of his career. He has made so many stupid movies I forgot how wide his range as an actor really is, but in Brad's Status he makes up for lost time. Oh boy, it's a marvelous awakening to the renewed potential of his considerable energy and talent  in which  his accumulated experience pays off in a performance of unexpected sweetness, naturalism and charm.