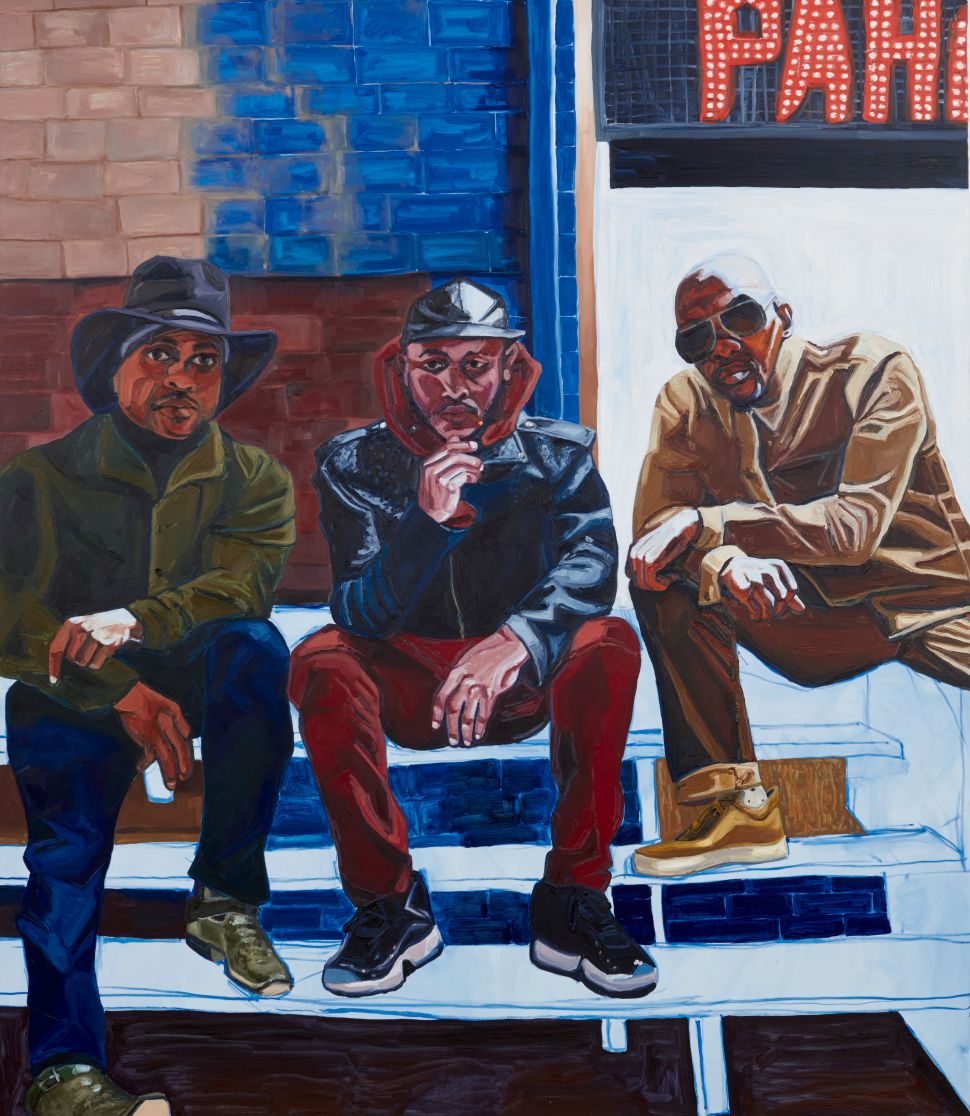 Harold, the subject of Jordan Casteel's painting of the same name, is a man who seems to be on the far side of middle age. He sits in a plastic chair on the sidewalk in front of a Harlem laundromat. He is looking straight out at you, neither aggressively nor passively. Silhouetted at night against the light coming from behind him, Harold, dressed in brown, is a sculptural presence on the canvas. The landscape here is human. The place is its people.
Sometimes the paintings in "Jordan Casteel: Nights in Harlem" at Casey Kaplan Gallery will bring to mind another artist, Alice Neel (1900-1984), a white painter whose portraits in East Harlem recorded people who lived there in the 1940s and 1950s. (The recent Alice Neel retrospective at David Zwirner, "Alice Neel Uptown," put Neel back in the minds of those who knew her and helped introduce the artist to a new generation.
The subjects of Casteel's portraits have a similar composure that you see in Neel's paintings of people whom she knew. Yet Casteel isn't painting her friends and intimates. She found subjects on the street and asked to photograph them when she thought that she might want to paint his or her portrait. No surprise that Casteel's pictures have the immediacy of a snapshot.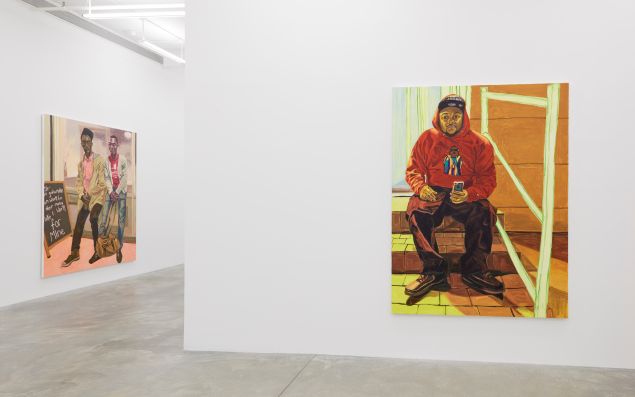 The paintings now at Kaplan are on a much larger scale than the cell phone screen. The sheer size of the pictures makes them more than the casual image. Thick outlines and a nod to Pop Art stylization make the shots feel expanded, rather than just enlarged or blown-up. Through Casteel, these men are revealed beyond the glance of a passerby. (And the notion of a passerby in gentrified Harlem has different meaning than it once did.) What we get is an impressive blend of men observed on the street, and an observation that deepens in the studio.
In interviews before the much-anticipated show opened at Kaplan, the confident young Denver-born Casteel, 28, said that she chose black men as her subjects in order to place a different gaze on figures who went unnoticed and unknown on the street. They engage her as much as she engages them. Listen to her and you hear echoes of Ralph Ellison's classic novel, Invisible Man. She herself talks of the killing of Trayvon Martin, shot for being the criminal that a man armed with a gun assumed him to be. She also mentions that she has a twin brother. (You can read one of those talks that ran in Interview, and watch one of the those interviews here, produced by Art21.
Part of the appeal of Casteel's paintings is what she adds to that first photographic impression. We get the rich outlines of her figures, but she also focuses in on her subject's eyes, iconizing them gently as they gaze back at the artist. A case in point is the picture of two seated men, MegasStarBrand's Louie and A-Thug. That scene of two figures together takes us back once again to Alice Neel, whose double portrait, Two Girls Spanish Harlem, 1959, is now a classic.
But in "Nights in Harlem" Casteel gives us another kind of close-up. She paints scenes from the subway, of hands clasped by seated figures. We're back to people in public spaces who are seen by us but not known to us, and won't become better known from Casteel's painting. The photographer Walker Evans took pictures on the New York City subway in the 1940s with a hidden camera that captured the faces of people sitting across from him who didn't know that they were being photographed.
Casteel doesn't paint the faces of those whom she observes underground. She preemptively crops her images, borrowing a photographic approach. It's not a coincidence that these views of incomplete figures have an abstract feel in the angularity of interlocking fingers and the folds of trousers.
"Nights in Harlem" is about people. It's also about looking. The implication here is that the eye contact in the portraits is an entry point into the lives of these people that artists haven't entered before. It's a different kind of experience than capturing a moment and recording it, perhaps even immortalizing it, as a street photographer does. Here, painting reaches for more.
Casteel at 28, is ten years younger than Neel was when she moved to East Harlem. She'll have plenty more lives to observe, plenty more influences to draw from.
Aso by David D'Arcy:
Before 'The Clock,' Telephones Were Christian Marclay's Muse
What Do Grandma Moses and Andy Warhol Have in Common?
Neue Galerie's Richard Gerstl Retrospective Showcases a Life Cut Short