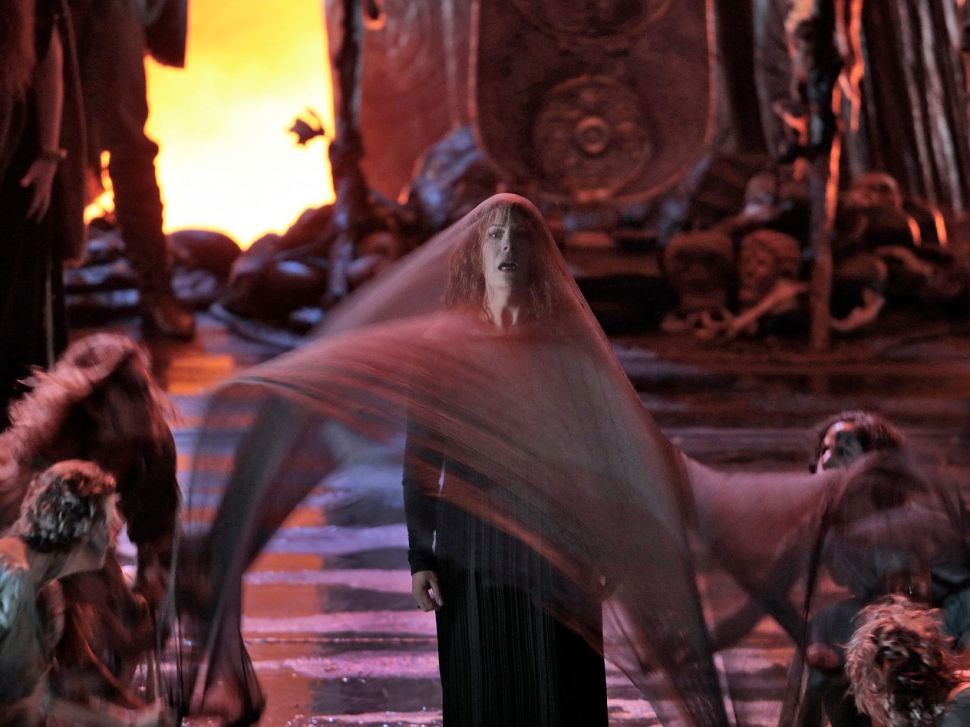 Two decades and 200 performances into her Metropolitan Opera career, soprano Sondra Radvanovsky achieved ultimate prima donna status last night. Wielding a potent voice and fierce determination, she opened the company's season with a gripping and insightful performance of Vincenzo Bellini's Norma.
What makes Radvanovsky's achievement in this daunting role all the more impressive is that she managed it under such adverse circumstances. Of her colleagues, only conductor Carlo Rizzi offered much support, leading the Met orchestra with alert, flexible tempos and opening a number of small cuts that, shamefully, are still regarded as standard in most opera houses.
The soprano's singing, with its freakishly dark timbre and prominent vibrato, is always going to be controversial, and some of her attempts at similarly majestic roles by Donizetti in recent seasons came off as half-baked and exhibitionistic. But for this role she is on her very best behavior, a genuine and serious artist.
For the opening prayer "Casta diva," Radvanosvky achieved a broad, smooth legato, and for angry, conflicted sections later in the role (the character, a supposedly celibate Druid high priestess, has been shacking up with an enemy Roman) she spat out her fury in searing chest tones.
The only letdown was the immense final scene—great paragraphs of music in which the soprano got bogged down in too many arbitrary shifts of volume and tempo. Just at the point when Norma should soar, Radvanovsky turned fussy.
But again, she was practically giving a one-woman show. Among her colleagues, tenor Joseph Calleja (as Norma's lover Pollione) bleated so sharp there were times he seemed to be singing in a different key from everyone else. As Norma's father Oroveso, a superb role for a basso cantante with dramatic gravitas, the Met cast Matthew Rose, a foghorn in a man bun.
In the key role of Adalgisa, the temple virgin who is Norma's romantic rival, mezzo Joyce DiDonato was problematic in a more complex way. Her slim, tart voice lies too low for this part (which was originally performed by a soprano) and even with considerable rewriting of the vocal lines she ended up all too frequently on sour high notes.
Paradoxically, she was also too good for this role. DiDonato's regal stage presence and electrifying vocal style instantly command attention. (In certain classical operas like Gluck's Iphigénie en Tauride, the denouement consists of the sudden appearance of a goddess who resolves the plot in just a line or two or recitative. This is precisely the effect of DiDonato's singing, even on an off night: a supernatural level of authority.)
So the focus of the opera shifted to Adalgisa's story, leaving Norma's tragedy feeling like a soap opera. This misplaced emphasis was exacerbated by director David McVicar's boneheaded notion of introducing Adalgisa into scenes during which, according to the libretto at least, she should be offstage. And so DiDonato futzed with the train of Norma's dress during "Casta diva" and even made a distracting last-minute guest appearance at the heroine's immolation.
Fortunately, DiDonato utterly lacks the Eve Harrington gene and so in these scenes she behaved as self-effacingly as a goddess possibly can. But there was nothing to do about the rest of McVicar's self-indulgently glum and senseless production. The Druids, all in dingy rags, clomped miserably through a "forest" that was equal parts Midsummer Night's Dream and A Little Night Music.
Meanwhile Norma prowled about her shabby-chic yurt in a Fortuny gown and black silk turban like a divorcée summering in Santa Fe. (The place comes fully furnished with loom, fur throws and aromatherapy candles.)
Worst of all was the sheer laziness of McVicar's approach: while soloists and chorus processed on and off like an oratorio society, stage action was assigned to a gaggle of leather-harnessed muscle men who yelled and leapt about with no apparent motivation. One was left with the impression that the legendary Druid warriors were not so much bellicose as severely tweaked.