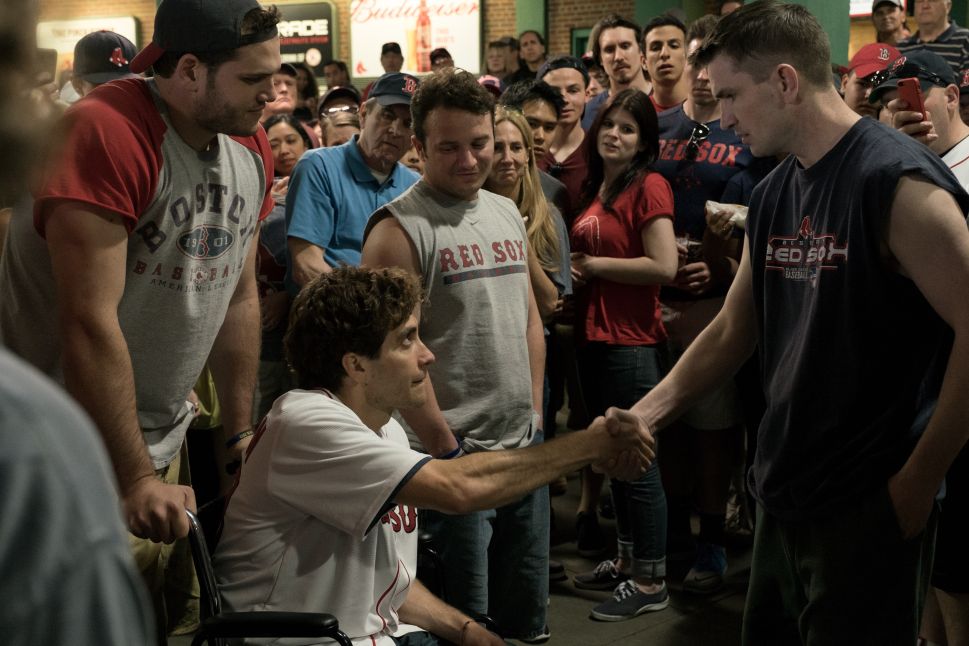 Another victorious tour de force by Jake Gyllenhaal, Stronger is that rarest of films that manages to be both powerful and poignant at the same time. It's the sober, gimlet-eyed, no-Kleenex story of Jeff Bauman, the 28-year-old blue-collar worker at Costco who lost both legs in the terrorist bombing four years ago at the Boston marathon. The sad moviegoing public that is already sated with more than enough coverage of the tragedy that took place that sunny day in Boston can rest easy. Unlike last year's graphic Patriots Day, a highly fictionalized account of the harrowing event, this movie is not so much about the bloody details of the actual bombing as the aftermath, in which one of the innocent victims fights with every a physical and spiritual strength he didn't know he had in order to survive, becoming a reluctant symbol of heroism, bravery and hope.
With a mop of curly hair, dark brown contact lenses and a heavy accent that sounds more Brooklyn than Boston (especially when he spouts four-letter words in Back Bay vernacular), Gyllenhaal adds another triumph to his growing gallery of diverse portraits on film. When the film opens, he's a carefree guy without much maturity or ambition, who lives with his heavy-drinking, chain-smoking mother Patty (Miranda Richardson) in a cramped and cluttered apartment, content to make ends meet with enough earnings to keep him in beer and pizza. Although his girlfriend Erin (a flawless Tatiana Maslany) has dumped him for his boyish lack of dependability and reckless disregard for responsibility, he is still stuck on her enough to show up at the marathon to watch her cross the finish line, standing next to one of the bombs when it detonated.  The rest is history, and the script by John Pollono, based on Jeff Bauman's autobiographical book, is a clean, mostly un-sentimental dossier on what happened.
Some of the reminiscences are hard to take. Director David Gordon Green, an unexceptional director of such duds as Our Brand is Crisis and the ghastly Pineapple Express, tries to avoid the usual wrenching excesses in genre films about people who refuse to give up in the face of overwhelming odds. But this is a true story, and facts can't be avoided entirely. Bauman was forced to endure amputation of both legs above the knees, and the movie spares little in the unwrapping of the bandages as well as the pain and suffering that followed. You live the six weeks of hospitalization, the long and arduous rehab, the molding and fitting of the new artificial limbs, as well as the turbulent home life when Erin moved into the claustrophobic apartment in spite of Jeff's mother's objections, disapproval and resentment. And you get the gradual thrills of emotional recovery, when Jeff waved the flag at a Boston Bruins hockey game or pitched a perfect first ball in a Red Sox game from his wheelchair. Jake Gyllenhaal plays the moods and transitions with so much honest expressiveness and sensitivity that there isn't a minute in which you don't feel like you're watching real people. I can usually figure out where the actor's actual limbs are, but not here. The swimming scenes where the whole body is shown in the water, shot from the bottom of the pool, re-define the word awesome.
---

SRONGER★★★ 1/2
(3.5/4 stars)
Directed by: David Gordon Green
Written by: John Pollono
Starring: Jake Gyllenhaal, Tatiana Maslany and Miranda Richardson
Running time: 116 mins.

---
Though Bauman became an accidental celebrity in the public eye, thanks to an overbearing family that believed the ultimate redemption would be a guest spot on Oprah, he was, for a time, a tortured, wounded man in private, drowning in confusion, anger and self-pity. Gyllenhaal plays those transitions skillfully, too, and he is aided immensely by the flawless supporting cast, especially Maslany as Erin—the pragmatic, guilt-ridden wife whose loyalty and support almost deprived her of her own identity—and Miranda Richardson as Jeff's barfly mother, Patty. Richardson's tough-broad maternal delusions reminded me of similar screen moms like Carmela Soprano and boxer Mickey Ward's mother Alice in The Fighter. There are moments of humor (Jeff stopped for a DUI while trying to steer a car without feet by a cop who asks him for an autograph) and tenderness (the panic he feels when Erin tells him she's pregnant, his first face-to-face meeting with Carlos, the first responder in the cowboy hat who saved his life the day of the marathon by dragging him to an ambulance). Despite their flaws, you care about these people and cheer for their survival. It's too bad the movie is so determined to leave the viewer bathed in the glow of a happy ending that it resolves Jeff's continuing problems with his obnoxious family too neatly, and neglects to mention Jeff and Erin's recent divorce completely. Still, Jake Gyllenhaal's vulnerability makes up for whatever omissions occur in Stronger. I'm a sucker for these survival stories that show the best side of man's humanity, and Gyllenhaal makes this one a stronger achievement than most.