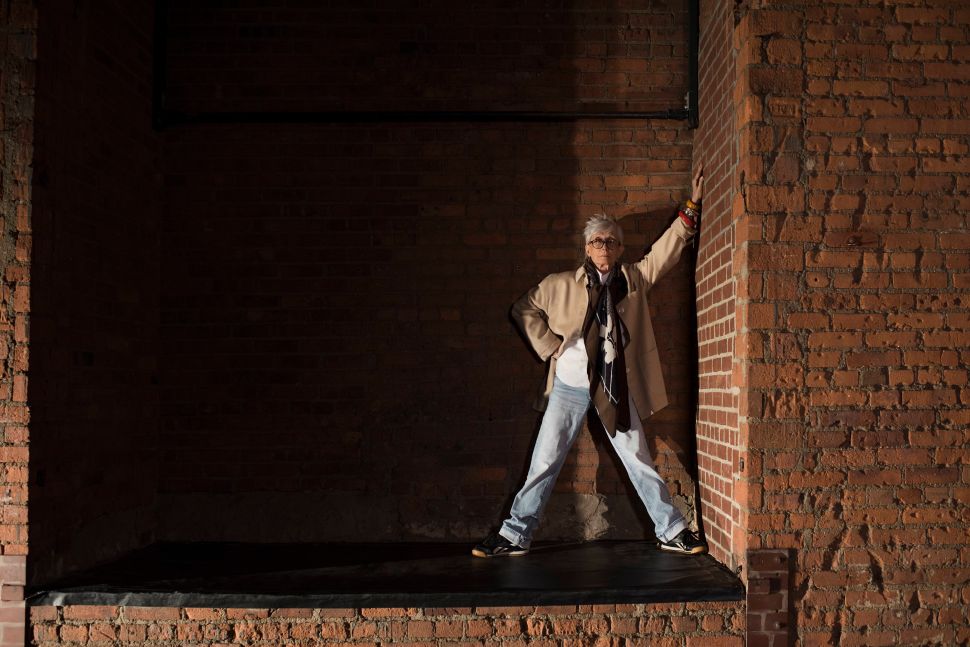 No surprise: Twyla Tharp is back. She'll always be back, given life and breath, and not just because she's indefatigable but because she always has something more to say—she doesn't churn out pieces from habit or out of  a need to stay in the public eye. And because she doesn't have a company of her own that constantly needs to be fed new work—the reason so many second- (third-?) rate ballets come our way so relentlessly—she can bide her time until the right commission or the right idea comes her way.
This season she is presenting a program of three works at the Joyce—two famous early pieces, one new one. As usual, the critical reaction has been mixed. Either the early pieces—The Raggedy Dances (1972) and The Fugue (1970)—were much better in the old days: more casual, more organic; or it's a thrill to have these early pieces back being danced so brilliantly by Tharp's current gang.
The new work, Dylan Love Songs, is a sad come down; no, it's a revelation. This disparity is also no surprise—Tharp has been controversial from the start. And has thrived on it. She may see herself as more sinned against than sinning—we don't know—but on some level she must relish (even be fueled) by those who question her endless drive to expand her vision and conquer new worlds: Broadway, Hollywood, ballet. And her determination to be popular as well as admired. You can see her instinctual pugnacity in the early works here.
In both of them, Kara Chan takes on the Tharp roles—she's short and scrappy the way Tharp was. It's her turn to put up her dukes, jabbing and sparring. The Raggedy Dances is loose, charming, insouciant—a wonderful showcase for  guyish Daniel Baker, who's all show-stopping pizzazz. (Well, so was Twyla.) The (oh so careful) casualness of this piece was a revelation 45 years ago; now its freshness has been absorbed into the modern dance vocabulary, the way decades earlier, Jerome Robbins's was. So The Raggedy Dances no longer seems essential, but it's still terrific. Why don't more companies take advantage of it?
The extreme intellectual severity of The Fugue is a reflection of Tharp's lifelong determination to understand music—in this case, by not employing any: there's no sound other than what the acoustically enhanced floor provides. We know from Tharp that there are twenty 20-count variations, but the process is too abstract for at least this viewer to anatomize, much as I would like to be able to. Chan, Reed Tankersley and Kaitlyn Gilliland are in complete control of the mathematical patterns that are the text of the piece, as they move quietly and decisively from one variation to the next. The result is uncompromising—and hypnotic.
Dylan Love Songs is Tharp's second venture into the art of Bob Dylan, eleven years after the failure of her Broadway show The Times They Are A-Changin'. Instead of pretension we now have simplicity—a deeply felt reaction to the seven songs she's chosen to deploy.
I loved it from its first moment—but then just listening to Dylan's voice is often enough to sweep me up emotionally. I'm one of millions he seems to speak for and to, and Twyla Tharp is clearly another. There's some kind of framing device—a mysterious figure in a black cape and hat who seems to be orchestrating the action. Dylan himself? Even though he's played by the superb John Selya, he seems superfluous—this material stands on its own: it doesn't really need a framing device, which at times distracts. But it doesn't seriously interfere with the impact of what Tharp does with her seven songs.
What's brilliant, what's thrilling, is the torrent of dance invention she brings to each solo and duet. How dare she be so fecund at this late stage in her career, when so many artists have exhausted their creativity! The man in the cape, the occasional cutenesses are irrelevant. In my absorption in the actual choreography I even forgave the big comical hats designer Santo Loquasto has plonked down on the heads of the women. Get rid of them, someone, please: not only are they out of place, they almost undermine the depth of feeling that Dylan has brought out in Tharp and it's that level of emotional sympathy she shares with him, combined with her technical mastery, that makes Dylan Love Songs so satisfying.
Twyla Tharp and Bob Dylan were both born in 1941, within weeks of each other. Both were born in the mid-west and eventually came to New York. They were both rebels, yet had their roots in their great predecessors—and in America. They're both major American artists who challenged and changed everything. How wonderful to have them joined here in a work of substance and beauty.
A very different kind of rebel, born only a year before Tharp and Dylan, was the late Pina Bausch, whose one-time company, now called Tanztheater Wuppertal Pina Bausch, turned up at BAM a couple of weeks ago, also with two pieces from the 1970s. I recall being bored and irritated back then with her Café Müller, and I was bored and irritated by it all over again. Only now it seemed dated as well as tedious. Remember that empty, dark café and the five people—two of them blind?—who wander in, knocking over chairs, banging into walls (slamming into walls), endlessly repeating certain tropes that weren't very interesting to begin with? Remember the woman who sits at the bar at the back and every once in a while takes off her dress and then puts it back on? Remember the skittering Nazareth Penadero who wanders in and out and eventually takes off her coat? (She's been doing this for just under forty years.) To think that this was once New Wave…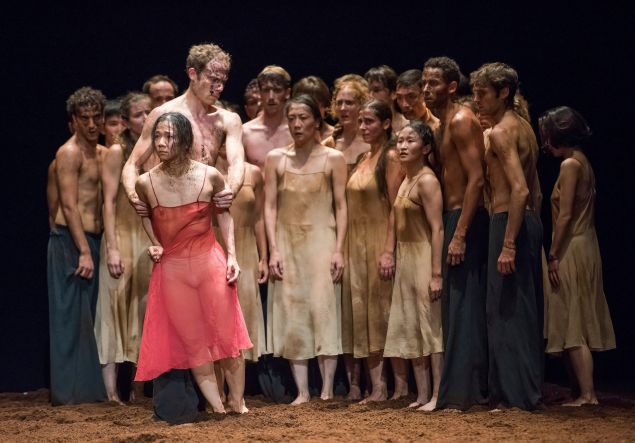 Far more interesting was Bausch's The Rite of Spring—hard to believe, after the dozens of Sacres that have come our way through the years, ranging from the "reconstructed" original Nijinsky version to the dreadful Halston-clad version of Martha Graham's later years. But Stravinsky's great score, and the pull of the brutal action, brought out Bausch's talent for moving masses of people around (like Crystal Pite today), and back in 1975 she made a coherent and powerful piece. If only she had built on that achievement instead of reducing the Tanz element of her art in favor of the Theater element. Well, her loyal BAM audience was beside itself with joy, so who am I to complain?