Over the weekend, Hurricane Irma—the strongest Atlantic basin hurricane ever recorded outside the Gulf of Mexico and the Caribbean Sea—ravaged through the Caribbean islands. The Category 5 storm has claimed the lives of at least 25 people so far, and has devastated countless homes. Prime Minister Gaston Browne of Antigua and Barbuda told reporters that Barbuda was reduced to "literally a rubble," as over 95 percent of the island's buildings were damaged, leaving nearly 60 percent of its residents homeless. Photos posted on social media showed the neighboring islands of St. Martin and St. Barts had suffered similarly catastrophic damage. 
Another victim of the historic hurricane was the billionaire business magnate Richard Branson, who took to Twitter over the weekend to show the devastation Irma wreaked on Necker Island—his private island in the Caribbean.
Here is what the 74-acre luxury resort looked like before: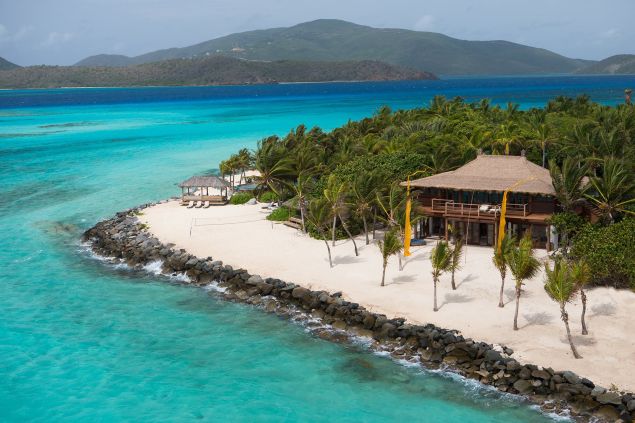 And here is what it looks like now:
https://www.instagram.com/p/BY5JSgCg_a2/?taken-at=3297058
Branson bought this slice of paradise in the British Virgin Islands for only $180,000 back in 1978, reportedly in order to impress a girl. Eleven years later, that girl became his wife, and the island became his home with her and their two children, Holly and Sam, though lucky guests could previously rent out the entire island (which accommodates 34 guests and 6 children) for only $80,000 a night.
The resort has been famous in the past for some incredible parties, as well as illustrious guests. It was the site of an envy-inducing vacation by Barack and Michelle Obama back in February, and was also visited in 1990 by the late Princess Diana and her sons.
In his tweets, Branson was sure to emphasize that the damage done to his estate paled in comparison to the losses faced by people who are left without a home.
Still, photos and video footage show the magnitude of this record-breaking storm.
Branson rode out the storm with his family and team in his wine cellar ("I suspect there will be little wine left in the cellar when we all emerge," he wrote the night before Irma hit).  He later reported that "the team who stayed on Necker and Moskito during the hurricane are safe and well."
"I have never seen anything like this hurricane," Branson wrote in a blog on Virgin website. "Necker and the whole area have been completely and utterly devastated. We are still assessing the damage, but whole houses and trees have disappeared. Outside of the bunker, bathroom and bedroom doors and windows have flown 40 feet away. I'm speaking these words from a satellite phone that is just about working, but all other communications are down."
Judging by his blog, it seems Branson has been doing his best to help those affected by the hurricane, using his private yacht, Necker Belle, to carry supplies to areas that have been hit hardest. Communications are down in most of the region, but Branson was able to make arrangements via his satellite phone.
Branson also urged governments to do more combat the threat of climate change, writing, "Man-made climate change is contributing to increasingly strong hurricanes causing unprecedented damage. The whole world should be scrambling to get on top of the climate change issue before it is too late—for this generation, let alone the generations to come."
He is urging people to donate to the British Red Cross through Virgin Money Giving (who are currently waiving their fees for the relief effort) to help those who have been affected by what Branson calls "the storm of a century."
"The boats are piled up like matchsticks in the harbor," he wrote of the wreckage. "Huge cargo ships were thrown out of the water and into rocks. Resorts have been decimated. The houses have their roofs blown off; even some churches where people sheltered have lost roofs. But the whole British Virgin Islands community is rallying round."