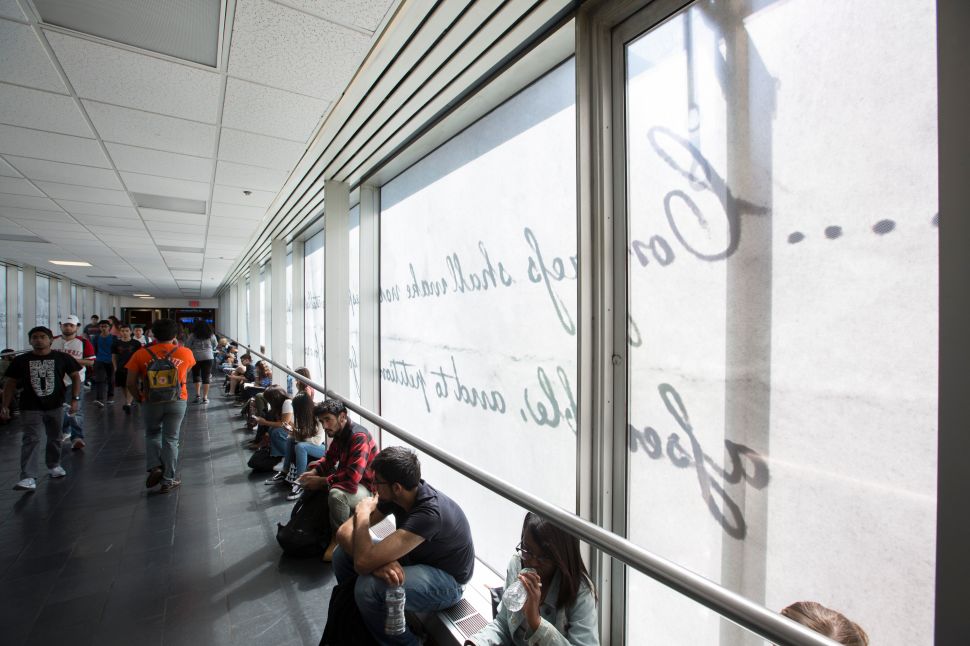 Beginning today, the two 68th street walkways above Lexington Avenue that connect Hunter College campus buildings will be adorned with dark depictions of the American flag and First Amendment. The work, titled American Bridge Project, is a new public installation from American artist Robert Longo, curated by Jill Brienza.
The taller walkway, accessed on the 7th floor, will be covered in a stark, gray scale version of the American flag—a vinyl recreation Longo's charcoal drawing from 2012, Untitled (Berlin Flag). The lower, third-floor walkway, featuring fragments of the First Amendment, is based on the artist's 2017 black-and-white drawing Untitled (First Amendment, September 25, 1789). Though dark and imposing, especially given the current political climate, the site-specific work is actually meant to serve as a reminder of our right to free speech and expression.
https://www.youtube.com/watch?v=IWW-PzFtTq4
Brienza, an independent curator who serves on the college's Arts Across the Curriculum board, told Observer, "Roberts work raises issue that are very relevant in our highly polarized times. This project, in which the highly diverse student body of Hunter are literally walking through the flag and First Amendment of the Constitution, is hopefully a conduit for conversation of what these things mean in our day-to-day lives."
Longo, who turned 64 this year, is often lumped in with the Pictures Generation—artists who came to prominence in the late '70s and early '80s, loosely united in their individual interests in incorporating or appropriating advertisements, commercial imagery and other strains of mass media. However, Longo's work since the late '80s has been marked by more overtly political themes, such as in his ongoing series of blackened American flags—the same body of work from which the American Bridge Project, was born.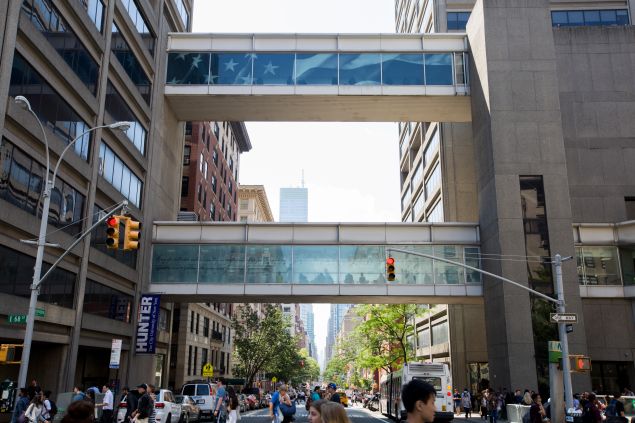 It's a big month for Longo, who is also being featured in a show alongside Francisco Goya and Sergei Eisenstein going up at the Brooklyn Museum next week. "Proof: Francisco Goya, Sergei Eisenstein, Robert Longo," which opens on September 8th, brings together the three artists under the conceit that each witnessed, and responded to, "repercussions of revolution, war, and civil unrest" in their respective eras, according to the show's press release.
Other versions of Longo's flags will go on display around the country this month as part of Creative Time's ongoing exhibition, "Pledges of Allegiance."
"American Bridge Project" will be on display until December 1.