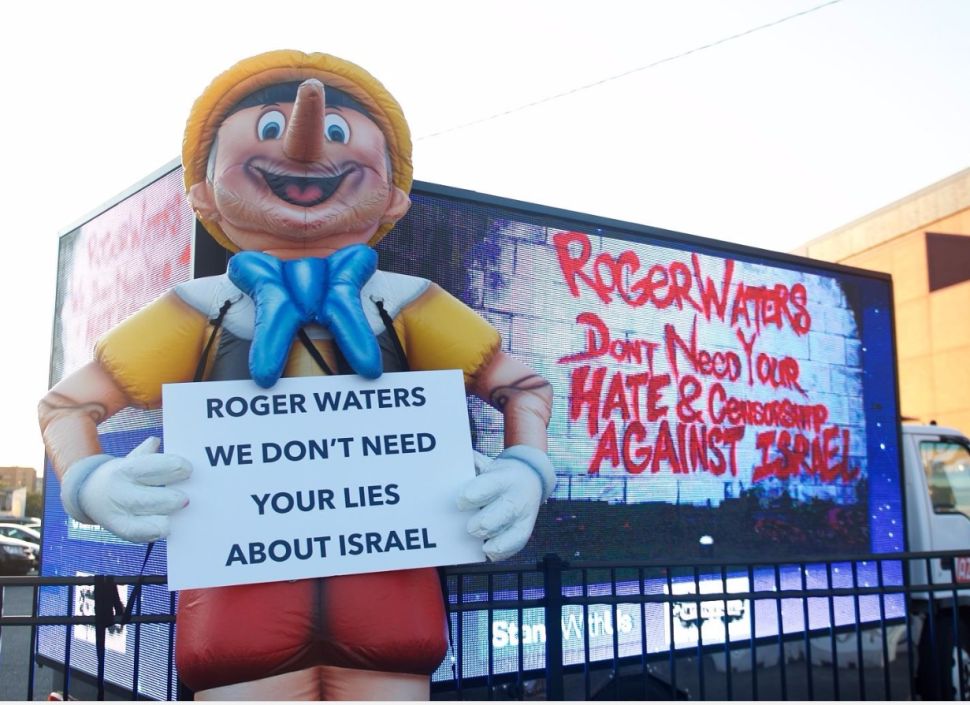 Roger Waters' fans headed to Brooklyn's Barclays Center Tuesday night will be met by pro-Israel activists, street artists and an inflatable Pinocchio with a sign that reads, "Roger Waters: We Don't Need Your Lies About Israel!"
The former Pink Floyd bassist and lyricist has been the face of the anti-Israel boycott, divestment and sanctions (BDS) campaign since 2011. Waters' anti-Israel activism can be traced back to 2010, when he narrated "Walled Horizons," a film produced by the United Nations that denounced Israel's security barrier.
According to protest organizer Avi Posnick, Managing Director of StandWithUs Northeast, an Israel education and advocacy group, these demonstrations are about creating awareness about Waters' lies about the Jewish state and his anti-Semitism.
"The goal is to protest Roger Waters' hate during these concerts and make it known that there is no room for his bigotry, anti-Semitism and censorship of artists who want to perform in Israel. We want to send him a message that there is no room for his hate here in New York, here in the United States. We don't need your lies about Israel and the Jewish people."
Claims that Waters is not just anti-Israel but also anti-Semitic first emerged following a 2013 interview in which he called Israel a "racist apartheid regime" that practices "ethnic cleansing." Waters has compared Jews to Nazi collaborators, and his performances have featured a flying pig with a Star of David.
In a 2013 letter to Waters from the Anti-Defamation League, the ADL called out his anti-Semitic activism, concluding that his "animosity towards Israel [is] colored by anti-Semitism."
Waters denies claims that he is anti-Semitic. In 2010, after being criticized for his show featuring images of the Star of David and dollar signs being dropped by a B52 bomber, Waters told the UK Independent, "If I don't respond, people will see the story and will come to believe I'm anti-Semitic, and I'm not. Nothing could be further from the truth. "
Joining StandWithUs at the Waters protest is the artists rights organization, Artists 4 Israel. Concerned about "anyone seeking to stifle creativity and artistic communications," executive director Craig Dershowitz told the Observer:
A big part of what Roger Waters does, besides spewing all kinds of hatred and lies, is his attempt to prevent artists from performing in Israel and block Israeli artists from performing around the world.
As for us, we don't believe in any censorship, whether it's self-imposed or geared toward other artists. There should be free and creative expression of everybody's artistic viewpoint. Anyone who tries to stop that needs to be called out.
Waters' performance last night at the Barclay Center was not protested by either organization.
Dershowitz explained:
We didn't want September 11, the terrible memory of that day and the memory of those who we lost to be marred by Rogers Waters, even if is us protesting him, this day is sacred to people.
Last month, StandWithUs protested Waters shows in Miami and Philadelphia.
"People were surprised to hear about Roger Waters comments, his anti-Semitic comments, and the bigotry he exhibits toward Israel," said Posnick. "It was definitely successful as we really had the opportunity to educate a lot of people. And it was the same thing in Newark last week, as there were many people who were unaware of the things Waters has said and what his beliefs are. Many were upset about it."
Artists 4 Israel will continue to collaborate with StandWithUs at Waters shows in Hartford and Boston later this month.
Paul Miller is president and executive director of the news and public policy group Haym Salomon Center. Follow him on twitter @pauliespoint.