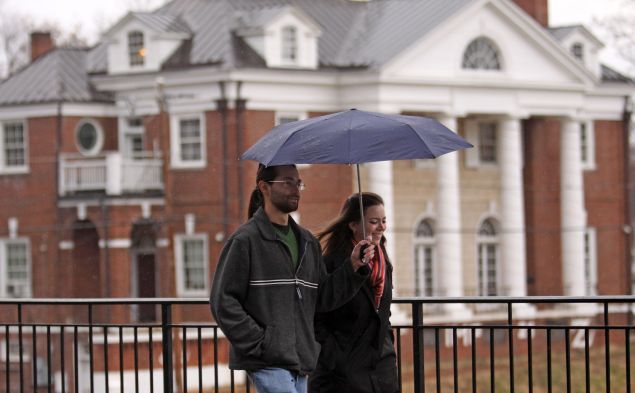 Almost three years after Rolling Stone's botched "Rape on Campus" story roiled the media world, the fallout from the controversial piece continues.
A Manhattan federal appeals court ruled today that three members of the Phi Kappa Psi fraternity at the University of Virginia had cause to sue Rolling Stone for defamation. George Elias IV, Stephen Hadford and Ross Fowler were not individually named in the story, but claimed the piece's attempt to paint all the fraternity members as rapists embarrassed them and scarred their reputations.
A lower court had ruled last year that the trio's claims were based on "speculation and hypothesis." But the 2nd U.S. Circuit Court of Appeals said that the group's defamation suit was valid because of the fraternity's small size, and because of specific details like which frat members slept in which rooms and what their hobbies were.
This is the third defamation lawsuit centered on "A Rape on Campus"–Rolling Stone previously paid Phi Kappa Psi $1.65 million to settle a suit over the piece. The magazine, along with author Sabrina Rubin Erdely (who wrote the discredited story) also paid $3 million to a school administrator who successfully argued that she had been defamed in the piece.
Erdely's November 2014 story centered on Jackie, a UVA freshman who said she was gang raped by members of Phi Kappa Psi and received no support from the university. The article was initially praised for exposing the dark underbelly of sexual assault on college campuses.
But within weeks, media watchdogs exposed gaps in Erdely's reporting. She herself told Slate that at Jackie's request, neither she nor the university talked to the alleged rapists. Other basic fact checking errors soon emerged, and Rolling Stone commissioned the Columbia University School of Journalism to investigate what went wrong.
The resulting 12,000-word review found that Rolling Stone exhibited confirmation bias and ignored basic journalistic practices by relying solely on the accuser's account and failing to verify information which could defame UVA students.
"The magazine set aside or rationalized as unnecessary essential practices of reporting," the report read.
Because of this scathing rebuke, Rolling Stone retracted the story and removed it from its website. The magazine's managing editor Will Dana also resigned, and Erdely's journalistic career effectively ended.
The controversy and continued litigation, along with falling advertising revenue and newsstand sales, have also had a financial effect on Rolling Stone. Magazine co-founder and publisher Jann Wenner recently announced that he is putting his controlling stake in the company up for sale.