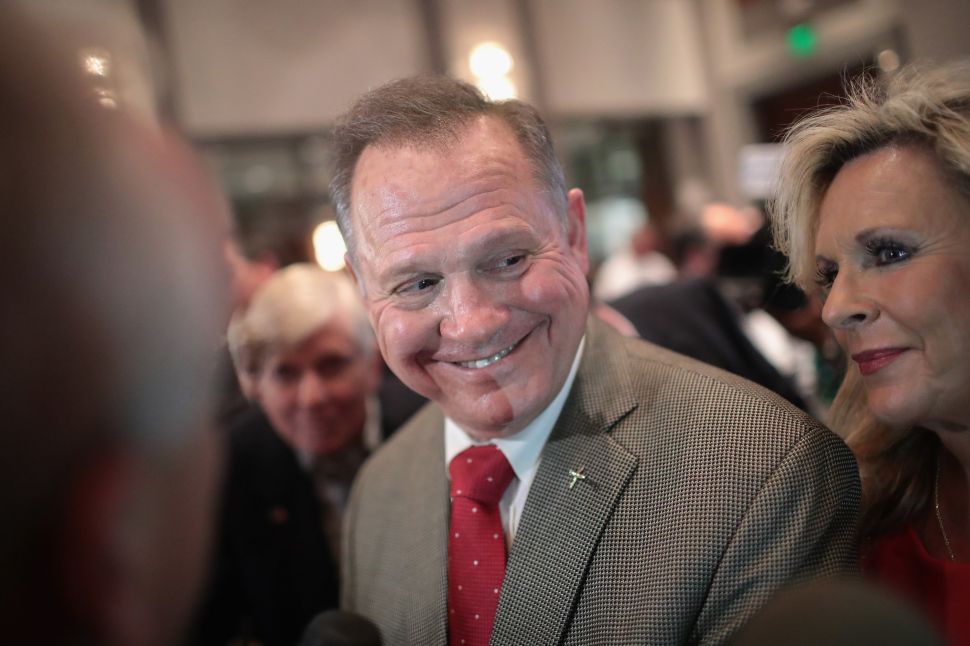 Alabama State Supreme Court Justice Roy Moore defeated Luther Strange in the Republican Senate primary runoff on Tuesday. He's advanced one step further to filling Attorney General Jeff Session's shoes, despite Strange's flagrant backing from Trump, Pence, and Senate Majority Leader Mitch McConnell. Days before the primary, Trump mused to reporters that he was taking a "big risk" by showing such arduous support for Strange and involving himself in a primary due to the chance of "total embarrassment" from the press. However, he verbally cushioned the potential blow, commenting, "If his opponent wins, I'm going to be here campaigning like hell for him."
Presumably, the reluctant campaigning came in the form of literally going back on his word, deleting tweets in support of Strange and erasing the timeline of presidential opinion to his casual whim. As of yesterday evening, his social feed reflected a confident, supportive take on the Alabama select as he tweeted, "Congratulations to Roy Moore on his Republican Primary win in Alabama. Luther Strange started way back & ran a good race. Roy, WIN in Dec!"
Who is the man, reprieved by Trump's #MAGA stamp of approval, likely to become the next United States Senator of Alabama? What potential repercussions could arrive within the Republican party? For starters, he's a celebrated figure within the alt-right community. In a gleeful recap of the runoff, Breitbart News's Tony Lee wrote, "Former White House Chief Strategist Steve Bannon campaigned for Moore in Alabama on Monday and said that a vote for Moore is a vote for the economic nationalist agenda that got Trump elected." He's also famous for leading the ill-fated fight against the legalization of gay marriage, removed from his post as chief justice of Alabama's high court by a judicial ethics panel in 2003 for refusing to remove a 5,000 pound monument of the ten commandments, and again finding himself in hot water after his 2012 reelection for defying the federal decision to vanquish Alabama state laws against same-sex marriage.
Moore isn't just an unapologetic bigot; he is a confident conspiracy theorist, proliferating his own special brand of fake news throughout the media. He regularly spews baseless nonsense to the media with the brazen certainty of a seasoned debater, once commenting to Vox reporter Jeff Stein, "There are communities under Sharia law right now in our country. Up in Illinois. Christian communities; I don't know if they may be Muslim communities. But Sharia law is a little different from American law. It is founded on religious concepts." He has also been cited as an anti-Obama birther as recently as last year, commenting on Obama's eligibility for the presidency as a natural born citizen, "My personal belief is that he wasn't," he said, "but that's probably over and done in a few days, unless we get something else to come along."
Moore's success in the primary embodies a pivotal moment for the Republican party. On the disbanding of his party between the establishment and the extreme-right, Conservative talk show host Charlie Sykes remarked to The Washington Post, "It's almost as if there is a compulsion in the party to nominate the most 'out there' candidate just to show you can, with no concern about what that means for the rest of the party. Republicans—and that means Trump, too—have unleashed something they can't control."
Political parties aside, Moore's win is a harrowing moment for the culture war that has rapidly unraveled since the first stirrings of Trump's presidency and for all Americans who oppose the injection of blatant bigotry, hate speech, and right-wing extremism into mainstream society. It is an unfortunate reminder that extremist rhetoric continues to overshadow the Republican party, and those who propagate it are more than capable of occupying Washington.
Francesca Friday is New York City-based National Politics contributor for Observer. Follow her on Twitter: @Friday_Tweets
More by Francesca Friday:
Trump's Not-Just-Muslim Ban Is Still a Muslim Ban
Facebook Turns Over Ads as Evidence of Russian Wrongdoing Mounts
International Tensions Breed in Wake of Trump's United Nations Address