Every Tom, Dick and Harry knows about Soho Farmhouse, the English countryside club heaving with elite membership and celebrity guests—you don't need to be a Dick to know that it's as fabulous as it is farm-fresh. But you also don't need to jump on their branded bandwagon; a wider crop of luxury farmhouse hotels around the world capture the rustic spirit with ritzy style, and without the necessary Soho House membership.
These rural escapes are bona fide treasure troves of new and old world treats, stocked with anything from whiskey libraries to bounty-inspired spas, estate wines, and a love of country with a city luxury state-of-mind.
Coombeshead Farm
Tucked deep into England's Cornwall countryside, Coombeshead Farm, is the new culinary retreat of chefs April Bloomfield and Tom Adams, whose hallmark restaurants are New York City's The Spotted Pig and London's Pitt Cue, respectively. Five farmhouse rooms (six, if you count the half-bedroom) are pocketed inside an 18th century Georgian farmhouse, where the former 66-acre dairy farm's lush meadows, woodlands, and vegetable gardens breathe anew with beehives, hens, and Mangalitsa hogs (a precarious home for the wooly breed, as the headlining chefs champion nose-to-tail cooking).
It's a glorified destination restaurant in the best of ways, for which Adams (on occasion, Bloomfield, too) prepares three-course feasts, mostly from scratch, from ingredients from the farm itself, whether it's wood-fired sourdough bread or hearty (read: hoggy) entrees. The accommodations are light and simple, charmed by original features such as beamed ceilings and stone floors, while the perks range from a robust whiskey library to foraging excursions with farmhands—and, if you can stomach it, the occasional butchery workshop.
São Lourenço do Barrocal
Fourteen years after its restoration, São Lourenço do Barrocal, a languished 19th century farming village in Portugal's Alentejo region, brings luxurious living to the once out-of-reach landscape. Clustered amidst the 1,900 acres, the farm's outbuildings—an entire community replete with a chapel, bull ring, stables, farmhouses, and more—were reclaimed and refreshed. The bones of the architecture now shine throughout 24 guest rooms and suites, all whitewashed inside and out, some with original arched ceilings, and all delicately accented with blonde wooden textures, hand-loomed textiles, and minty green and blue paints.
Still a working farm, an eclectic restaurant pulls flavors from the walled organic gardens, and in the same vein, the wine list features estate-made reds from a sprawling 10-year-old vineyard, naturally. Ancient olive groves, cork oak forests, and wildflower fields spread across the undulating panorama. Whether hopping onto the hotel's Portuguese bicycles, or trotting by way of its thoroughbreds, the simplest pleasure is to roam the private countryside—where medieval castles, megalithic monuments, and natural splendor come standard.
Babylonstoren
Babylonstoren, just an hour outside of Cape Town in South Africa's Winelands, is a rejuvenated a former 17th century Cape Dutch farm that reconnects guests to their rustic roots. The cycle of life isn't just picture-perfect, but a complete, wholesome picture: Farm buildings are now clean-cut guest rooms which look onto gardens and vineyards fed by a natural stream. Meanwhile, bread and wine are made with estate-grown wheat and grapes, and rotating spa treatments follow the seasons, as do the menus at Babel, a former cow-shed-turned-restaurant which pulls from the organic gardens.
There's a rhythm and purity to Babylonstoren's way of life, for which its garden is the ultimate source. Throughout its eight-acre estate, the largest plot is a prim, geometric field with 300 varieties of plants like stone fruits, vegetables, nuts, and more, all of which are edible. The latest addition, the Healing Garden, is entirely devoted to medicinal herbs. Here, nature's remedy is always in season.
Killiehuntly Farmhouse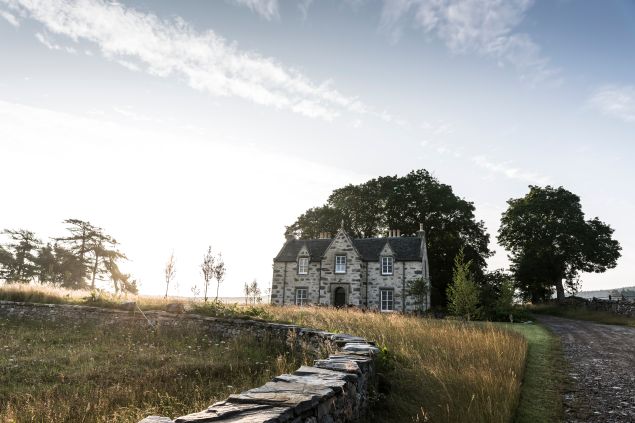 If quintessential Cotswold is less your cup of tea, head to the Scottish Highlands. Killiehuntly Farmhouse, a 4,000-acre 17th century farm that's now refashioned with Scottish charm and Scandinavian taste was designed, in part, by the wife of billionaire Danish owner Anders Povlsen. Rest assured, it's as ritzy as it is cozy. Little is out of place as the interiors are all brilliantly spare; a dusty-hued palette of grays and blues are warmed with bare wooden floorboards, sheepskin throws, and hand-crafted wicker chairs. Four guest rooms follow suit, along with a clutch of self-catered cottages, one with its own herb garden.
While the kitchen is irresistible, serving farm-fresh eggs and foraged greens from the gardens, the staff is keen to bring folks outside (with a homemade picnic lunch in tow) and into the Highlands—and not just to the outdoor sauna housed within a petite yurt. Beyond the estate's farmlands and picturesque greenhouse, rustic biking trails and footpaths lead to chilly swimming spots and views of wild reindeer—or, more domestic but no less charmed, sheepdogs.
La Granja Ibiza
As for the A-list, even Soho House initiates will need a second membership to visit La Granja Ibiza, the first members-only property by Design Hotels, which has a portfolio of over 200 boutique hotels. The fresh concept is a new thrill for the Spanish isle, a garden party of sorts thanks to the high-design conversion of a 200-year-old stone farmhouse. Surrounded by almond, fig, and citrus trees, the rustically mannered countryside estate bills itself as a mindful escape complete with meditation programs and a seasonal farming program led by Friends of a Farmer (an international organization focused on sustainable crop sharing—with an artistic lilt).
The overall look and feel of the property dwells on a back to basic vibe; five interior bedrooms are painted dark and dimly lit, emphasizing natural light and warmth from in-room fireplaces, while organic materials like dark woods, hammered iron fixtures, charcoal linens, and free-standing tubs round out the picture. Private gardens are rich with biodynamic fruits and veggies which make their way to the kitchens where all food is principled, and slow (relax, there's a stunning outdoor pool to soak up the time).
Keith Flanagan is a lifestyle writer who covers travel, food, and design. Follow him on Instagram and Twitter: @keithflanny
More from Keith Flanagan:
North Fork's First Designer Hotel Makes a Splash on the Sound
5 Luxuriously Revamped European Spas, From Gstaad to Monaco