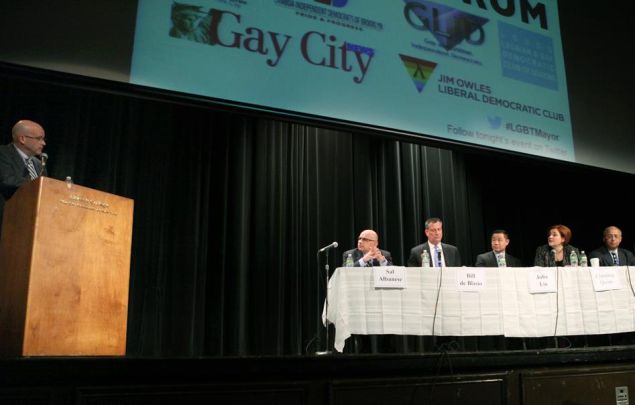 As Mayor Bill de Blasio and former Brooklyn City Councilman Sal Albanese prepare to face off in the second Democratic primary debate next week, political pundits say they're hoping the two opponents will deliver more specifics on their plans for tackling the city's issues.
The next debate, organized by the city's Campaign Finance Board, is scheduled for Wednesday. During the first Democratic primary debate, de Blasio frequently accused Albanese of spreading "factual inaccuracies" and said New Yorkers are more concerned about his record, including universal prekindergarten, reduced use of stop-and-frisk policing and an overall decrease in crime.
Albanese blasted the mayor for fostering a "pay-to-play" culture over his connections to real estate developers. He attacked the mayor's affordable housing and homelessness plans. But as a solution, Albanese offered only a pied-à-tierre tax, which would tax foreign investors.
Dr. Christina Greer, associate professor of political science at Fordham University, said Albanese needs to "articulate a vision."
"In a lot of ways, he serves as sort of the Greek chorus for a lot of New Yorkers who are displeased about various things … he's sort of articulating what still needs to be done but the problem is he's not laying out any vision whatsoever about how to do it," Greer said.
Albanese should also draw upon the highlights of his work as councilman from 1983 to 1998 and demonstrate that he understands "the issues in this era," she said.
"We're voting in two weeks," she said. "I don't know who you are. You were an elected official. Most people don't know that. You're an immigrant. Most people don't know that."
De Blasio, she said, has a "solid" record but "needs to confront certain things head on," like the "pay-to-play" issue and clearly lay out his accomplishments and vision.
Greer said that she wasn't expecting a "spectacular de Blasio" to show up because sitting elected officials tend to be "so out of campaign mode," giving the example of when former President Barack Obama first debated former Massachusetts Gov. Mitt Romney in 2012, what was widely seen as a somnolent performance by Obama.
But de Blasio, Greer cautioned, will have to decide how much credibility and attention he gives to Albanese. "If you come out swinging, you're admitting you have a real opponent," she said.
George Arzt, press secretary to the late Mayor Ed Koch, said Albanese needs to better communicate what he's done in the years that he's been out of public service. The mayor, he said, "obviously has a great deal of knowledge" but missed too many opportunities in the first debate to turn questions to his advantage.
"He can answer the question, then go and then pivot to something that he's done in education or transportation or those issues," Arzt suggested. "That's what you have to do in debates. You give the first few words for an answer and then you pivot to what you want to talk about."
Arzt said key issues are how to prepare for future hurricanes, diverting funds for the Brooklyn-Queens Expressway proposal toward upgrading trains and buses in the area, and the mayor and Gov. Andrew Cuomo holding a regional summit on transportation.
Ken Sherrill, a professor emeritus of political science at Hunter College, said he anticipates turnout will be lower than during the 2013 primary, which featured a number of candidates "who did better than de Blasio."
"The question hinges on whether those who have come to like de Blasio more, who supported [Christine] Quinn, [Bill] Thompson and [John] Liu, are going to come out and vote for de Blasio this time or whether they're going to come out and vote against de Blasio — that is, for Albanese, who is really basically running as 'not de Blasio' or whether they are going to feel motivated to turn out."
Sherrill believes de Blasio will win, noting that this race doesn't seem close and that Albanese hasn't "been able to establish himself as a credible alternative."
Albanese told Observer that he will discuss affordability, proposals the city and the state can implement to eradicate "pay to play" — insisting that he was the "leading reformer" on the Council — and mass transit and education.
"I also have to lay out my plan as best as I can," he said. "I say that because when you have one minute snippet, it's kind of tough to get into nuance. Some of the issues are very nuanced so we gotta make sure that we do it in a way that doesn't take more than a minute, so that's always difficult but we're working on that."
And the former councilman acknowledged he lacks name recognition, though he believes he "made a compelling case against de Blasio on a number of issues."
"I think that what I'd like to work on a little bit more is focus on my vision more for the city," he added. "People should know more about my background. I don't think people know much about me."
De Blasio's campaign did not respond to a request for comment.