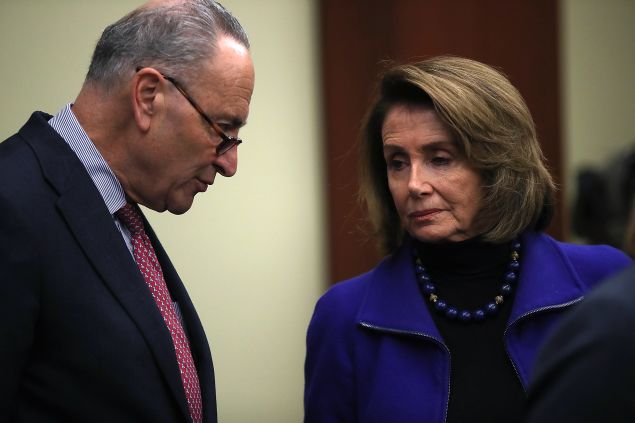 Senate Minority Leader Charles Schumer and House Minority Leader Nancy Pelosi said that they hope to finalize a deal with President Trump to protect undocumented youths from deportation "as soon as possible" and insisted that both sides agreed during a dinner at the White House on Wednesday night that a border wall would not be part of it.
U.S. Attorney General Jeff Sessions said that the Department of Homeland Security will not process new applications for the program anymore, with the exception of applications that were already submitted. Trump urged Congress to pass immigration legislation within the next six months and said DHS would not prioritize DACA beneficiaries in deportation or enforcement matters. The program offers legal protections to nearly 800,000 people in the United States, including close to 42,000 in New York.
This morning, after reports that Schumer and Pelosi reached a DACA deal at their dinner with Trump on Wednesday night, Trump said that no deal was made in a series of tweets.
Trump said that the border wall would be built, noting that it is already under construction "in the form of new renovation of old and existing fences and walls." And he claimed that no one wants to "throw out good, educated and accomplished young people who have jobs, some serving in the military."
In a joint statement released Thursday, Pelosi and Schumer confirmed that Trump's comments on Twitter were accurate.
"President Trump's tweets are not inconsistent with the agreement reached last night," the pair said in a statement. "As we said last night, there was no final deal, but there was agreement on the following: We agreed that the president would support enshrining DACA protections into law, and encourage the House and Senate to act."
But they said that they are still working out the details of the deal, and maintained that a wall would not come with the agreement.
"What remains to be negotiated are the details of border security, with a mutual goal of finalizing all details as soon as possible," they continued. "While both sides agreed that the wall would not be any part of this agreement, the president made clear he intends to pursue it at a later time, and we made clear we would continue to oppose it. Both sides agreed that the White House and the Democratic leaders would work out a border security package."
Former President Barack Obama established DACA in 2012 to provide amnesty to undocumented immigrants who were brought to the United States in their early childhood. But during the 2016 presidential campaign, then-candidate Trump said he would end the program.
When news of the deal being in the works first broke, immigrant advocates cautioned against celebrating. Staten Island resident Cesar Vargas, New York's first openly undocumented attorney and a DACA recipient, who also heads the Dream Action Coalition, said that his group is awaiting more information.
"Details matter," Vargas said in a statement. "We won't celebrate just yet."
The New York Immigration Coalition, which has organized a number of rallies in response to Trump's immigration policies, also said that they will continue the fight.
Opponents of Trump's move — which has included New York's congressional delegation, numerous liberals, conservatives, unions and business groups — say it would kick hardworking people out of the only country they have every known as home. They also contend that it will hurt the American economy. But legal scholars maintain that the chances of the courts protecting DACA were slim.