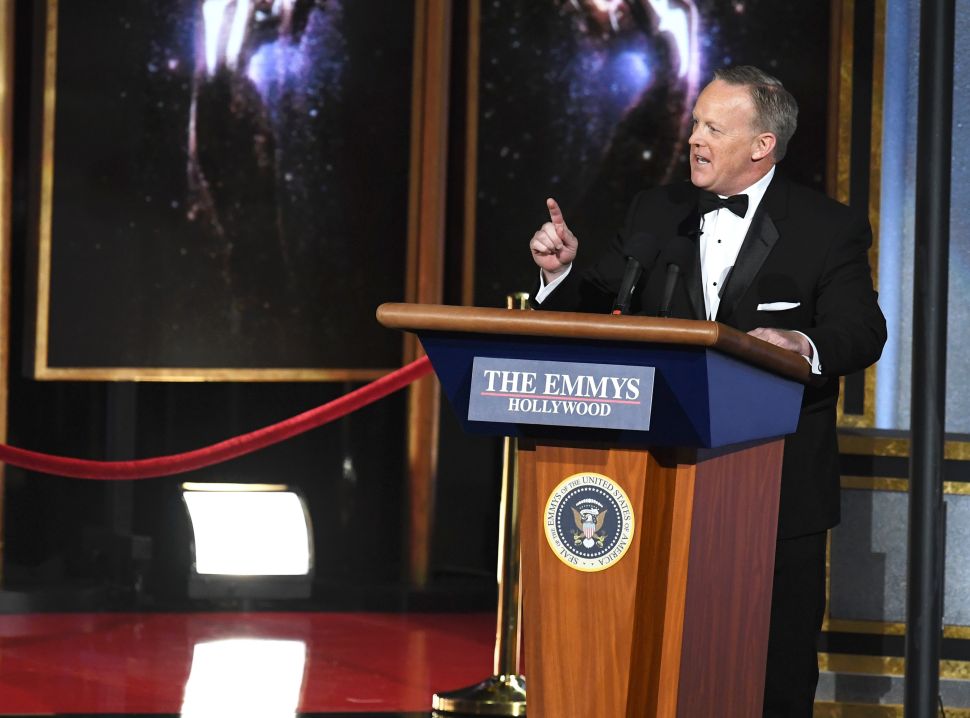 Not many in the audience and watching at home were expecting to see former White House Press Secretary Sean Spicer appear during Stephen Colbert's opening monologue at the 69th annual Primetime Emmy Awards on Sunday night. What's more, not many enjoyed his cameo at all. Media members and Hollywood-ites were quick to respond to Spicer's bit in the negative.
"This will be the largest audience to witness an Emmys. Period! Both in person and around the world," Spicer said on stage, mimicking the same words he used to described President Trump's inauguration. Funny or foul play?
"I had a mixed reaction," George Stephanopoulos said on Good Morning America. "Listen, anybody can make fun of themselves—that's a good thing—but this is a pretty serious problem. Jon Karl said in the White House briefing room every single day, where Sean and other representatives of the administration simply didn't tell the truth."
Karl, ABC's White House correspondent, added: "He showed he was willing to humiliate himself on a very big stage. But he's joking about the fact that he blatantly mislead the American people on his first day on the job."
CNN's Brian Steler asked Monday morning, "Are the Emmys lending Spicer a hand? Are they normalizing his usual dishonest behavior from the podium? That's what a lot of liberals say. It was inappropriate for Stephen Colbert to be laughing with Sean Spicer."
More familiar faces took to Twitter to criticize the move and Spicer himself.
Spicer is rumored to be closing in on book and television deals in the near future. It will be interesting to see if this controversial cameo hurts or helps his post-White House career. In recent months, the line between public servant and celebrity have certainly been blurred.
As for Colbert, he's been riding a ratings and relevancy high ever since Trump took office following a slow launch of his takeover for David Letterman. Will viewers be turned off by this latest stunt or will it be business as usual in his ongoing battle against Jimmy Fallon?