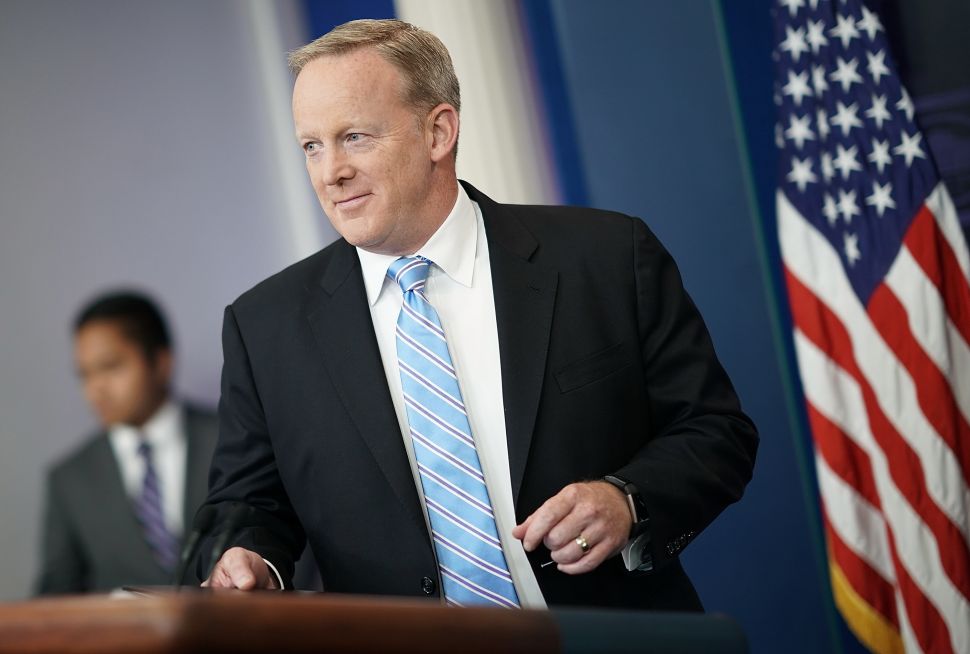 ABC announced Thursday that former White House Press Secretary Sean Spicer will give his first late-night interview on Jimmy Kimmel Live following his departure from the Trump administration. The possibilities are endless.
Spicer will join Kimmel on Wednesday, September 13, so mark you calendars ladies and gentlemen. The guy was, shall we say, rough on camera when it was his job. Let's see how he comes across when it's just for fun (or, you know, a pseudo-job interview).
Spicer announced his resignation from Team Trump back in July, though we all know that politics-code for "fired." The move came after months of contentious daily press briefings and multiple media gaffes that Melissa McCarthy absolutely hammered in her Emmy-nominated impersonation for Saturday Night Live.
Per Politico, Spicer will kick off his post-White House career as a speaker with Worldwide Speakers Group, beginning with the annual conference held by investment bank Rodman & Renshaw on September 11. He is expected to sign book and television deals in the near future as well. That should be interesting.
The Spice master was said to have clashed with Anthony Scaramucci, who served as White House communications director for less than two weeks. "The Mooch" made his own late-night debut post-White House on The Late Show With Stephen Colbert in August, which provided Colbert with his second-biggest win over The Tonight Show's Jimmy Fallon to date.