Seth Meyers and Alexi Ashe listed their West Village apartment for sale. Scroll through to see inside.
Daniel Zuchnik/Getty Images
The purchased the condo in December 2013.
Maxwell Jacobs
There's a wood-burning fireplace in the sunken living room.
Maxwell Jacobs
The talk show host renovated the unit upon moving in.
Maxwell Jacobs
The couple has moved on to a much larger apartment on Washington Street.
Maxwell Jacobs
The kitchen was redone prior to Meyers moving in.
Maxwell Jacobs
A dining area is separated from the kitchen.
Maxwell Jacobs
It's comprised of two bedrooms and two bathrooms.
Maxwell Jacobs
Each of the bedrooms has an en-suite bathroom.
Maxwell Jacobs
The unit is on the market for $4.5 million.
Maxwell Jacobs
Comedian and television host Seth Meyers has decided it's time to sell one of his New York properties.
The Late Night With Seth Meyers host and his wife, Alexi, have listed their two-bedroom, two-bathroom West Village apartment for $4.5 million. The former Saturday Night Live head writer purchased the condo at 302 West 12th Street back in December 2013, doling out $3.53 million for the unit.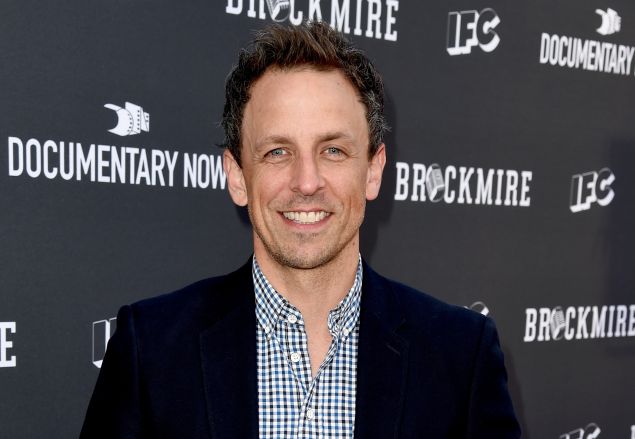 The apartment is "beautifully renovated," says the listing held by Maxwell Jacobs broker Max J. Kozower, including the enlarged entry foyer. It's located in a prewar, full time doorman Bing & Bing designed building.
Both of the two bedrooms have en-suite baths, and there is an open kitchen with a separate dining area.
The apartment has hardwood floors and high ceilings, and the "enormous" sunken living room features a wood-burning fireplace, sliding windowed doors and plenty of bookshelves.
Meyers won't need to look for another home in New York, however. The couple upgraded to a much larger, 3,000-square-foot duplex in Greenwich Village a bit over a year ago. They paid $7.52 million for an apartment at 32 Washington Square West in July 2016, and that one even has a celebrity pedigree—Mary Louise Parker once owned it.