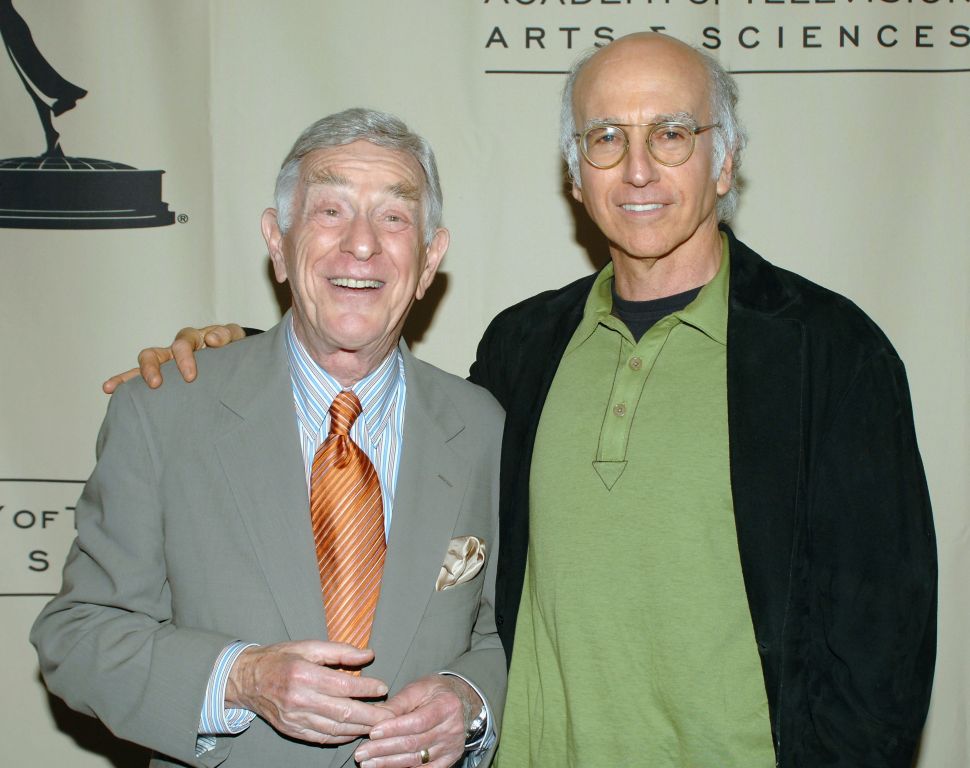 Actor and comedian Shelley Berman, best known by younger audiences as Larry David's Dad on HBO's Curb Your Enthusiasm, has passed away. He was 92.
According to TheWrap, Berman died from complications from Alzheimer's Disease.
Confirmation of his death was posted to Berman's official Facebook fan page. The statement read:
"Shelley passed away this morning at 1:24 a.m., at his home in Bell Canyon, CA, due to complications from Alzheimer's. He was 92 years old. He slipped away peacefully, in his sleep, with no pain, as far as his hospice care workers could tell.

Right now, I'm a bit of a wreck, having spent much of the last couple of hours crying, pacing, being unable to concentrate, and, frankly, being conflicted as to how I should feel about all of this. I will have more to say in this group in the days ahead, but Sarah (who I just spoke to) wanted me to let all of Shelley's Facebook fans know about Shelley's passing. Sarah loves the fact that Shelley has so many devoted followers on social media.

There will be a private service for family and close friends, followed by a public memorial. I will provide details as they are finalized.

I'm going to leave it here for now, and I want all of you to please enjoy one of my favorite photos of Shelley, taken in Palm Beach, Florida, in the early '60s — a star in his dressing room before showtime!

I love you, Shelley."
According to the Rolling Stone, Berman died at his home in Bell Canyon, California.
In 2008, Berman was nominated for an Emmy for his role on Curb Your Enthusiasm. His most recent acting credit was a guest spot on CBS' Hawaii Five-O. Other credits include The Aristocrats, Meet the Fockers and You Don't Mess With the Zohan. However, his career spanned decades before that.
Berman began his run in show business as an actor and comedian and came to fame in the 1950s and 60s. One of his earliest and most notable gag was his "telephone conversation" comedy.
https://www.youtube.com/watch?v=nOyDkwF8AGc
Per THR, Berman was the first-ever comedian to win a Grammy Award, the inaugural Best Comedy Performance, Spoken Word, in 1959 which he earned with his debut comedy album Inside Shelley Berman. The record also became the first comedy album to go gold with 500,000 copies sold.
A Chicago native, Berman was born on February 3, 1925.