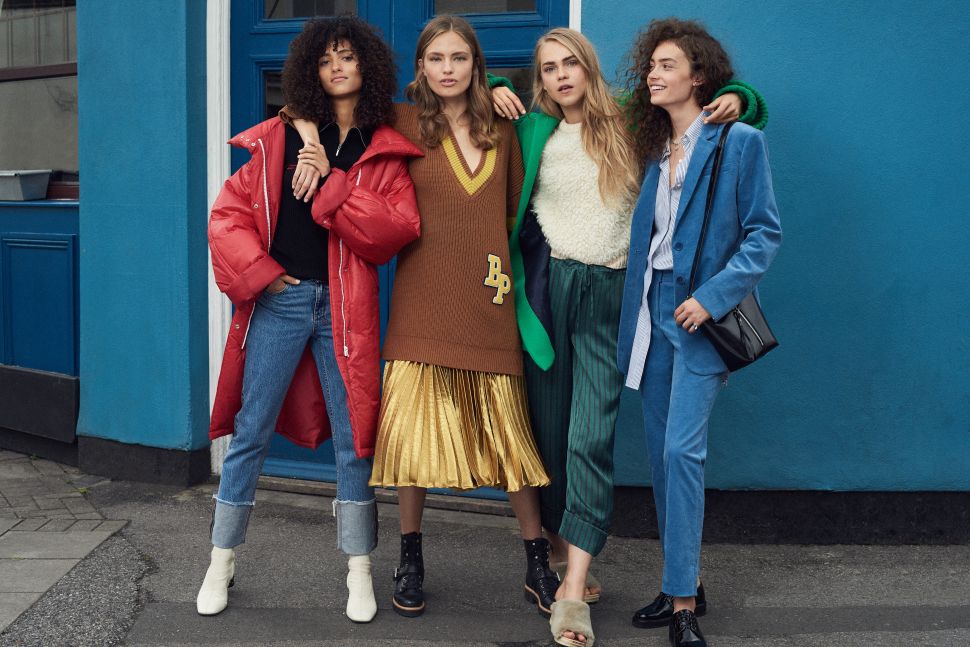 Quite a bit has changed since Bop first took their Madison, Wisconsin boutique onto the internet in 2000. Back then, it was an e-commerce destination for denim, renamed as Shopbop (yes, the name has stuck) with a definite penchant for their signature hue: orange. Just six years later, the Midwestern boutique was acquired by Amazon and has, for quite some time, been the internet giant's most successful presence in the fashion industry. Fast forward to New York Fashion Week in September 2017 and the site is ready for a makeover.
"Our business is on a very different scale than it was 17 years ago," Shopbop's CEO Darcy Penick explained. "But we find that our customer tends to not change a lot, in that she still comes to us for casual: denim, t-shirts and sneakers."
So about a year and a half ago, Shopbop sent around a customer feedback survey. And from that info, they knew the time for a refresh was right, but the trustworthy Frame jeans and Acne Studios shirts would stay put.
This certainly isn't the first makeover the site has undergone—Penick noted that this is the second revamp since she started with the company a decade ago and a few more makeovers preceded her—though it's still just as notable. For one, the aforementioned signature orange is taking a step into the shadows, as it will no longer be included in the logo. It will, Penick assured the Observer, still be a prominent player on the site, including on buttons that say "Shop The Fall Checklist" and announcing trends such as "Office Style." Other colors are being phased in, with peach, pink and grey stepping in as supporting hues.

The logo will no longer include slender white letters on a orange background, but will instead be a stronger and bolder font in either black or white. Gone are the stick-thin, spindly letters; in their place are hefty rounded corners and O's that have been tilted on their sides.
Colors and logo aside, the imagery on the site will look entirely different. I, for one, thought that Shopbop cut off the model's faces, allowing their Cinq à Sept dresses and Monse blouses to take center stage. I was sorely mistaken, but with good reason.
Penick kindly explained: "We're moving more towards a stylized imagery with our product, that allows the model to come forward a little more. It's less about the standard pose, where they fade into the background, but more about capturing the look and feel of the experience. I think it makes you notice the individual images more." This new take on photography, styling and posing allows the clothing to speak more loudly—and for minute details, such as perfectly tousled hair, to shine through.
But one thing that certainly won't change is the product. Customers are still heading to Shopbop to find their fill of trend-focused pieces and that's exactly what they will get. For fall Shopbop is focusing on yellow, statement coats (which is being called wow-terwear) and the must-have accessories hue: white.
Other additions to the site include a loyalty program, which will soft launch on September 7, but roll out officially for all customers a month later. The program will offer exclusive access to pre-sales, birthday discounts and invitations to various events. Chinese customers will have a new payment options, thanks to the introduction of Alipay.
All of these changes will be reflected on both the mobile and desktop version of the Shopbop site, including the mobile app. In fact, the mobile changes were designed first and then the rest trickled down. Shopbop, like many of their competitors, sees quite a large chunk of sales made from iPhones and Androids alike, but Penick was unable to disclose those exact figures.
All this talk of change raised the obvious question: would Shopbop ever revert to a traditional brick-and-mortar destination?
"I always say 'never say never' about those kind of questions, but our customer is predominately doing her shopping online, almost everything online in that respect," Pernick said, perhaps in a nod to parent company Amazon. "Our plan is to continue investing in where our customer is shopping and so that is, absolutely where we're hyper focused today."
In the meantime, Shopbop will be celebrating in New York, with a slew of editors and influencers at a Fashion Week pop-up. And you better believe there will be at least a little of Shopbop's new orange involved.