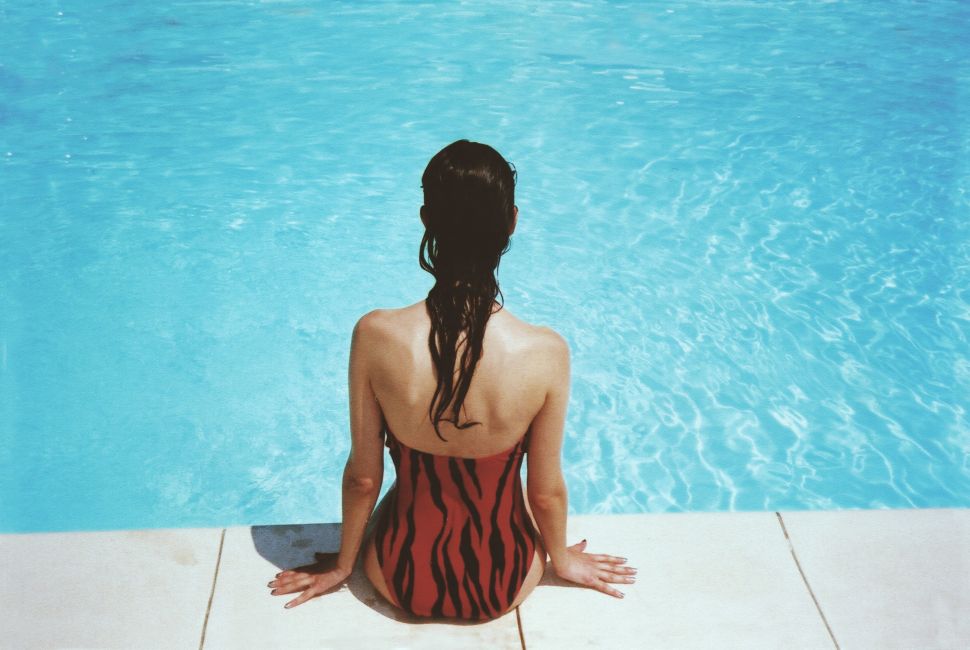 I am so glad summer Hamptons FOMO is over and the cool kids are back in town.
I know what you're thinking. You're so sorry for me that I don't have a house Out East, but don't despair, I did make it to the Hamptons several times this summer. (Applause.)
Thanks! You can check my Instagram for proof. I mean, I was at the beach less than I would have liked, and it took some maneuvering since I don't put out right away—or ever—but it was all good. I totally had fun back in the city heat where I counted my blessings, hung out with my parents, sunbathed on patches of urban grass and prayed to the mother fucking rain gods for bad Hamptons weather. Yeah, that's right—thunderstorms, cold fronts, terrible tanning conditions and, what the heck, a gaggle of great white sharks.
So I had a productive summer.
Here's the thing. If you're not in finance, you haven't inherited a Hamptons house, your share fell through, or for whatever reason you're just not rich enough (oops), you've got some tough New York choices to make. The last thing you want is to be left behind in the pounding summer heat, wandering streets with perfectly content European shoppers who just don't know any better. What sacrifices will you make to get to the holy land that is the Hamptons? Will you kiss up to your trust fund friends while secretly resenting their privilege? Or will you fuck your way Out East? Decisions. Decisions.
Don't do what I did. Don't date a guy with a house in East Hampton all winter and break up just before Memorial Day weekend. Don't do what I did. Don't date a guy who sends you pics of his beach house (the nouveau riche dick pics) and then asks you to really watch his bag when he goes to the bathroom at Milos because he's got $10,000 in cash stashed in it for his gardener and housekeeper. Of course, you end up watching his bag like its your job, and it's not like you can make a run for it anyway because he knows where you live. Plus, just because a guy's dick's been in your mouth doesn't mean you get to own his shit. Maybe you get a dinner. Maybe a weekend Out East or maybe even a life together if you close your eyes and hold your breath—but not everyone's that lucky.
The pine barrens and windblown dunes drenched in orange sunlight hurt. Their deafening beauty pelts me in the stomach. I am desperate for this beauty. I am desperate for this air and this ocean. Pinned down by the hot sun, I dig my toes and fingers into the sand and press my cheek against Mamma Earth.
Why do the rich pick such beautiful places to stake their claim? For instance, I have often thought, wouldn't it be funny if you're sailing along the Hudson (as one does) and point to a mansion on Staten Island, "There's Warren Buffet's place!" Or, as you steady yourself from nearly capsizing, "Here comes Ira Rennert's chopper!" You know, as it lands on a pile of trash.
It's not just tough on those who get left behind. After reading Primates of Manhattan, and witnessing some of the worst youth-chasing mommies battling it out at Tracy Anderson in East Hampton—and witnessing some of the worst youth chasing daddies battling it out for pussy in New York—I can only imagine it's challenging. But I'm far more familiar with the singles scene of the thirties through fifties. In this stratosphere, it seems lining up weekend houseguests is particularly stressful. After all, what's the point of having an infinity pool if you can't show it off. But guests are prone to cancel. Personal misfortunes pop up—or perhaps there's gray weather—and then sad Mr. Hamptons Owner is forced to spend time all by himself in his big, lonesome house. As if that's not enough, screenings, charity events, media and art parties are happening, always. But if you're likable enough and rich enough, people will just come to you.
Then you have the twenty-somethings, real champions in the making. Sarah, 24, had never been to the Hamptons before so she was excited when her ex-boyfriend Sam, 28, invited her to Bridgehampton to rekindle their relationship. Sam shared a big, beautiful house with nine other guys. He was in tech, he sublet his NYC apartment for the summer and worked remotely.
These guys blew through alcohol. First thing Saturday morning there was a delivery of 20 bottles of vodka, 18 bottles of rosé and 20 bottles of tequila. And before Sarah could even eat a bagel, she was drinking a Hot Skinny Wench, floating on a unicorn in the pool.
Sam showed Sarah off to his buddies. He introduced her as his girl. She was hopeful, although she noticed the guys had a guest calendar, a Google Doc for girls.  Whoever signed a girl up first got the suite for the weekend. And sure, she slept in the suite with Sam, but he told her he loved her.
After the weekend, he changed his mind.
Sarah wasn't impressed anyway. She said that the Hamptons seemed more like the Jersey Shore. She had gone to places like Talkhouse, Clam Bar and Ruschmeyers.
"It's kind of ratchet there," she said, "I was expecting a lot more." 
The Beach. It might be the shocking, cold blue ocean, the scattering of far off stars, or all that wealth just beyond the bend. I don't know. Or it might just be that place where longing folds upon itself in surrender.
Not everyone is shitty Out East.  There are cool, conscientious people who are creative and chill, surfers who don't hang out at Surflodge or dine at Bilboquet. There are married couples, singles and locals who just want to get to work, or go to the beach or read a book. There are good people who just want to get away from everyone, even if that means running into everyone they want to get way from. Even so, that gives me hope.  Because, despite all the crap, I have a fantasy of owning my own little Hamptons beach house with French doors, white curtains and a writing desk over looking the ocean, bought by my very own multi-million dollar marketable ideas! Or something like that.
But why the Hamptons, you may ask? Why not some other beach?
Because it's so goddamn beautiful there. Because that's where New Yorkers go. Because that's what I know.
It makes me think of that song. Is that all there is?
If that's all there is my friends, then let's keep dancing. Let's break out the booze and have a ball.
Well then, with another summer gone, I'll catch you on flipside. See you at the beach, all over again, next year.
Jasmine Lobe is a writer, actor, model, former figure skater, New Yorker, J-Spot columnist for NY Observer. Follow her on twitter: @jasminelobe