For Solace London's designers, BFF duo Ryan Holliday-Stevens and Laura Taylor, New York Fashion Week is already off to a great start. Just 48 hours before the London-based design pair made their NYFW debut, Bella Hadid stepped out in one of their designs. The top model wore one of their long-sleeved shirts as a dress, sparking headlines such as "Bella Hadid Is Back to Her Pantsless Ways."
In a season where it feels like everyone is abandoning New York Fashion Week for greener pastures (ahem, Paris), it's rather refreshing to hear that a few designers are coming to Manhattan for their show. And if it sounds like Holliday-Stevens and Taylor have embarked on a rather risky adventure, well, that's exactly because it was. However, their experiment in jumping across the pond is already off to a great start, save for one little snafu.
"All of the fabric arrived today and it was supposed to arrive a week ago, and it got stuck in customs," Holliday-Stevens said, less than 24 hours before showtime, while hunkered down in their temporary Fort Greene, Brooklyn headquarters. Despite the expected stress that comes with a fashion week production, the duo seemed cool, calm and in control. Just 24 hours before the show, the design duo was working closely with stylist Tom Van Dorpe on perfecting sleeve lengths and finishing tailored touches to skirts and trousers.
The Solace London team has been holed up in the studio for just under two weeks, preparing for the show. And they're grateful not to be in the hubbub of New York City. "Manhattan can be quite intense and we thought it might be quite nice to have the studio setup near where we're living. It's a quiet area and doesn't have the intensity of Manhattan," said Holliday-Stevens. "In the run up to the show, we're more chilled out."
Founded in 2013, Solace London has quickly grown into a celeb-favored label. They've already dressed the likes of Zendaya, Kendall Jenner, Chrissy Teigen and Olivia Palermo, while racking up an impressive list of international stockists including Net-A-Porter, Bergdorf Goodman, Galeries Lafayette, Harrods and so on. But they have a huge audience of shoppers in New York, hence their NYFW pilgrimage.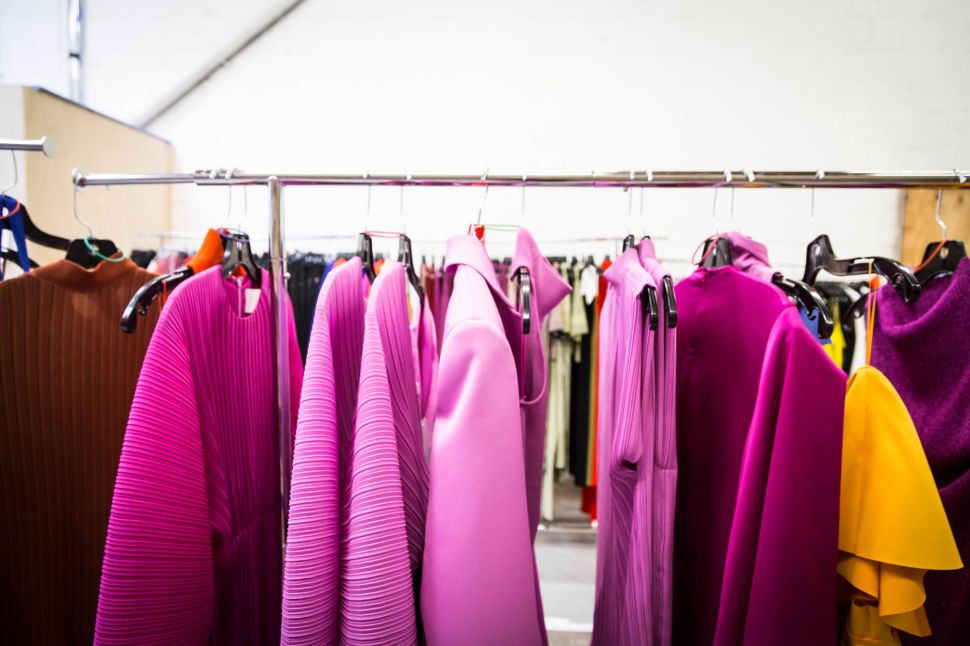 They're best known for making killer red carpet frocks and extremely glamorous pants, but don't call Solace London an eveningwear line. "I think the brand has evolved over the past four years. We've introduced new cascades, new fabrication, but you can buy denim, jersey, leather and outerwear from us now," Taylor pointed out. And it's true; the standout pieces in the spring collection included a pair of slick culottes made from vinyl leather and a blue patchwork skirt, made from in the same shiny material.
Aside from a new location, this season marked a handful of other firsts for Solace London. They introduced shoes, with just one mule featuring a massive globular heel, and handbags, including one waist-bag that appeared to be just two external leather pockets. They also partnered with Net-A-Porter for their first see-now, buy-now collection. Head to the site now to scoop up a ruffled one-shouldered dress in canary yellow and a pair of black flared trousers with a sculptural ruffle.
An interesting fact about Holliday-Stevens and Taylor is that neither has a formal design background. As the FT puts it, "Ryan dropped out of university after completing a placement year and Laura studied English." But, as these two prove, sometimes a sense of style and a knack for designing isn't something you need to learn in a classroom.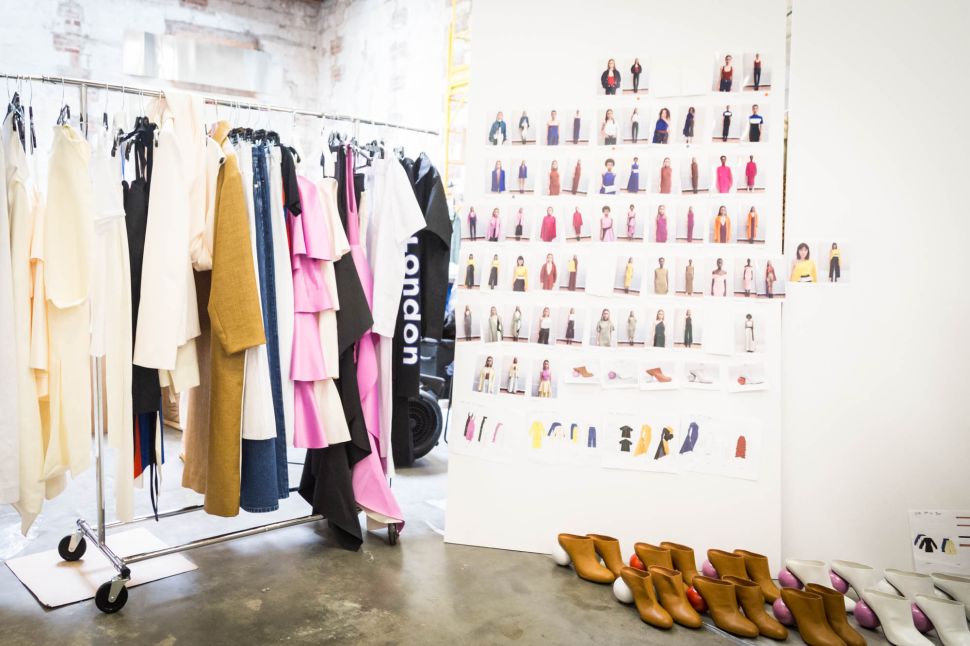 "There's definitely two schools of thought with fashion design: You get the traditional way, where you start doing research, pick a theme and then you work around it. That's definitely not where we come from," explained Holliday-Stevens. "We look at how we can make something that is not available anywhere else, that fills the gap, that makes someone feel special, that's versatile, that feels incredible when its worn." And truly, what more could you want from your clothing?