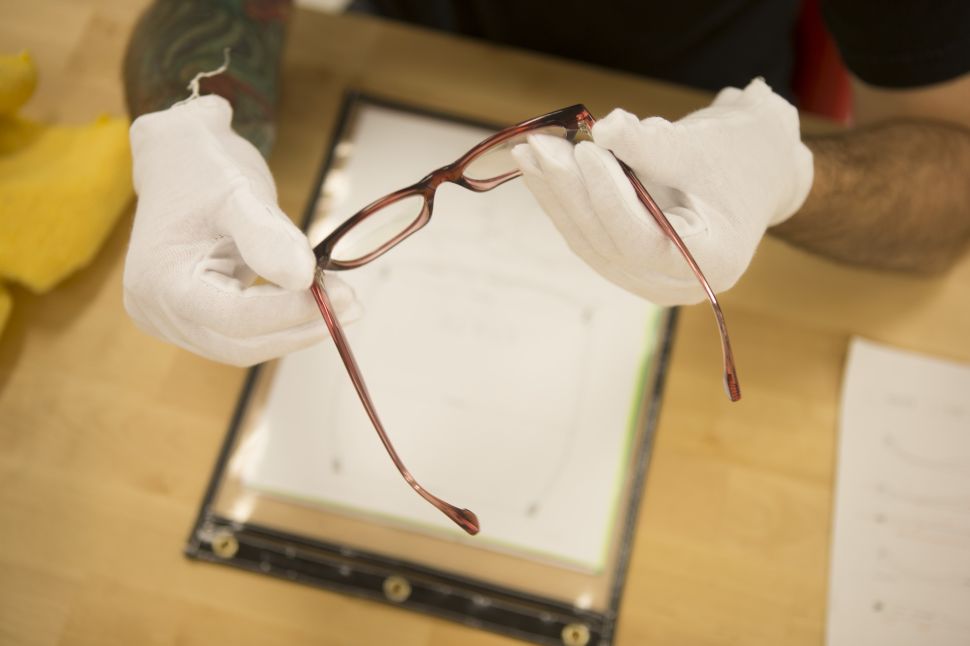 Every time a person unwraps a new pair of cat-eye sunglasses or tortoiseshell frames from State Optical Co., they're greeted with an unlikely proposal: "Come see how your frame is made."
And it's not an empty offer. State produces the only range of luxury glasses and sunglasses that are made entirely in America and they're quite obviously proud of that fact. It doesn't matter if you just really like your frames, work in the optical industry or happen to be curious about what Made in Chicago really means, the company wants to show you what they're capable of. Which explains why they host bi-weekly factory tours of their factory and HQ in Vernon Hills, a nearby suburb of Chicago.
Scott Shapiro, a Chicago native, set out to start State Opical Co, along with his wife Amanda, in 2014. But the first State products didn't hit stores until 2016. Why? Well, it took the team quite some time to build a factory to their specifications, that could turn out glasses worthy of their $381 to $429 price tags, replete with nylon-coated screws, top quality acetate and even hand-painted logos and style codes. As State's optical factory is the only one like it in the United States, there weren't many resources at their fingertips—or even any competitors to steal secrets from.
"We went on a national tour, trying to interview and sit down with anybody who knew how to make eyeglasses, or claimed to know how to make eyeglasses. We met these two cousins—Marc Franchi and Jason Stanley—who actually built a factory in Ventura, California," Shapiro told the Observer. Long before Shapiro met them, the cousins embarked on an overseas research trip, to observe how factories in Europe and Asia were producing frames. They emulated those practices in their very own West Coast factory, but could only do so with extremely old machinery.
Eventually, Shapiro convinced Franchi and Stanley to leave behind their sunny California homes and relocate to Chicago, where they began building State's bustling factory in 2014—from all new machines.
At any given time, eight different optical styles are being produced in the State factory, across 28 different processes and 75 individual steps (give or take a step or two, depending on the different styles). It takes about two weeks for each pair of State frames to be completed, from start to finish. That includes cutting acetate into rough forms, using friction to affix the nose bridge onto the glasses and workers sanding the arms of frames by hand.
Each of the 45 employees in the State factory are proficient at their jobs, but that wasn't always the case.
"When we hired them, they didn't know how to make eyewear and they had never heard of anyone making eyewear, because this industry didn't exist here. We had to teach everyone from scratch how to produce eyewear at a really high level in a really short amount of time," said Franchi. Most of them are cross-trained across a few of the steps, meaning they might be asked to laser information into the temple of the glasses and then go on to affix the corner of the frames with little metal embellishments.
Once the frames are fully manufactured, they undergo rigorous quality control testing, ensuring the customers receive only the most perfect pair of State frame.
[vimeo 157620659 w=640 h=360]
But with all of these state-of-the-art machines and attention to detail, why is State based in Chicago? Well, for one, it's where Shapiro and his father was born. It's also where Shapiro's parents set up their original optical company, Europa, which shares office space with State—and a few employees, too.
But it's also a truly American city, through and through. "We wanted the city to properly reflect the brand and vice versa. Chicago represents such a unique crossroads of sophistication and traditional work ethic. Just like State itself, it's fashionable but it's real. It's about the work, not just the image," Shapiro explained. He's so dedicated to embedding the city's personality into the State ethos that each style of glasses is named after a street in Chicago. There's the retro rectangular frames that are a nod to the vintage buildings on Armitage Avenue, the flashy and fancy sunglasses that pay homage to the jewelers based on Wabash Avenue and the simply angular spectacles that were inspired by the clean lines of Clybourn Avenue.
"While manufacturing in the US is challenging, we feel strongly about the quality that we can produce here. Chicago is always reinventing itself, and it's important to us to be creating positive change by creating new jobs here. Ultimately, we hope to both support and fall in line with the city's great tradition of creators and doers," Shapiro said.
Since they first entered stores a little over a year ago, State and their luxe glasses have truly hit the ground running. Not only are they stocked in over 900 retail outlets, but this past New York Fashion Week they even rolled out a runway collaboration with Creatures of the Wind. For a small Midwestern brand, it's safe to say that State Optical Co. is poised for global domination.