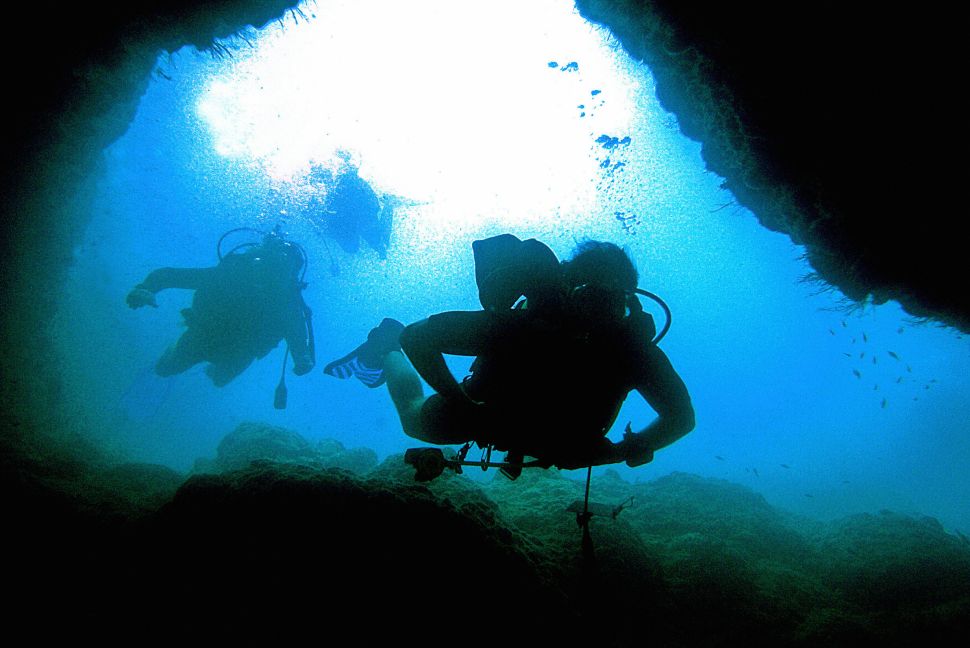 A skeleton found in 2012 in an underwater cave in Mexico was recently dated by scientists to be more than 13,000 years old, making it a key find for archaeologists piecing together the history of the earliest humans in the Americas. Up to this point, archaeological research has suggested that humans colonized North and South America under 14,000 years ago, but relevant discoveries to corroborate this prevailing theory have been rare. Complicating these efforts is the unfortunate fact that the majority of the artifacts in this most recent find were stolen before scientists could excavate and study them. Cave divers came across the remains in February 2012, and subsequently posted about their discovery on social media. By the time scientists found out and went back to retrieve the finds in March, the skeleton was gone except for a few bone fragments embedded in the limestone rock.
From the remaining bone fragments, scientists determined the date of the skeleton based on the age of the mineral calcite that had accrued around pieces of the bone. Wolfgang Stinnesbeck, a paleontologist and geoscientist at the University of Heidelberg, Germany, who led the efforts to date the remains, recently told scientific journal Nature, that "to determine the age of human remains, researchers often measure levels of a radioactive isotope of carbon in collagen protein within bones. But in this case, most of the collagen had been leached out by water while the bones were submerged, making this method unreliable." So instead, Stinnesbeck and his team analyzed a piece of the pelvis bone and the stalagmite that had formed around it, judging from the rate at which calcite had formed that these remains must be more than 13,000 years old.
Theft and a thriving, lucrative black market for artifacts greatly impede scientific and archaeological work. Though the motives of the thieves who stole this rare skeleton are not clear, it's certain that this theft drastically obstructed scientists' efforts to develop a sound theory on how ancient humans migrated to the Americas. Who knows what else might have been discovered had this find been left intact.
"If somebody goes in and steals an ancient skeleton or plunders a tomb or a grave—just solely looking for something to put on a shelf or to sell—what you lose is an opportunity to work," said James Delgado, vice-president at the marine archaeology firm Search, in an interview with Observer. "When you actually go to where this [artifact] is, and you study it in its own context, there are other clues. Think of how much more they could have learned [had it not been disturbed]," he added.
Delgado has worked for NOAA, the National Park Service, and served a four-year term as President and CEO of the Institute of Nautical Archaeology. "Let's that other than the bleached bone that was found, if somehow one of those teeth was encased in a way that preserved mitochondrial DNA so that the DNA could be extracted, we could have learned so much more about these early people in the Americas," he said. "Anytime something like this happens, you can't even begin to measure the potential of what you've lost."
The police have not been able to come up with any leads on the ancient skeleton, but whether it was taken as a souvenir or to be sold, it could eventually wind up in a prominent museum—where many stolen artifacts turn up.
Christos Tsirogiannis, a forensic archaeologist affiliated with the University of Glasgow's Scottish Centre for Crime and Justice Research, told Observer, "A discovery of an underwater cave with stalagmites and human remains, advertised on the social media, should have urged authorities to safeguard the site, [and urged] scientists of any relevant discipline to conduct their research as soon as possible, before probable destruction and looting took place."
Tsirogiannis has developed a reputation for conducting his own detective work to find stolen artifacts by combing through online collections and archives, then taking steps to have them returned to their rightful owners. He developed these skills working for the Greek Ministries of Culture and Justice dating and classifying stolen artifacts. "The market for human remains is far smaller than the one for ancient artifacts, but it exists. It is possible, though, that in the case of this cave, human and other skeletal remains were collected as souvenirs, rather than for sale. However, that does not mean that at some point these will not surface on the market."