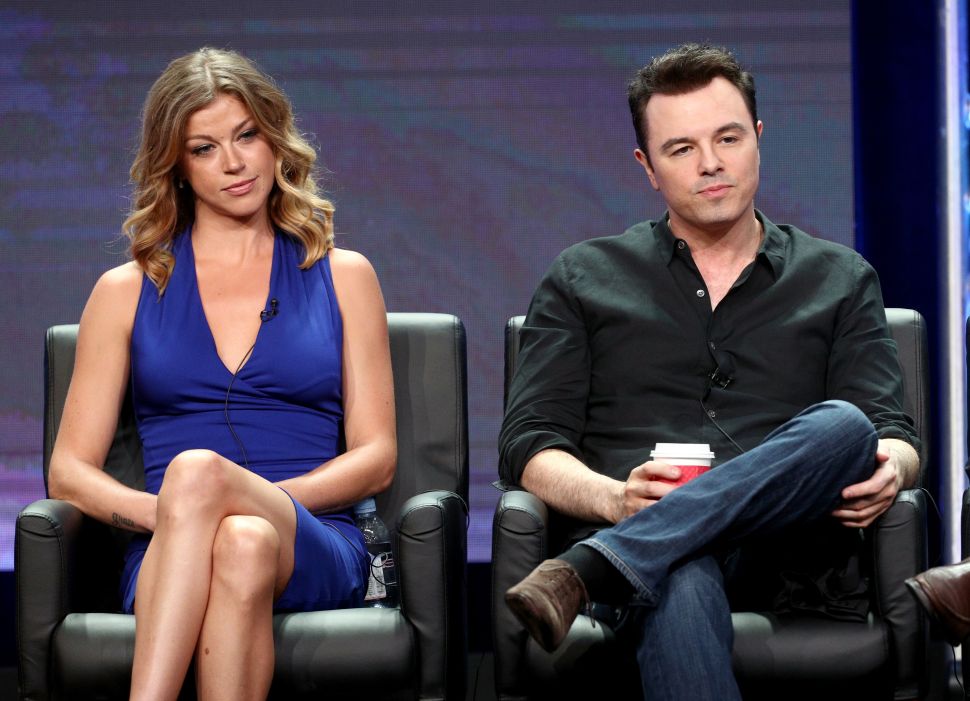 Seth MacFarlane's new sci-fi comedy The Orville premieres on Fox tonight and, well, let's just say that this is not a frontier we're interested in exploring any further. We're big Family Guy supporters, but animation fits well with MacFarlane's vulgar humor whereas his live-action high jinks always feel too neutered to seize our attention. We've seen the first three episodes of The Orville and that same trend holds true.
Unlike its marketing would suggest, the series is not a straight up comedy; The Orville is very much an uneven ripoff of Star Trek with MacFarlane genuinely hoping to construct a new space exploration show in the vein of Gene Roddenberry's beloved series. The only problem is, The Orville is neither interesting enough to pass for entertaining procedural nor funny enough to keep us engaged. Yes, there are some bright spots. Scott Grimes gets in some good lines as pilot Gordon Malloy and Adrianne Palicki, ex-wife and first mate of MacFarlane's Captain Ed Mercer, is always enjoyable. But the show is stuck in some strange middle ground, unsure which genre to fully commit to.
It isn't until the third episode, "About a Girl," that The Orville attempts to tackle a real social issue like Star Trek did before it. By that time, we're a bit too burnt out on all the "I hate my ex-wife" jokes MacFarlane peppers in. Had the series started here with a more defined ratio of humor-to-seriousness, perhaps its launch would have been a bit smoother. But the tonal shifts and shoehorned punchlines take away from any significant lessons we might take away.
MacFarlane has populated The Orville with different people and species who all must learn from one another in order to learn about themselves. Unfortunately, we don't see audiences taking the time to do the same. Do yourself a favor and just wait for cbs' Star Trek: Discovery to beam its way onto your TVs.
The Orville Series Premiere Viewing Details
Date: Sunday, September 10
Time: 8 p.m. EST
TV Channel: FOX (FOXA)
How to Live-Stream The Orville Series Premiere Online
Your best bet for watching The Orville via a live stream is Fox Live. The stream offers a one-hour "Preview Pass" to first-time users. You will need your log-in and password information for your cable or satellite provider after the time expires.
If you don't have access to a cable or satellite log-in, you can live stream Prison Break online through DirecTV Now. DirecTV offers a free seven-day trial, so you'll receive a full seven days free before your paid membership begins. If you cancel your subscription within the week, you will not be charged. DirecTV NOW is available on Desktop, Apple TV, Amazon Fire TV and Chromecast.
How to Live-Stream The Orville Series Premiere on Mobile
If you can't watch on your TV or computer, Fox has you covered with their Fox Now app. As long as you have a cable or satellite provider, you can download the app for free in the App Store, the Google Play store, the or the Microsoft Store.
DirecTV also has a DirecTV NOW app on App Store and Google Play store where you can watch The Orville for free if you sign up for the seven-day trial and cancel it before the trial period ends.