Step inside Samsung 837 and you can watch the Titanic sink before your very eyes.
The Samsung flagship, previously best known for NYFW events, including an appearance from a pre-pregnancy Kylie Jenner, and its summer concert series, is introducing a new virtual reality escape. This isn't their first foray into VR; previously, they partnered with the team behind Sleep No More to create a one-on-one, immersive experience complete with terror and touching. While the new Titanic experience isn't exactly light fare, it's much more exhilarating than it is nightmare-inducing.
Starting in October, Samsung is offering the 4D virtual reality experience called Surviving the Titanic, alongside plenty of thrills, especially for history aficionados and Leo lovers. This year, virtual reality has expanded to include weird workouts, from spinning to yoga, so why not add a trip on the Titanic's bouncing life boats?
Of course, there are far more cheerful VR experiences, and a sinking ship doesn't exactly scream fun weekend activity. But Samsung conveniently sits right by Pier 54, where Titanic survivors returned after their rescue, making it a historically accurate way to spend a few moments on a Saturday.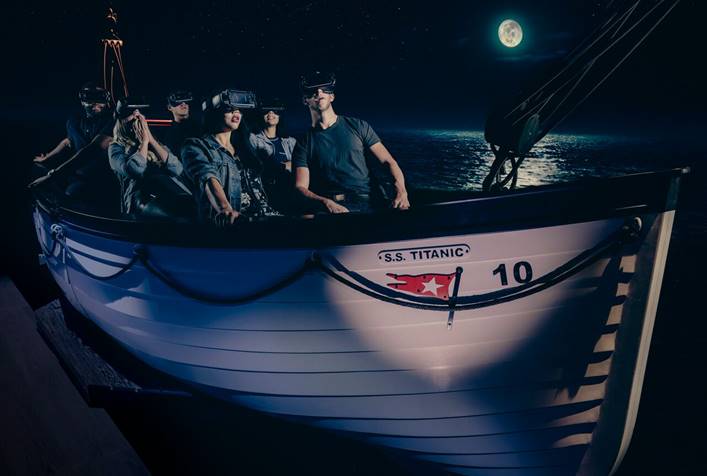 Guests buy tickets and then a guide escorts them to a boat, equipped with room for eight passengers. Once onboard the life boat, the full Titanic experience begins, replete with ship rocking, VR sinkage and splish splashes as the giant ship makes its way through the water. The experience falls somewhere between the Pirates of the Caribbean ride at Disney World and watching both of the VHS tapes of the movie at home, as it's more than likely you'll spend a chunk of the four minutes wondering why Jack and Rose couldn't both fit on that door.
"At Samsung, we're always looking for new ways to defy boundaries with our technology and Surviving the Titanic at Samsung 837 does just that," Bachir Zeroual, the Head of VR Marketing at Samsung Electronics America, told the Observer. "Users will experience physical elements such as motion, wind, water, heat, scent and more to truly make the historic sinking of the Titanic feel incredibly real. Brought to life at Samsung 837, Surviving the Titanic joins more than 30 other virtual reality experiences that come alive in the space. Guests can experience a variety of VR content—from fighting intergalactic battles to catching the day's news in 360 to surfing the ocean—the possibilities are endless."
The new VR trip aligns with the film's 20 year anniversary, happening this December. Instead of re-watching the film for a millionth time, you could always experience it for yourself in your very own life boat…only unfortunately, with no Leo.