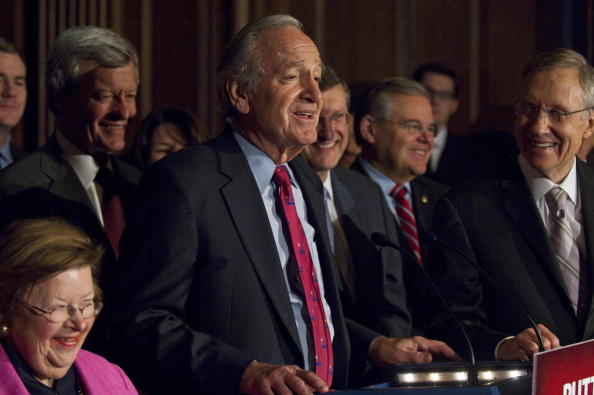 NEWARK — Former Sen. Tom Harkin (D-Iowa) took the witness stand on Wednesday to testify in the ongoing corruption trial of Sen. Bob Menendez, the New Jersey Democrat facing charges that he accepted bribes from wealthy Florida donor Salomon Melgen in exchange for political favors.
Harkin's testimony focused on a 2011 meeting held in his office with Melgen and Menendez. According to Harkin, he scheduled the meeting with Melgen at Menendez's request in order to discuss a Medicare billing issue Melgen was facing at his Florida ophthalmology practice. At the time, Harkin was the chair of the Senate Committee on Health, Education Labor and Pensions, which oversees the Centers for Medicare and Medicaid Services. CMS was investigating Melgen's billing practices.
"We always referred to it jokingly as 'C-Mess' because, yes, we did a great deal of oversight," Harkin said.
Melgen mostly wanted to talk to Harkin about the FDA dosing regulations for a macular degeneration drug called Lucentis, Harkin said. According to FDA guidelines, Lucentis was to be distributed in single-dose vials with any remaining contents discarded. Melgen took issue because enough medicine for three patients was included in each vial. At the time, Melgen was billing CMS for each of the doses he extracted from the vials as if they were multiple vials. Melgen was eventually required to pay CMS $8.9 million for the discrepancy and was later criminally charged and convicted of fraud in a separate case. He is appealing.
Harkin said that, while he found the dosing instructions of Lucentis wasteful, he did not follow up on the issue after his meeting with Melgen. Harkin also said that, while Menendez was present throughout the meeting, he did not say much after introducing Melgen. Menendez did not follow up on the CMS issue, Harkin said.
"He just wanted to present his side of the story, his facts," Harkin said of Melgen.
Harkin's former health policy director, Jennell Krishnamoorthy, also testified on Wednesday. Like Menendez, Krishnamoorthy sat in on the meeting between Harkin and Melgen. She also had a subsequent meeting with Harkin to discuss the points Melgen addressed during the interaction.
"I was not going to recommend for Senator Harkin to write a letter," Krishnamoorthy said. "I don't believe I ever talked to Senator Harkin about this case again."
Menendez attorney Abbe Lowell noted that Harkin's meeting with Melgen was not the first time that the senator held a meeting relating to the HELP committee with a constituent from outside of his elected constituency.
"It was not the first time that a senator had asked Senator Harkin to deal with an issue on his behalf," Lowell said during cross-examination of Krishnamoorthy.
Wednesday also saw testimony from Dr. Louis Jacques, a former CMS director who sat in on a conference call with a Menendez staffer relating to the issues Melgen was facing. According to Jacques, the staffer was "argumentative" on the call and pressured CMS to forgive Melgen's Medicare billing issue.
"Bad medicine is not illegal. Medicare should pay this claim," Jacques recalled the staffer saying on the call.
The Menendez trial is expected to last through Thanksgiving. The senator maintains that he never did anything illegal and that there was no corrupt agreement between him and Melgen. He claims that actions like arranging the meeting between Harkin and Melgen were done because Melgen brought issues that seemed valid to his attention. The prosecution claims that Menendez set meetings like the one with Harkin because Melgen treated him to lavish gifts and flights on his private jet.