https://www.instagram.com/p/BY_V5SujLwE/?hl=en&saved-by=tomasmaier
Tomas Maier may not have announced his partnership with Puma by sending motorcycles flipping in mid-air, while the entire fashion community watched in awe. No, that was Rihanna, for her latest Fenty x Puma collection.
Maier did, however, create a stir when he announced a partnership with the athletic brand, to reinvent the iconic Roma 1968 sneaker. In the simple hues of black suede and white leather, plus a flash of rubber, these kicks have been subtly spruced up the designer's signature touch: the palm tree. Each kick is debossed hundreds of times over with the tropical icon, a subtle detail that will send devoted Maier fans into a tizzy.
The Roma 1968 is actually a re-issue of the original design, which was released to celebrate the victory of the Italian national football team, Azzurri European, at the UEFA European Football Championship in 1968.
"This shoe reflects a period of design I enjoy still today as a modern, minimalistic approach that I always try to bring to the products in our brand," explained Maier, on why this particular shoe was chosen. Only 200 pairs of these sneakers will be released on the Tomas Maier site this Saturday, September 16, so you might want to put those brunch plans on hold until then.
"Puma is very dynamic about doing collaborations and as we share a parent company, the meeting was fairly organic," said Maier, with a nod to the shared owner, Kering. "They also appreciated the casualness of our company and what we stand for."
This year, Maier is celebrating 20 years of his casual and cool brand—and he's celebrating with more than just a Puma collaboration. He recently opened his very first men's flagship store, at 407 Bleecker Street. That address might sound familiar, as it previously housed a Tomas Maier shop for both men and women. But now, the former townhouse, that dates back to the 1840s, is just for the boys. 

"We never really have had a dedicated space to showcase our men's universe—here we will be able to offer more men's product and more sizes and colors, all in a unique space that male clients won't have to share with women. Our male clients are very loyal to the brand and tend to return season after season and deserve their own environment," he explained. All the best hits from the brand will be carried, including t-shirts, sweatpants, windbreakers and their best-selling pants. If you're looking for a subdued but endlessly luxurious piece, this is the perfect spot for you.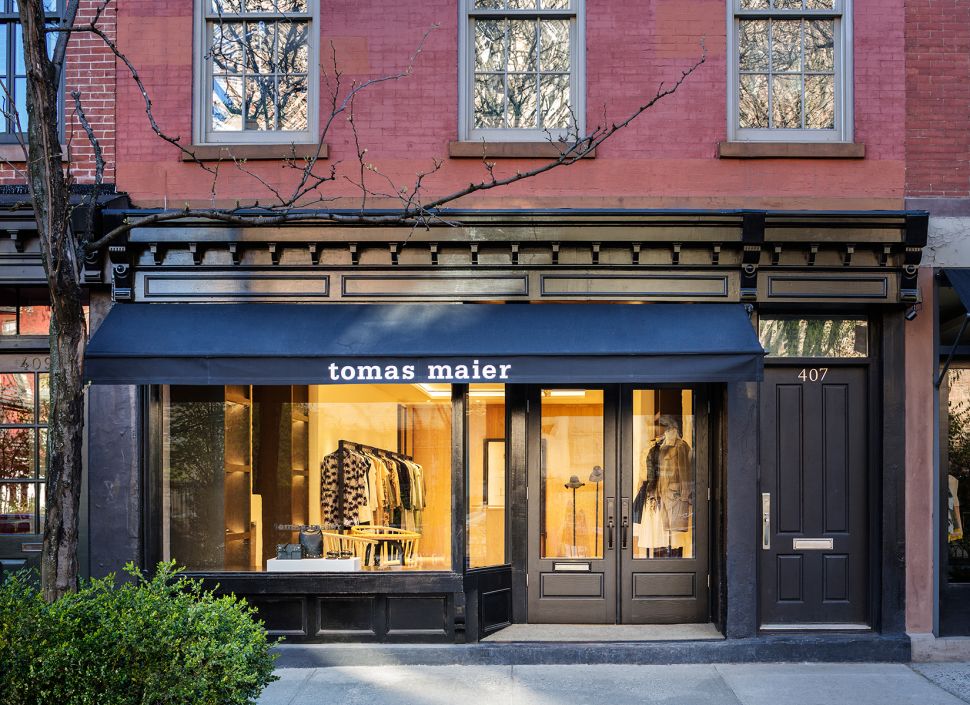 Another celebratory launch is the TM20 bag, a playful purse emblazoned with—you guessed it—palm trees.
All these flashy new launches aside, the most exciting part about this anniversary for Maier is reflecting on what his brand has accomplished over the past two decades. So what's his all-time favorite memory? "The best moment was the very first collection I showed in Paris, in my living room. The response was so exciting and it was all accomplished with no means."