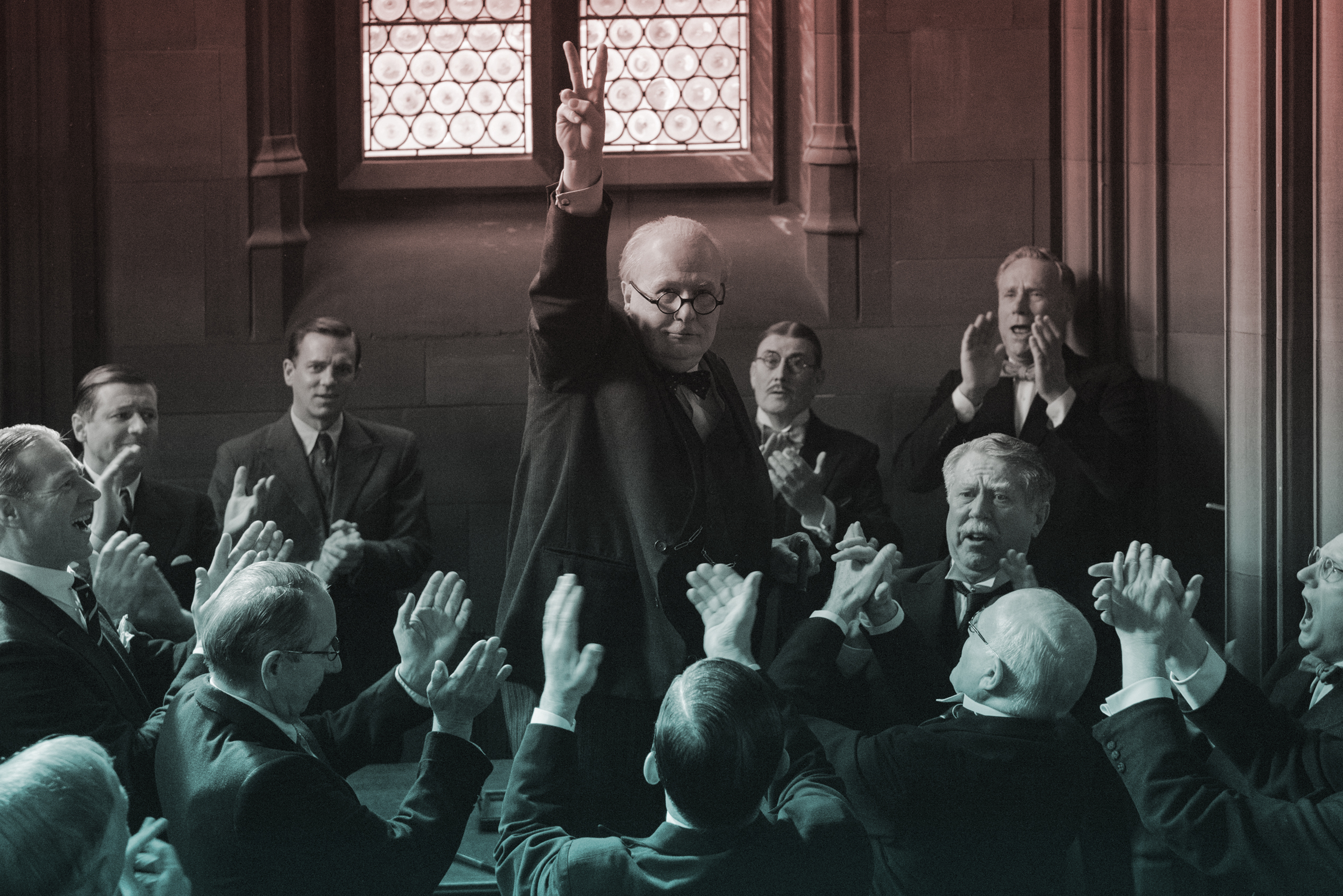 Everyone loves a good gladiator match, as it's always enjoyable seeing two heavyweights slug it out. So with the dreary summer blockbuster movie season behind us and Hollywood gearing up for a bloody Oscars campaign, now is the perfect time to pit fall's upcoming movies against one another.
To land a spot on our ranked preview, a movie must have a trailer out. Everyone and their mother is excited for Steven Spielberg's upcoming effort, but without a real look at the movie, it's hard to say anything definitively. This ain't no guess work, people!
Without further ado, the Top 10 Movies you should be most excited for this fall, presented to you in ascending order.
The Current War
November 24
https://www.youtube.com/watch?v=10WvnDcxVvE
Benedict Cumberbatch as Thomas Edison, Michael Shannon as George Westinghouse and Nicholas Hoult as Nikola Tesla. If that doesn't pique your interest, well then there's just no hope. Coming from director Alfonso Gomez-Rejon (Me and Earl and the Dying Girl), The Current War delves into a century-old rivalry centered around the dueling electrical systems of Edison and Westinghouse. This Weinstein Company film peppers its historical education with bountiful energy and it looks to be an entertaining take on factual events.
Battle of the Sexes
September 22
This FOX (FOXA) Searchlight sports comedy-drama is loosely based on the 1973 tennis match between Billie Jean King and Bobby Riggs, with reigning Best Actress winner Emma Stone and the Oscar-nominated Steve Carell in the title roles. Hailing from Little Miss Sunshine directors and husband and wife directing duo Jonathan Dayton and Valerie Faris, Battle of the Sexes is infused with humor while also hitting audiences right in the feels. Younger audiences could just Google the match to find out who wins, but why would you want to spoil one of fall's most anticipated movies?
Justice League
November 17
Justice League marks the first time the most iconic superhero team ever will be featured together on the big screen, but we're dubious of the film's actual quality. Can Zack Snyder's original vision be effectively plastered over by Joss Whedon or will all of the behind the scenes shuffling bleed into the final product? We've been thoroughly unimpressed by any of the trailers thus far. With Warner Bros. and the DC Extended Universe, it's always one step forward (Wonder Woman) and two steps back (Justice League). Here's to hoping we're wrong and the big team-up crushes this fall.
Call Me By Your Name
November 24
It will be difficult for audiences not to be overwhelmed by emotion in director Luca Guadagino's vulnerable love story set in northern Italy in the summer of 1983. Based on André Aciman's acclaimed 2007 novel, Call Me By Your Name follows the blossoming relationship between 17-year-old Elio (Timothée Chalamet, who is generating rave reviews) and Oliver (Armie Hammer), a twenty-something intern for Elio's professor father (Michael Stuhlbarg). The thoughtful romance is expected to anchor one of the best films of 2017.
Darkest Hour
November 22
There are a couple interesting subplots here heading into the World War II drama, Darkest Hour. First up? Gary Oldman going full Gary Oldman. It also includes a new Winston Churchill portrayal to go up against Jon Lithgow's Emmy-nominated performance in Netflix's The Crown. The Academy does love themselves some historical biopics, so expect this feature to be showered with some Oscars love. For the fans, though, watching Churchill refuse to make peace with Hitler will be reward enough.
Thor: Ragnarok
November 3
We consider director Taika Waititi a national treasure—and he's not even American. That's how much we love his films. If you haven't seen What We Do in the Shadows and Hunt for the Wilderpeople, you need to go watch them right now. Seriously, they're both on Hulu. Waititi is a uniquely styled humor connoisseur who now gets to play around with the God of Thunder and the Incredible Hulk. He's the perfect left-field choice to helm the trilogy-capper of the Marvel Cinematic Universe's weakest link, closing out the franchise on a high-note and injecting some much-needed originality into the MCU.
Blade Runner 2049
October 6
Blade Runner is considered by many to be the greatest sci-fi film of all time. Denis Villeneuve (Arrival, Sicario) is considered by us to be one of the most talented working directors. This flick is the perfect union between franchise concept and visionary filmmaker and it's going to sneak into the Oscars conversation just like Arrival did. Expect to see Ryan Gosling bloody and bruised, Harrison Ford back in one of his star-making roles, Jared Leto doing Jared Leto things. Blade Runner 2049 has it all, folks.
Mudbound
November 17
Director Dee Rees (Pariah) has put together an impressive cast that tells the story of southern racial disparity throughout the World War II era. The film mixes and matches moments from the lives of a white couple, the McAllans (Carey Mulligan and Jason Clarke) and a family of black sharecroppers (Mary J. Blige, Rob Morgan and Straight Outta Compton's Jason Mitchell). The story also has room to finesse PTSD into its major focus with Garrett Hedlund. Mudbound is generating massive hype as a socio-political and racial meditation—and Netflix (NFLX)'s next must-see movie.
Lady Bird
November 10
Saoirse Ronan is just 23-years-old and has already been nominated for two Academy Awards. We'll see absolutely anything she's in. Pair her with 34-year-old actress-turned-director Greta Gerwig and we could have something very special on our hands. The movie is centered on the young shoulders of Christine "Lady Bird" McPherson (Ronan), a Sacramento high school senior who dreams of escaping her overbearing yet loving parents by going to college in New York. It's a genuine coming of age tale that is littered with top-tier performers, including Oscar-nominee Lucas Hedges and Timothée Chalamet (again), plus Laurie Metcalf and Tracy Letts as Lady Bird's parents). This is a movie audiences of all ages can connect with.
Star Wars: The Last Jedi
December 15
Just because it's obvious doesn't mean it isn't true. For as much as we love J.J. Abrams' The Force Awakens, The Last Jedi director Rian Johnson is simply a better, more original filmmaker. We're expecting the sequel to not only go darker, but also feature a few more natural plot deviations from the original trilogy. And, you know, Luke Skywalker and all that. How can this not be No. 1?
Honorable Mentions:
Kingsman: The Golden Circle (September 22), The Florida Project (October 6), The Foreigner (October 13), The Meyerowitz Stories (October 13), Suburbicon (October 27), Roman Israel, Esq. (November 3), Coco (November 22), The Disaster Artist (December 1), Wonder Wheel (December 1), Downsizing (December 22), The Post (December 22).
More Fall Arts:
Top 10 Fall Art Exhibitions
Not-to-Miss Fall Art Events
Emerging Art World Power Players
Best New Art Spaces to Visit This Fall
Top 10 TV Shows to Add to Your Queue This Fall
The Art World's Most Involved Socialites