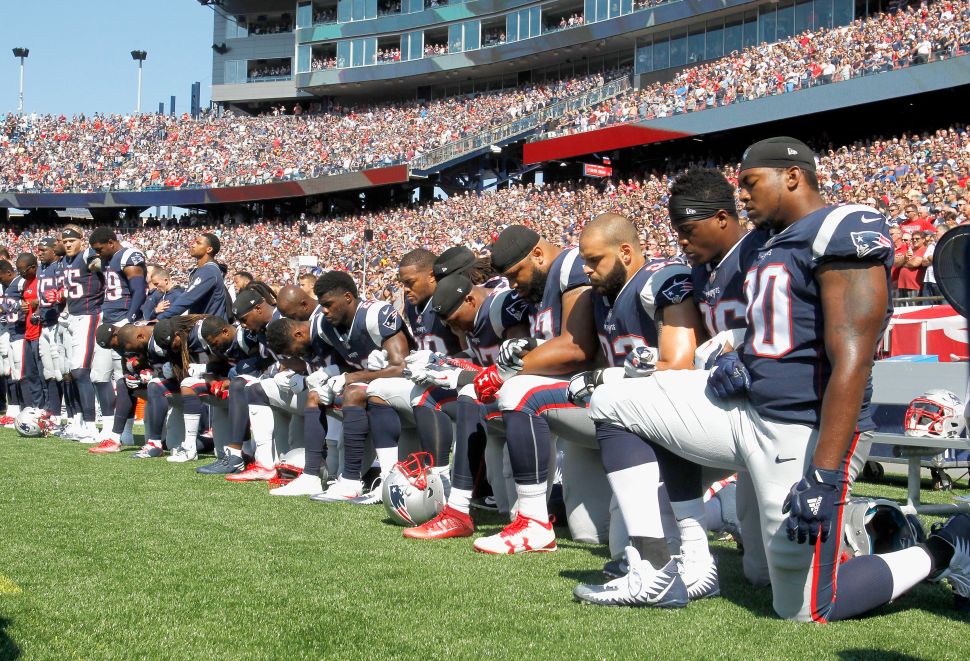 Two staples of Sunday television are political talk and pro football. The two collided over the weekend with the force of a vicious tackle after the whistle and out of bounds.
In this case, the cheap-shot artist was amateur President Donald Trump, a cynical racist with a keen instinct for demagoguery.
After Trump called black football players sons of bitches for kneeling in protest during the national anthem, the athletes of the National Football League and the National Basketball Association called a flagrant personal foul on the large, 71-year-old, orange-faced, yellow-haired chief executive.
Before Sunday night's NFL telecast on NBC, Kenny Stills of Miami told Tony Dungy in a text message that he and his teammates protested for an extra reason after Trump's venomous words.
"I did not want the president to intimidate us or keep us from using our right to protest," Stills wrote. Donte Stallworth, a recently retired receiver, said on Reliable Sources on CNN that NFL players "feel the president of the United States is trying to bully them into silence."
Another recently retired receiver, Anquan Boldin, told Marth Raddatz of This Week on ABC, "I don't like the hate speech that is coming out of his mouth."
He referred to Trump's fire-breathing harangue Friday night before a chanting, hooting, white audience in Huntsville, Alabama. Trump said he didn't like players protesting during the anthem about deaths of young black people, usually men, in confrontations with armed police.
"Wouldn't you love to see those NFL owners, when somebody disrespects our flag, to say, 'Get that son of a bitch off the field right now!'" Trump growled. "Out! He's fired. Fired!" For emphasis, Trump raised his right arm and pointed one of his unusually short fingers.
Late Sunday, after leaving one of his millionaires' clubs, Trump denied any racist intent.
"This has nothing to do with race," Trump lied. "I never said anything about race. This has nothing to do with race or anything else. This has to do with respect for our country and respect for our flag."
This thinking was echoed on Fox News Channel—of course—when Mollie Hemingway of The Federalist said Trump had outsmarted his media critics.
"They don't quite see there that the president has crafted terms of debate that help him more than anyone else," she told host Howard Kurtz of Media Buzz. "You're either with him or you're against the flag. You're either with him, or you're against patriotism."
Kurtz didn't challenge this facile explanation but Chuck Todd and his guests offered more sophisticated analysis on NBC's Meet the Press.
Todd noticed Trump spouted off just as he and Republicans appear to be failing in yet another effort to attack and destroy the Affordable Care Act and take away health insurance from millions of Americans so that rich people like Trump can get big tax cuts.
Sen. John McCain, the Arizona Republican, turned against the bill Friday, leaving it moribund.
"I don't think it's a coincidence that two hours after McCain said 'No,' the president went on an NFL rant," Todd said.
In addition, several Trump aides are being investigated in various probes into Russian attempts to sabotage last November's election in which the Republican Trump upset Hillary Clinton, the Democrat.
One of Todd's guests, the Democratic operative Stephanie Cutter, suggested Trump may have bitten off more than he can chew by attacking black athletes.
"It's a good political wedge for him, if he's speaking to that very small segment of the country who cares about this," she said. "A big segment of this country disagrees with him… He has just ignited a cultural war that he may not be able to win."
Trump's ploy is hardly his first racial dog whistle.
Last month, after a woman was killed by a white supremacist during a protest against racism in Virginia, Trump said there were fine people on both sides of the demonstrations, including the side with the neo-Nazis, the neo-Confederates and the Ku Klux Klan. Some marched with torches and chanted against Jews.
On Saturday, when Trump's comments circulated on regular and social media, a top critic was LeBron James, the superstar of the Cleveland Cavaliers.
Like Trump, James tweeted on Twitter.
"U bum," James called Trump.
On MSNBC Sunday afternoon, former NFL punter Chris Kluwe said, "I don't think LeBron went far enough."
So Kluwe went further.
"I would have called him a fascist, racist, would-be Hitler," Kluwe said. "Every day he's in office, he degrades it, probably beyond repair. I don't know, as a country, if we are going to be able to recover from this."
Another guest of anchor Alex Witt was Bruce LeVell, an Atlanta businessman who is the executive director of the National Diversity Coalition for Trump. LeVell, who is African-American, framed the debate in terms of an employer having the right to fire a worker.
He suggested that players like Colin Kaepernick, who started the movement, should form tax-exempt groups to make their protests away from the field. But he didn't seem to know what the protesting was about. This enraged William Rhoden, the veteran journalist now writing for ESPN.
"These racist police… are blowing people away, and nobody's got convicted," Rhoden said. "That's what this is about. And for you to get on national television and spout this garbage, it's completely ridiculous, man. It's without merit."
During Sunday's accelerated protests, many team owners stood on the sidelines with players, linking arms. Some players knelt for the anthem. Others sat. Still others stayed in the locker room until the song ended. Most football announcers supported the players.
One was Terry Bradshaw himself, the former Pittsburgh quarterback, who addressed the nation on the FOX (FOXA) pre-game show.
"This is America!" Bradshaw said. "I'm not sure our president understands… that every American has the right to speak out and also to protest."
During Football Night in America in the evening, NBC announcer Cris Collinsworth spoke up for the players and had a suggestion for Trump.
"He should apologize," Collinsworth said. "They're not S.O.B.s. They're smart, thoughtful guys."
NBC ran a pre-game show for 90 minutes that played many sound clips of players speaking and showed several printed messages on screen from NFL owners. But NBC never showed the video of Trump's speech and his "son-of-a-bitch" screed, the reason for all Sunday's debate.
And they—and most others—overlooked perhaps the most truthful statement. It came on Twitter on Saturday from Chris Paul of the Houston Rockets, the president of the NBA Players Association.
He questioned Trump's manhood.
"I doubt he's man enough to call any of these players a son of a bitch to his face," Paul said.
Joe Lapointe spent 20 years as a sports reporter for The New York Times and worked as a segment producer for Countdown With Keith Olbermann. Recently, he has taught journalism at New York University, Rutgers and Long Island University-Brooklyn. follow him on twitter: @joelapointe