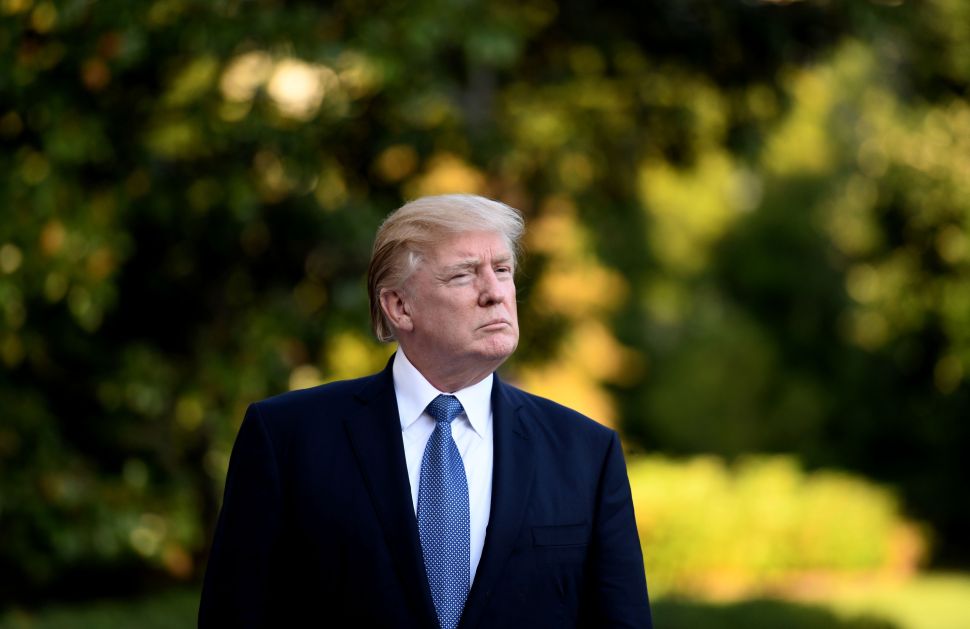 Emboldening his position on national security, President Donald Trump on Sunday issued a new order indefinitely restricting travel to the U.S. by most citizens of eight nations across three continents, citing a need to prevent terrorists making their way through American borders.
The ban is more extensive than his original proclamation, with permanent constraints placed on travel to America versus the 90-day suspension enacted shortly after taking office. The move was no less controversial than the original proclamation, even though non-Muslim majority nations were added to the list.
Beginning on Oct. 18, when the new edict takes effect, most citizens from Syria, Iran, Libya, Yemen, Somalia, Chad, North Korea and Venezuela will not be allowed to come to the U.S.
Trump's original ban—released as an executive order—drew a sharp backlash and snarled airports in January, with a revision issued by March, which expired on Sunday. It also resulted in a rash of legal challenges to his authority. The U.S. Supreme Court is set to hear arguments about the ban's constitutionality October 10 based on the original injunction.
Chad, North Korea and Venezuela were new to the list, while Sudan was dropped from the ban.
In the proclamation issued by the White House on Sunday, Trump said, "As President, I must act to protect the security and interests of the United States and its people."
The president also took to Twitter after the revision was published.
"Making America Safe is my number one priority," Trump tweeted. "We will not admit those into our country we cannot safely vet."
The move falls in line with campaign pledge Trump made prior to being elected last November. In 2015, he controversially called for a total travel ban to the U.S. by all Muslims.
Of the countries now facing restrictions, each has its own unique set of rules.
For example, the restrictions placed on Venezuela were drafted specifically to zero in on that country's political leadership and their family members. In the case of Iran, student exchange programs will be allowed to continue, though those individuals will be subjected to enhanced screening, according to the proclamation.
The proclamation bars immigrants and non-immigrants from North Korea and Syria. And it blocks immigration by the citizens of Somalia.
Sudan, long a pariah in the international community for issues related to supporting terrorism and waging wars upon its own citizenry, managed to come off the list. According to The Washington Post, senior officials in the Trump administration said Sudan had demonstrated a level of cooperation on "national security and information-sharing" that warranted its removal from the original ban.
Under the new order, no existing visas will be revoked, and people currently allowed to travel to the U.S. for other reasons will not be affected, according to the document.
A global review of security procedures by administration officials found that 16 countries were found not to comply with U.S. travel requirements, officials told reporters. Those standards included a nation's willingness to share intelligence about a traveler's history of criminal or terrorism-related acts and whether the country in question had the ability to issue electronic passports with embedded biometric information.
Since January, most of the 16 countries cooperated with the Trump administration to meet U.S. requirements, but seven that remained either could not or would not cooperate, according to officials. Venezuela was added because of its internal strife emanating from its leader, President Nicolás Maduro.
Judges who have ruled against the travel ban this year cited their perception the ban was enacted specifically to bar Muslims from coming to the U.S.
But the White House has continuously denied that allegation. However, Trump has made statements at both rallies and via Twitter that muddy the administration's denials.
Trump's supporters have noted the addition of North Korea and Venezuela as evidence the ban was not geared specifically at Muslims. But under normal conditions, virtually no citizens from North Korea can travel to the U.S. anyway, effectively targeting nationals from Muslim countries.
Rights groups have been weighing in on the issue since Sunday.
"Six of President Trump's targeted countries are Muslim," Anthony D. Romero, executive director for the American Civil Liberties Union, said in a statement over the weekend. "The fact that Trump has added North Korea—with few visitors to the U.S.—and a few government officials from Venezuela doesn't obfuscate the real fact that the administration's order is still a Muslim ban. President Trump's original sin of targeting Muslims cannot be cured by throwing other countries onto his enemies list."
Les Neuhaus is a National and International Politics contributor for the Observer. Follow him on Twitter @LesNeuhaus