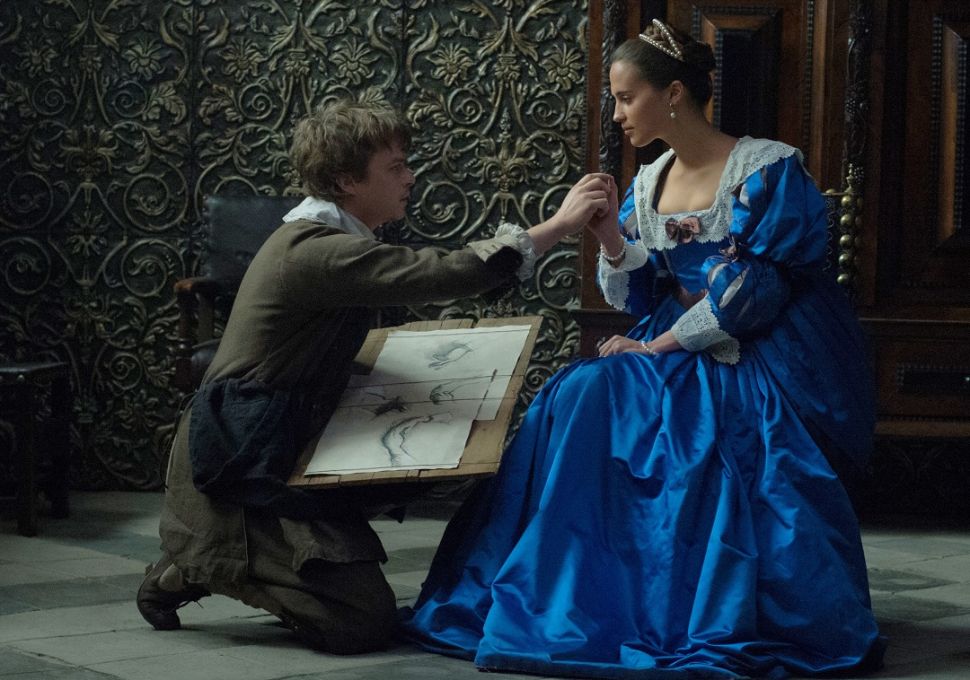 In the imaginative, enthralling and original Tulip Fever, 17th century Amsterdam comes to life with lavish sets, rapturous costumes, wonderful actors and the lush beauty of a Vermeer painting.  With so much to look at and a plot to digest as thick as Dutch cocoa, it is not without a few problems, but I  found this astonishing movie so rich and satisfying that I liked it in spite of itself. It's the kind of guilty pleasure that sometimes confuses, but never bores. Color it flawed but gorgeous.
It wears its credentials proudly: based on the acclaimed novel by Deborah Moggach (The Best Exotic Marigold Hotel) with a screenplay by Oscar-winning playwright Tom Stoppard (Shakespeare in Love), direction by Justin Chadwick (The Other Boleyn Girl) and a fabulous cast that  includes Oscar winners Christoph Waltz, Judi Dench, and Alicia Vikander, it could hardly miss and seldom does. Set in 1634, when the tulip industry was beginning to change the history of The Netherlands, the film tells dual stories—as both a saga of passion and intrigue at a time when everyone was scheming to betray and deceive each other in the lucrative market for importing exotic bulbs from the Far East, and as a tale of reckless romance and the consequences of adultery. Vikander plays a girl named Sophia, rescued from an antediluvian orphanage by a wealthy and respectable nobleman named Cornelis Sandvoort (Christoph Waltz) who plans to use her for the purpose of delivering a son and heir and then discard her.  After many strained and heartless nightly sexual failures by the pompous old windbag, the plan stalls, but before he throws her out, she persuades him to hire Jan van Loos (Dane DeHaan), a struggling artist, to paint her portrait. A tempestuous affair commences and the artist bargains for top price at the tulip market to finance his escape from the country with Sophia to a new life in the East Indies. Meanwhile, Sophia's maid Mary (rising British newcomer Holliday Grainger) is left pregnant by her wayward sailor boyfriend and Sophia pretends to her husband it is theirs, passing it off as the child he has always dreamed of, save her maid's reputation, and run away with her lover. Now all she has to do is keep the old man  from  discovering it is Mary who is expecting, not her. (Not so simple since it requires her to remain out of sight for eight months without her  husband noticing, but the narrative leaves a great deal up to trust.) Somehow Cornelis falls for the subterfuge, but when the time comes for Sophia to be sealed in a wooden coffin and rowed out of the harbor to wait for her paramour, another twist turns the tables and the strategy backfires unexpectedly.
While the plot turns preposterous, the fate of everyone involved depends entirely on the tulips.
---

TULIP FEVER ★★★
(3/4 stars)
Directed by: Justin Chadwick
Written by: Tom Stoppard
Starring: Alicia Vikander, Dane DeHaan, Zach Galifianakis, Judi Dench, Zach Galifianakis and Cara Delevingne 
Running time: 105 mins.

---
Under close analysis, none of this elaborate subterfuge makes much sense, but the film is so polished in its technical proficiency that I found the absence of logic forgivable. It's a fanciful story, ripe for filming, and the intricately fashioned details give you no time to ponder. You'll be too busy marveling at the visual splendors—the hustle and bustle of the tulip  market, similar to the slave market of old New Orleans, the rat-catchers,  scullery maids and corpses washed up in the canals with their throats slashed—to stress over things like the astonishingly weak character development in the Tom Stoppard screenplay. At times the film looks like important scenes were deleted and somebody forgot to replace  them. Meanwhile, the unconventional narrative, confusingly narrated by Mary instead of Sophia, is a head scratcher, especially  when the plot shifts from one to the other without warning. But you'll be too busy marveling at the visual splendor to stress over things like structural deficiency. The intricate specifics of the developing tulip industry are not always coherent, and the motivations of so many diverse characters lack the clarity fans of the novel rave about.  Christoph Waltz as the clueless, cuckolded husband, adds another impeccable portrayal to his distinguished and unforgettable portrait gallery. Alicia Vikander is fetching and Tom Hollander is a scene-stealing sleaze bag doctor, but the great Judi Dench is regrettably wasted as a stern, acerbic nun who guards the tulips at a local  orphanage with her life and eventually gambles on the tulip trade herself. And Dane DeHaan is too wan and anemic looking to make a convincing romantic lead. Stranger still is the fact that for a movie about the glory of tulips, there isn't a single shot of the breathtaking beauty of Holland in full bloom. I liked and admired Tulip Fever anyway, but there's no denying some of the missed opportunities that prevent it from being a work of art instead just an entertainment are as perplexing as they are obvious. If you're going to make a movie this good, why not make a great one?