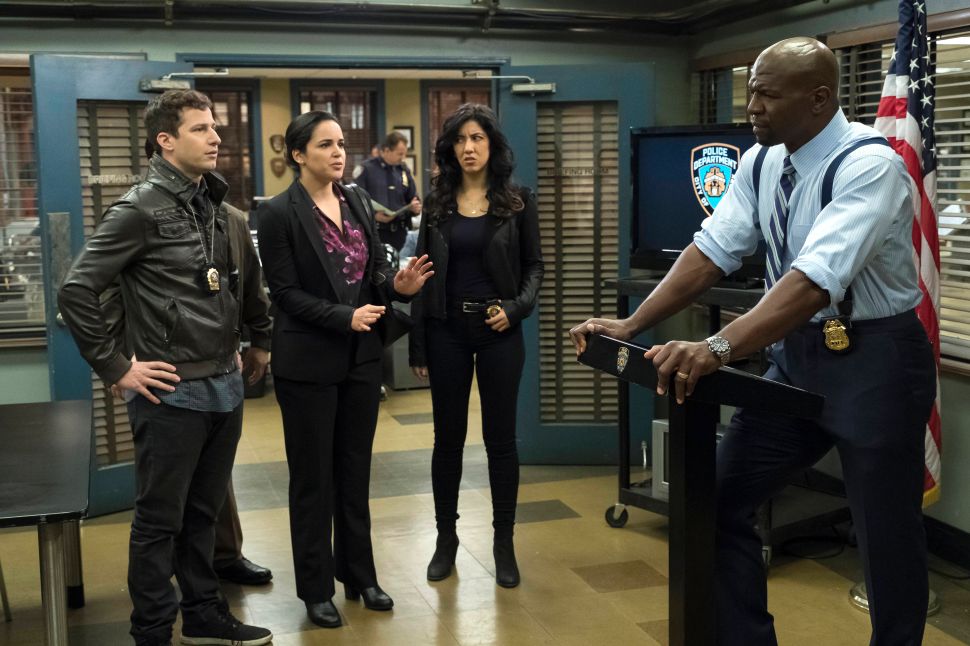 This week marks the 24th anniversary of the first X-Files episode. Though the finale of this cult series, which aired in 2002, turned out not to be so final. A limited, six-episode return hit airwaves in January 2016, and fox announced in April that another six-episode revival had been commissioned, taking the season tally to 11. Another thing that's seen it's own revival lately: fashion from the '90s. The pantsuits Dana Scully favored have come a long way since 1993, but her original look may be coming back around. The oversized fit was part of the power-dressing style of the era, but while sihlouette might have changed, the pantsuit remains the garment of choice for women fighting crime. From Elizabeth Moss's look in Top of the Lake to the women of Brooklyn Nine-Nine, Scully's X-Files look can be seen reverberating through the ages.
The red carpet has also seen its fair share of women in suits over the past few years. They feature heavily in Spring 2018 ready-to-wear collections from Rag & Bone, Gabriela Hearst and Camilla and Marc. The baggy and boxy cut of The X-Files also seems set to make a return this fall; Céline and Jill Sander both featured slouchy suits in their Fall 2017 runway shows. And don't forget Rihanna's oversized jacket while in Paris meeting Brigitte Macron back in July.
But on TV, sensible suits are the wardrobe choice of female characters involved in the serious business of investigating crime. Top of the Lake: China Girl (now on Hulu) sees Elisabeth Moss returning as Detective Robin Griffin, back at her job in Sydney, from which she had taken a hiatus during the first Top of the Lake season. The hoodies and puffer jacket staples Robin wore in the first season set in rural New Zealand have been replaced by blazers and blouses. A muted color palette favoring grays, blacks and blues remains. Robin's work wardrobe is practical one. Black ankle boots add some height to her diminutive stature (Madewell has similar looking pair). 
There are subtle shifts in Robin's costuming between her free time and when she's on the clock. Button-ups are switched out for loose T-shirts. It's a pretty generic, Uniqlo-esque wardrobe. Uniqlo's signature jacket collection is also reminiscent of Robin's season one look.
But for crime-fighting workwear that has some fun with color and pattern, however, Brooklyn Nine-Nine has you covered. The comedy element to this show means these detectives can be a little lighthearted with their sartorial choices. But they still stick to the pantsuit theme. Amy Santiago has the classic J. Crew blazer look down. The main difference in Amy's wardrobe, though, is that her shirts are a botanical-print feast for the eyes, with the odd bird, butterfly or geometric pattern thrown into the mix. Shop at Alice + Olivia, Rebecca Taylor and Equipment for the Santiago look, or H&M, ASOS and Zara.
We're entering leather jacket weather season and on Brooklyn Nine-Nine, Rosa Diaz is less blazer and more Jessica Jones in her approach to detective style. But when Brooklyn Nine-Nine returns Tuesday, September 26, Rosa will likely look more like a character from Orange is the New Black, after the shocking events of the season four finale.
Pantsuits are back in a big way. Whether you're a crime-fighting badass or simply in need of a professional uniform, there are plenty of wearable, fashionable and affordable options in this look. One thing is for certain; emulating Dana Scully will never go out of style.