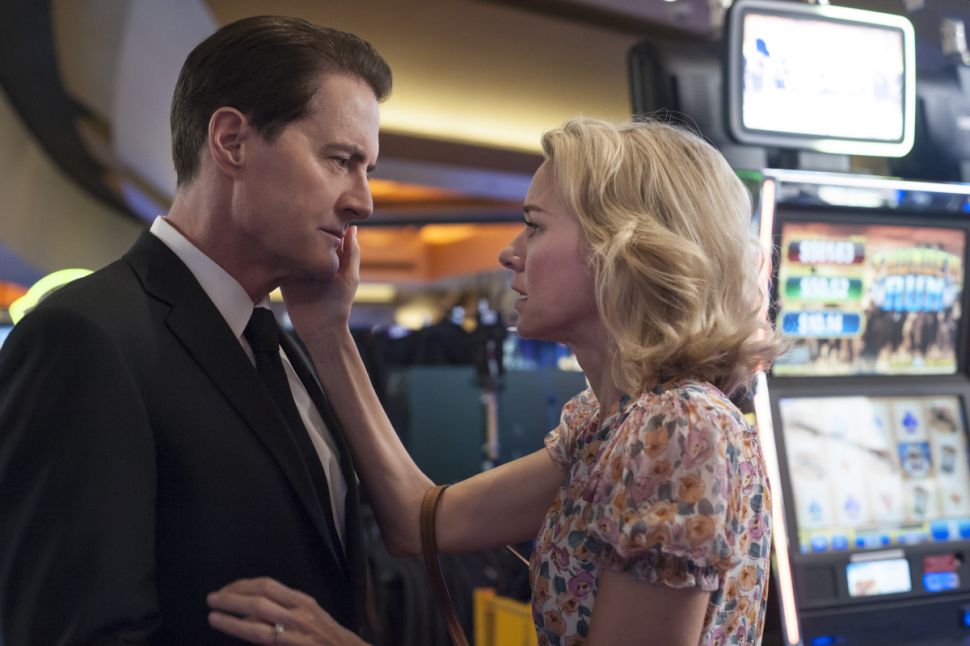 What is considered a hit in today's competitively crowded television arena? How do we define success when YouTube stars are racking up more views than critically acclaimed shows? There are new measures to be considered these days and even with all the data at our disposal, it's still hard to know what to make of the Twin Peaks revival.
The "third" season of David Lynch's cult classic from the 1990s is rumored to have cost Showtime a pretty penny, but has averaged less than 300,000 weekly live plus same day viewers, according to TV Series Finale. To put that minuscule number in perspective, BuzzFeed's Facebook Live of an exploding watermelon put up 11 million views. But since this is the Peak TV era, the buzz Twin Peaks has created among critics and its small but loyal following still counts for something. In Showtime's eyes, Twin Peaks is a win.
"When you see the Sunday night numbers, for most of our shows that would represent 20 percent of the weekly viewership," Showtime Networks CEO and president David Nevins told THR last month. With Twin Peaks, it's closer to 10 percent of the total viewing."
When accounting for delayed viewings across multiple platforms, Twin Peaks is averaging a more respectable 2 million viewers, but is still well below Showtime's other marquee performers. Hell, Sunday night's rerun of an old Homeland episode took in 1.3 million live viewers on its own.
"Ray Donovan, Shameless, Homeland, The Affair and Billions all act in a similar way [with viewers]," Nevins said while referencing five of the network's top-rated shows. "They're not that different. You notice certain patterns in how they perform." 
Twin Peaks' success in the eyes of Showtime is less about numbers and more about statements. There's no denying that the series generates an impassioned weekly social media conversation with hundreds of thousands of hashtagged tweets. People are talking about the show, even if it's just in hushed tones across the room. So with television changing, perhaps our metric of success needs to change with it. Nevins is looking beyond the four corners of traditional viewership numbers when analyzing Twin Peaks.
According to the CEO, the show's May premiere led to the greatest number of free trial sign-ups for the network's over-the-top streaming service since its launch in 2015. Though Showtime, owned by CBS Corp., wouldn't reveal those numbers, he did say they held "remarkably steady." Basically, a good chunk of those that signed up for the free-trial have continued to pay for the network.
Now Nevins' goals are to help Twin Peaks grow on digital platforms, though that is an uncertain ambition as well.
"It's really unique, so I had very little sense of what to expect," adds Nevins. "In the bifurcated world that I live in, it's interesting to experiment."