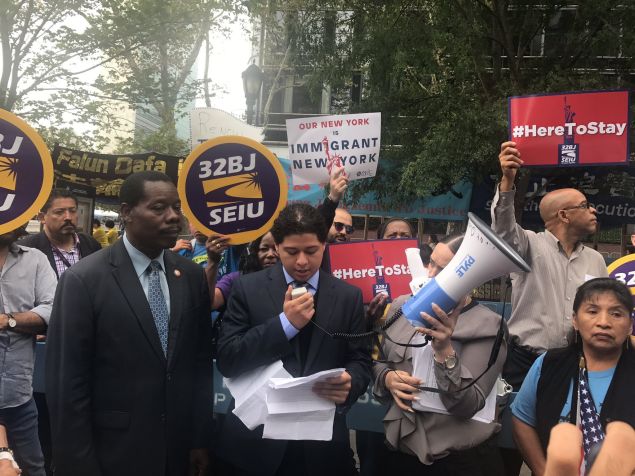 As President Donald Trump is in town this week for his first annual United Nations General Assembly as president, here's a look at some protests that are under way around the United Nations in Midtown Manhattan and throughout the city as heads of state throughout the world convene in New York City
The president has so far been criticized for alienating the United States' allies and further escalating tensions in his speech on Tuesday. He blasted North Korea and Iran, saying that he would "totally destroy" North Korea if it posed any threats to the United States and its allies and that Iran is a "rogue nation." The GA started on Monday and will conclude next Monday.
On Monday, hundreds marched at the Grand Central Terminal in Midtown Manhattan to protest Trump's appearance in New York City for the UN General Assembly and to speak out against white supremacy. The New York Immigration Coalition, 32BJ SEIU and Make the Road New York also rallied to defend Temporary Protected Status, which provides sanctuary and work authorization to foreign nationals fleeing disaster or violence at home at Dag Hammarskjold Tower, also in Midtown.
And Mayor Bill de Blasio hosted his Global Mayors Summit in which he discussed migration and refugee policy issues, urging pro-immigrant cities to "more powerfully" demonstrate that inclusive cities work and benefit everyone. That gathering also drew former South African Ambassador Patrick Gaspard — vice president of the Open Society Foundations and a close friend of de Blasio's.
WEDNESDAY
From 12 pm to 5 pm today, Rojava Solidarity NYC, Revolutionary Abolitionist Movement — NYC and the North American Kurdish Alliance is holding an action in front of the UN to protest Turkish President Recep Tayyip Erdoğan's visit to the UN and to voice support for the revolution in Rojava and the larger Kurdish freedom struggle. They said that they are "taking a stand against Erdogan's dictatorship, against his intrusions into Rojava, and in support of the anti-state struggle in Rojava and the resistance in Bakur."
THURSDAY
From 12:30 pm to 2:30 pm, the Baloch National Movement and Jeay Sindh Qaumi Mahaz are holding a joint protest rally at the United Nations headquarters to highlight the plight of Baloch and Sindhi nations facing military operations, genocide, enforced disappearances and targeted killings of political activists.
From 5:30 pm to 7 pm, Bangla Brigade NYC will be holding a protest against the ongoing Rohingya crisis that has seen more than 400,000 Rohingya flee Myanmar and more than 400 killed as Sheikh Hasina, prime minister of Bangladesh, is addressing the UN General Assembly. They plan to protest outside Dag Hammarskjold Plaza at East 47th Street been 1st and 2nd avenues and urge other nations to share the responsibility with Bangladesh in tackling the Rohingya crisis.
FRIDAY
From 8 am to 6 pm, the Southern Cameroons Ambazonia Consortium United Front and a host of other groups will be holding a protest at the UN General Assembly calling for Southern Cameroons to be freed and protesting what they believe to be the occupation of their homeland. The protest will center around the 1961 vote of the General Assembly in favor of Southern Cameroons becoming independent — a vote that they said has been ignored.
SATURDAY
From 8:30 am to 11:30 am, Les Congolais Debout will be holding a protest against Joseph Kabila, president of the Democratic Republic of Congo, ahead of his speech at the UN at 9 am. The organization and other participants plan to gather at the UN headquarters and "tell the world that he is no longer legitimate" and that he "does not represent us."