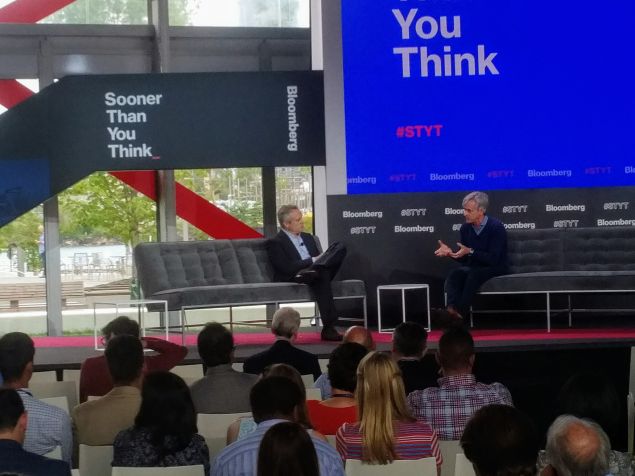 Today at the new Cornell-Technion campus on Roosevelt Island, Waymo CEO John Krafcik laid out what could be a pricey vision for car users.
Waymo is the self-driving car company of Google-parent, Alphabet, Inc.
When Ford or GM sells a car, Krafcik said, the company makes most of its money up front, on the sale of that car, but most cars last long enough to drive something like 150,000 miles, earning only a penny or so per mile when it's spread out across all the miles the car spends on the road.
"That's really not a good model," Krafcik said during Bloomberg Technology's "Sooner Than You Think" conference (video here), during an on-stage interview with Brad Stone, an editor at the company.
"What we think we can offer is a different model, or access to a model, where they have opportunities to enjoy revenue streams associated with the long life of that product," Krafcik said.
He didn't spell out what he meant by his his critique of automakers business model, but we have a guess. Over the last decade, software makers have made a dramatic transition from selling copies to selling subscriptions.
Once upon a time someone would buy a copy of (say) Adobe Photoshop Elements for less than $100 and that copy would work forever (or close enough). Eventually, they might pay for upgrades as new features came out, but if Photoshop 2.0 suited a shutterbug's needs, he never needed to upgrade.
Today, Adobe would really prefer that users bought a subscription to its cloud platform, beginning at $9.99 per month. For that, they get full Photoshop, not the cheap version, and a lower price on that first payment.
That sounds a lot better to a user who wants to use it right now, but over time he or she can end up paying vastly more to use the software than they ever would have buying it one time, even if they upgraded every few versions.
Cars have always worked under the old one-price-and-done model, and somehow that bad business model fueled what would eventually become, for a long time, the biggest company in the world, GM (as well as global brands like Mercedes, Ford and Ferrari).
Cars are now computers on four wheels, giving technologists a chance to import cloud thinking onto the roadways, which means they might find a way to make us pay more per while it still feels like we're getting a deal.
"Ridesharing makes sense for the world, because if you look at the personal car right now, it sits idly 95 percent of the time," Krafcik said. "So it makes sense for us to find a use case where it's used more than 5 percent of its day." If that happens, transportation could cost less, even if each mile costs more. That's a big (and very complicated) "if," though.
Washington's eager to let carmakers start experimenting. By a unanimous vote, the lower chamber of the U.S. Congress recently passed the SELF-DRIVE Act, beginning the roll-out of self-driving vehicles on American roads. "How many things have you seen the House of Representatives united behind recently other than self-driving cars."
Krafcik resisted any temptation to criticize competitors, hinting that everyone would one day want in on Waymo's software model. "We don't see ourselves as classic Silcon Valley disrupters," Krafcik said. "We're not fans of that term at all."
One day, consumers might disagree.
Correction: A previous version of this story used an incorrect first name for Mr. Krafcik. 5:47 PM September 13, 2017.
Update: Subsequent to publication, we added additional quotes from Krafcik. 10:51 PM September 13, 2017.