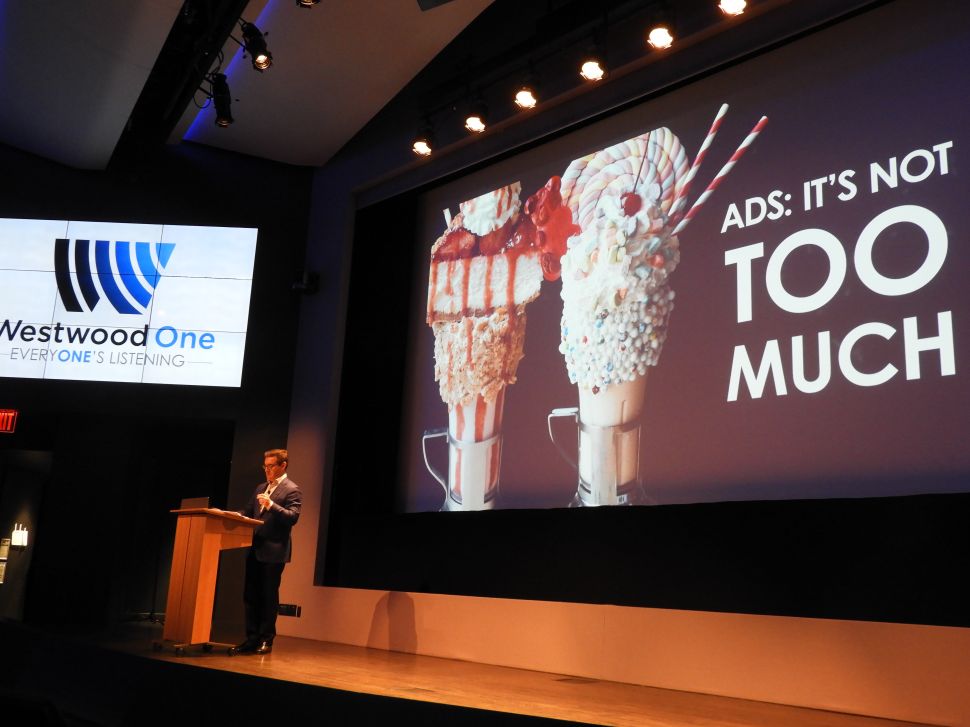 Podcast listeners like the ads and would be happy to listen to even more of them. That's according to Westwood One, a company that sells audio content in various formats including podcasts and radio shows.
Up next, look for a report from Apple as the new iPhone drops next week showing mobile users would prefer to pay even more for new devices. The week after that, a report from Exxon showing automobile owners favor stable gas prices over low ones.
Westwood One released its new report today called "The Podcast Download." The company commissioned consumer researchers at MARU and Vision Critical to conduct a study of people who have listened to at least one podcast in the last week.
They surveyed "a nationally representative sample of 600 respondents" who were over 18, regular listeners and who don't work in media. The survey was conducted online for a few days starting near the end of July.
"Podcasting is undercommercialized," Pierre Bouvard, the chief insights officer for the company told attendees at the Interactive Advertising Bureau's 2017 podcast upfronts on Thursday. It was a room ostensibly filled with potential podcast advertisers.
Westwood One, it should be noted, runs its own podcasting network, featuring shows on news, sports and entertainment topics. It claims to reach more than 245 million weekly listeners.
Bouvard presented four findings from the survey:
A small but not negligible group of listeners (17 percent) speed up podcasts while listening, at least sometimes.
Regular listeners don't mind the ads (many even like them).
Listeners would be fine with more ads, especially on longer shows.
People say they would pay for an ad-free version of their favorite show.
It's not unusual to hear podcasters argue that their commercials are value added. Westwood One's respondents said that they like the ads they hear and 40 percent said they tend to search out the brands that they hear about.
It's worth noting that what people say and what they actually do in practice turn out to be wildly different things on a fairly regular basis. On the other hand, Stamps.com and Mailchimp wouldn't keep buying spots year after year if they weren't doing something.
But even the report's own findings illustrate how survey results can get a bit fuzzy. Respondents said that they listened to more podcasts per week than they downloaded. It's not clear how that's really possible, but downloads can be weird, as we've previously reported.
Westwood One argues that most listening is driven by the medium's biggest fans, the people who spend more than six hours per week listening. This segment of the audience is 68 percent male, 92 percent under 50 and 69 percent earns more than $75,000 per year.
"The more people listen, the more people love the ads," Bouvard said. "Love for podcast content translates into love for the ads."
Westwood One has been publishing these download reports since 2015. Advertisers surveyed have increasingly expressed greater interest in promoting their brands using on demand audio, with 27 percent reporting this year that they are likely to purchase ads on podcasts in the next six months (up from 10 percent in 2015).
The report's findings might be a bit exuberant, but there's little doubt that podcast advertising is working well. The industry is projected to bring in more than $220 million this year.